Christian Furr was born in a small village in Cheshire on the Wirral peninsula in the North of England, called Heswall. It looks out over the Dee river. Wales is on the other side.
His earliest memory of art is copying from the comics he used to read -- The Dandy and the Beano, created in Dundee, Scotland. Even then, he was obsessed with getting the likeness of the characters.
Furr's grandmother introduced him to oil paints when he was 12 years old. She used to paint flowers in oils, like Mary Delaney. He would set up a still life with fruit and paint it. He was obsessed -- he loved and still loves oil paint and the distinct smell of pure turpentine. He knew he wanted to be an artist. "I was lucky. I found my dharma at age 12 years," he says.
After school, he completed an art foundation course in Wallasey. He painted Liverpool Schoolyard when he was 18. It was the view of the Liverpool Skyline from his college window.
Later, Furr studied fine art in Leicestershire. When he graduated, his large painting, The Artist's Studio was accepted for exhibtion at the National Portrait Gallery, London.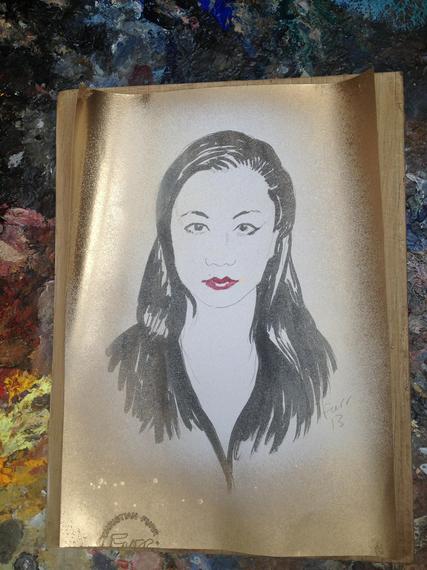 Drawing of Lisa Chau by Christian Furr, 2013
Christian Furr: The Royal Overseas League is a Commonwealth organization in St James London (where the painting hangs now and is free to view) It held annual open exhibitions for Artists. In 1992, I exhibited one of my paintings, Acedia there. Through exhibiting, I was commissioned to paint a portrait of one of the Leagues ex-Chairmen. A couple years later, I got a call out of the blue from the director of the League. I thought it was bit unusual because I wasn't expecting his call. "Are you sitting down?" he asked. "I am now," I replied. "The Queen would like you to paint her portrait," he said. I remember the words well.
At the age of twenty eight, the Queen had personally chosen my work from a shortlist of artists. For me, it was like the realization of a fantastic dream. I had always admired the royal portraits of artists like Velazquez and Van Dyck. I had been given the opportunity of a lifetime. It was a lot of pressure but I rise to challenges.
I remember I drove to the Palace in my red Beetle with my paint brushes sticking out the back. The guards laughed at me when I arrived. Before the commission, I looked at all the portraits that had been done before and found them all to be very far away from their subject. So I decided to close in with my composition. I had a choice of what the Queen was to wear. I met her dresser and chose the robes of the Star and Garter. I wanted to paint her as a figurehead with a human side. I found the Queen to be lively, witty and accommodating during our sittings. I had two, two hour sittings with Her Majesty in the yellow drawing room. Then, I finished the work in my studio in about a month.
LC: How did painting the Queen affect your career? How do you think it would have been different if you had not painted her?
CF: Painting the Queen had an undeniably big impact on my career. She's the most famous person in the world next to the Pope! I usually don't think about 'ifs' unless it's a hope or a dream. You could say I am a dreamer. That's how the world gets changed.
If I hadn't painted the Queen? I don't like considering hindsight 'if' scenarios. What happens happens and that can be good or bad and you deal with it as best you can.
LC: You Tweeted to me, "I think a style is a limitation. I love NY artist Philip Guston's journey by way of example." Please elaborate.
CF: Well Oscar Wilde said, "To define is to limit," and Picasso said, "As an artist you have to be prepared to assassinate yourself." Real artists do this. In music, an example of a person who has really taken this to heart is someone like David Bowie. His last video I found really weird and funny and I certainly didn't expect it. But that is why he is so great. I constantly want to be surprised.
In art, Guston was the same. He was an abstract expressionist and was doing well painting abstract works when he had a life experience and suddenly started painting totally differently. From creating poetic abstract paintings. he started painting cartoons of one-eyed men smoking cigars. You can be ridiculed for trying new things. An art critic Hilton Kramer wrote an article entitled, A Mandarin pretending to be a Stumblebum ridiculed Guston's new style. His peers thought he'd gone mad because he was rejecting everything they stood for, but the new generation of artists loved him and took him to their bosom. He may have been influenced by Robert Crumb but who cares?
Inspiration can come from anywhere, it's all around us. When you start off your career, your inspirations can be derivative -- You look at older painters and reinterpret their work, but as your career progresses you find your own voice and looking at my own work now there are certain themes in it that reoccur because my interest in them never wanes. I just find different ways to express those interests.
Matisse is another great inspiration of mine. He took great risks when he could have chosen the easy route. Hilary Spurling's book on him is great by the way. A must-read for any artist.
LC: Given your diversity of subjects, which of your pieces would your friends be surprised to discover is your creation?
CF: My close friends are very rarely surprised by anything I do. They know I am an ideas man.

If there was one piece that raised an eyebrow the most, it was the Jack in a coffin, Staying Alive by Chris Bracey and me for our Staying Alive Collection. I woke up one morning at 5AM with a "Eureka!" moment. I had a vision of a brightly fairground painted coffin with the lid flung open and a Jack-in-the-box in it, edged in neon. To me, it symbolized the beauty of art being immortal and maybe deep down on a subliminal level it was autobiographical.
Good Art is something that never dies -- it stays alive. A great idea regenerates in future generations.
I told Chris the idea, he made the vision reality and turned it into an interactive automaton like Joseph Merlin's silver swan where you lift the lid up and see what happens.
LC: What do you consider your most experimental work? Most controversial?
CF: Maybe my cheese paintings? *wink* I am not concerned by controversy as such. After a gimmick has worn off, what is left?
LC: Where do you find inspiration?
CF: Idleness, wine, my beloved, art, music, nature, the poets, friends.
LC: What role did Magritte and Vermeer play in your work?
CF: Magritte influenced Girl with Green Cloth with the image of the back of a man's head in the mirror/picture on the wall. Magritte did the painting of the mirror man. I use mirrors a lot in my work to offer alternate spaces /realities. Lots have artists have done this including Velasquez, Manet and Magritte.
Vermeer influenced Step by Step in the image of the girl on the wall. I wanted to do a modern take on Girl with a Pearl Earring which I have an image of on my studio wall.
LC: Who would you want to paint you and why? How do you envision your
portrait painted by this artist ?
CF: "I contain multitudes," as Walt Whitman said. So any artist would find the things that resonate with them.
Dead: Velasquez - Insightful and cavalier.
Alive: Hockney - Colourful and poetic.
LC: What are your roles in serving on the Board of British Inspiration Awards and the Council of Chelsea Arts Club?
CF: I was asked to join the board of the British Inspiration Awards recently by Phil Snape. My role is to help bring the art and fashion side of things to the fore. As Britain has an amazing art and fashion scene -- we need to celebrate it. I put Sir Peter Blake (Sgt. Pepper Album cover artist) forward for a special recognition award last year and he won. It was a fabulous celebratory occasion for a great man who is now 80 yrs. A true Pop Art legend.
The Chelsea Arts Club is one of the oldest artists clubs in London and was founded by the brilliant American-born, British-based artist, James Abbott McNeill Whistler. He used to paint beautiful pictures of the Thames from the Embankment in Twilight mist. Whistler was a famous verbal sparring partner with Oscar Wilde. They were both great wits and they used to try an out-wit each other all the time. Whistler founded the club in 1890 and it has been a haven for bohemians ever since.
I joined the council to keep his spirit alive -- In the direction of the club going forward. We have great artist lunches with special renowned guests from all fields, and we are recruiting amazingly talented new artists all the time. I think it is undoubtedly the best club in the world and the one where I feel the most comfortable at any given time. Come along as my guest next time you are in London.
LC: What have been your biggest challenges?

CF: To get people to understand me, my choices/freedom to make art as I do and my reasons for changing all the time.
CF: Liverpool Love was a great exhibition I curated last year in the New 72m Museum of Liverpool. (I am from that neck of the woods originally). It was all for a local children's hospice called Claire House, and I curated an amazing roster of artists who kindly contributed because of their love of the city. Yoko Ono contributed, as did Sir Peter Blake, Stuart Sutcliffe (Fifth Beatle), John Squire (Stone Roses) and many more.
It is still in development but Brit Love will be the inaugural exhibtion of well-known British artists. It is planned for April next year in LA for the Inner City Arts Fund to coincide with BritWeek. The first of its kind for an art foundation. I am setting up with a team, to help underprivileged children globally through art. It is to be called the ArtLove Foundation.
LC: In the art world, who is exciting you now?
CF: My tastes are varied. If somebody is able to make me see the world in a different way and has their own unique voice, they excite me. I always like Jeff Koons. I am looking forward to seeing Mark Wallinger's 50m giant white horse materialize. An English freeform painter called Jonathan Gent. I love Chris Bracey's neons -- It was great creating the Staying Alive collection with him.
LC: An aside: My TigerMom said that if I actually looked as good as your drawing of me, I'd be so pretty!
CF: That sketch is extremely accurate so you can tell your Ma she's wrong. I paint what I see.
Also, great questions! Very intelligent and enlightening.
LC:You are charming, and too kind. Thank you for this interview, Christian. I do hope to visit you in London soon.
Calling all HuffPost superfans!
Sign up for membership to become a founding member and help shape HuffPost's next chapter