One of my favorite ways to discover new music is to dive into a YouTube rabbit hole. I find a song or video that I like, and start clicking around the recommended videos in the sidebar. Often the music I find won't be really what I'm looking for, but occasionally I'll hit on something great and discover a new label or artist I can't get enough of.
That's exactly how it happened for me with Toronto's Buzz Records. While on yet another YouTube clicking journey, I stumbled on the video for Odonis Odonis' "Angus Mountain." I loved the visuals as much as the song, which led me to investigate the user who posted the video -none other than Buzz Records.
From there it was all uphill. I lucked on to a whole group of talented bands coming out of a small label in Toronto, a city producing some of the most interesting indie/DIY music around. With the record industry as we used to know it continuing to fall apart, small upstarts like Buzz Records are primed to become the main source of new music that doesn't sound factory-made. I reached out to one of Buzz's founders Ian Chai, and talked a bit about how the label got its start and where he hopes it's going.
How did the original performance space that morphed over time in to Buzz Records get its start?
The Buzz Garage was, shockingly, a garage in Toronto's Chinatown that was liberated by Denholm (Odonis Odonis), Jude (HSY) and Stefi (paint + stencils) in 2011. While the cultural mosaic of the city is incredibly diverse, there were surprisingly few spaces catering to our tribe... a BYOB policy didn't hurt either.
Initially we hosted mostly punk and noise bands, but the Garage soon grew into a cross-genre hub of local and touring acts like White Lung, Sean Nicholas Savage and Doldrums. After a glorious near 2-year run, the slumlord chained-up all the entrances and converted the garage into an illegal apartment.
We were all obviously gutted, but people forget that DIY spaces aren't meant to last forever. There's nothing more depressing than witnessing DIY venues devolve into a means to pay for rent and weed re-ups.
The artists on Buzz belong to various musical genres, but their music all makes sense together; it would sound right to have them all on the same mixtape. What do you think is the common thread between the artists?
A shared raison d'être -- people are savvier than the gatekeepers of the music industry would have you imagine. We truly believe that people see a collection of artists who are trying to reveal something about their experience, without affectation. Also, perhaps it's not so coincidental that first contact for almost everyone associated with the label occurred at the Garage.
What makes Buzz different from other "smaller" labels?
We have better taste? I kid, I kid.
From the outset, we were adamant about purposefully curating our roster and working with those artists over the long haul. Which, I suppose, differs from the more traditional "one-off" micro-label approach.
There are a million Buzz-equivalents on the planet -- we're on a mission to find them all and rep the next generation together.

Are there any labels/collectives that you look to for inspiration as far as growing Buzz Records?
The Wu-Tang Clan both as a cultural movement and for their re-envisioning of the artist/label relationship. Forever.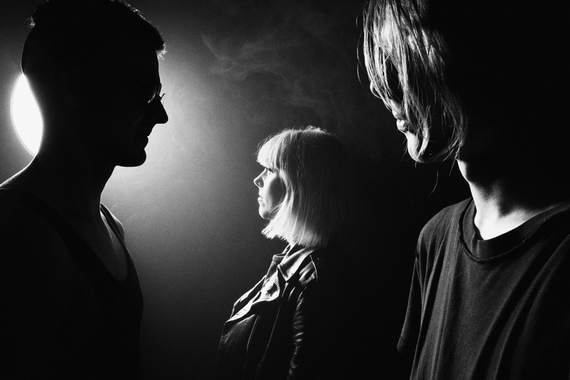 Mexican Slang by Ebru Yildiz
Do you think it works to your advantage that Buzz focuses on bands who write their own songs/actually play instruments instead of focusing on how their music could best be distilled into a ringtone?
We're trying to curate a museum, not run a whorehouse.
To be clear, we have no qualms with "business" -- such as it were -- we just draw a strict line between art and commerce. Frankly, we've grown weary of the DIY community's myopic obsession with making the powers-that-be change; it's a lot of idle chatter. Let's focus on raising the floor, instead of just lowering the ceiling.
What is the process for bringing on new artists to the label?
Step 1: Be good
Step 2: Don't not be good
Step 3: No rock stars
What has been the most challenging aspect of running Buzz Records?
Finding our place in the wider music industry when it has become a homogenized wasteland. Call it naiveté, but one could have reasonably imagined that the decentralization of distribution would spur on a golden age of A&R chutzpah. Instead, it has fostered a risk-averse culture that has completely divested from the notion of artist development. Lather-rinse-repeat -- but I suppose it's easy to be high-minded and principled when you have no market share to protect.
How much influence does Toronto have on Buzz's sound -- would you say there's something distinctively Toronto about the label?
I've been fortunate enough to live on both sides of the Atlantic and if there's one thing I've come to understand it's that your city is the company you keep. So, in that respect, Buzz is unequivocally my Toronto: fearless, loyal, real.
In addition to producing great music, the videos Buzz puts out are also particularly awesome. Is each artist responsible for their own videos, or does the label as a whole have a hand in their creation?
We're simple folk who abide by "artists do art, business people do business" philosophy. But we're also an incestuous lot, so there's plenty of cross-pollination in the Buzz orbit: Dean of Odonis Odonis (and Buzz co-founder) remixed Greys and directed a video for The Beverleys; Denholm also plays in Mexican Slang and is the booking agent for a handful of our roster; Anna of HSY plays in ANAMAI alongside David aka Egyptrixx (who runs his own imprint, Halocline Trance); Beta Frontiers remixed Weaves and everyone plays shows together. Can I mention Dilly Dally and Fake Palms? They're our latest additions to the fam and I can't think of a clever way of including them.
What would you say is Buzz Records' ethos?
We don't like people.

What is the ideal future for Buzz Records?
Global domination and maybe an above ground apartment.
REAL LIFE. REAL NEWS. REAL VOICES.
Help us tell more of the stories that matter from voices that too often remain unheard.