It may come as something of a surprise that Vendela Vida doesn't have access to the internet at her home, but make no mistake, she's very connected. The talented author founded The Believer which celebrates its tenth anniversary with the publication of a new anthology Always Apprentices: The Believer Magazine Presents Twenty-two Conversations Between Writers. The collection includes intimate and wide-ranging interviews with esteemed writers like Michael Ondaatje, Mary Gaitskill, Colum McCann, and Joan Didion. Vida and her husband Dave Eggers have created a literary empire that also began a decade ago with the non-profit 826 Valencia in San Francisco. With David Katznelson, she recently started another non-profit called the Swedish Literature Appreciation Society. They're curating and publishing a forthcoming English-language anthology of Swedish literature next year. Vida has also adapted her second novel Let the Northern Lights Erase Your Name which will soon be directed by German filmmaker Eva Weber.
Nicki Richesin: The Believer celebrates a decade of publication this month. How did you first get the idea for the magazine and launch the business?
Vendela Vida: One of the first goals of the magazine was to give writers and interviewers as much space as they needed. To stretch out and explore a subject without tight space constraints. The Believer was started at a time when everything was getting a lot shorter, and space was scarce everywhere - book review space in newspapers, feature space in magazines. And the potential homes for long-form essays were few. So we thought readers would support a magazine that might run a 6,000 word-plus interview with an artist like Shirin Neshat next to a twelve-page article about the Spanish writer Javier Marías, next to a long interview with the musician Ahmir Thompson, aka Questlove. The mix was important and remains important. We want every issue to surprise you, and not be tied to the overall news cycle or the release of albums and books. We actually prefer to interview people between projects and talk in more general terms - not just about a new release. There are countless subjects and people we think are interesting any time.
So Heidi Julavits, Ed Park and I batted ideas around for a while for a format, and put the first issue out in the spring of 2003, not really having a long-term plan. That the magazine's been around for 10 years is a testament to the readers, and to the other editors who have made it possible over the years - Andrew Leland, Andi Mudd, Ross Simonini, Sheila Heti, Karolina Waclawiak, Dominic Luxford, and Daniel Levin Becker in particular. The magazine's always been a break-even proposition with only one full-time position (that of managing editor) so if we didn't have passionate editors and writers, it would have died a long time ago.
NR: Did you model it at all on your time at The Paris Review?
VV: Not so much, but I love that magazine. I grew up on The Paris Review, and I learned an incredible amount when I interned there. That was back in 1993. Every day, I used to take a back issue of the magazine home with me, read it on the bus and back in my apartment, and then exchange it the next morning for another old issue. The Believer is obviously very different in that we don't publish fiction, and we're not a quarterly. But the Believer does publish long interviews with writers, musicians, philosophers, inventors, and artists -- and the long-form interview format was definitely inspired by The Paris Review's "Art of Fiction" interviews. Those will always be the gold standard.
NR: In Always Apprentices, you've chosen some of the most thoughtful, and often amusing, interviews with writers from The Believer's past ten years. What has been your personal favorite interview of the many you've featured in the magazine?
VV: I think at this point we've published close to 400 interviews, so it's hard for me to say which are my favorites. I haven't published any interviews that I don't feel strongly about. That said, some of my favorite conversations between writers that we've published include Zadie Smith talking with Ian McEwan (Smith is such an astute, close reader and asked McEwan questions about specific paragraphs in his books that she realized were references to other books), Ben Marcus talking with George Saunders , and Jonathan Lethem talking with Paul Auster. I also love our interviews with Bjork and Trent Reznor (who doesn't love a good come-back story?) and Steve Carell (I loved his humanity and humbleness), and Gideon Lewis-Kraus's interview with the philosopher Richard Rorty. It was the last interview Rorty did before he passed away.
NR: Is there anyone you're hoping to interview you've yet to nab?
VV: We've been really lucky in that not that many people have turned us down flat. This week I've been thinking that I'd really love to interview the filmmaker Sarah Polley. I recently saw her non-fiction film Stories We Tell at a festival and I can't stop thinking about her mother's life, and Polley's discoveries about her own identity. I'm also obsessed with My Struggle by the Norwegian author Karl Ove Knausgaard. I'd like to assign an interview with Knausgaard to another of his fans--I've met a few lately.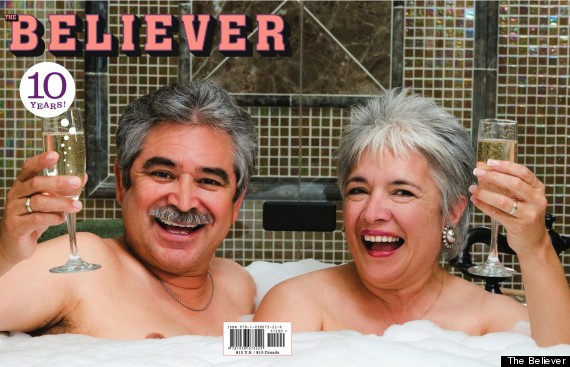 NR: About The Believer, The New York Times reported, "There is something 'authentic and delirious,' as e.e. cummings once wrote -about what they are trying to do, which is to organize a generational struggle against laziness and cynicism, to raise once again the banners of creative enthusiasm and intellectual engagement." Would you agree that this is what you have set out to do and have adopted this philosophy?
VV: That sounded pretty good! I think I can agree with everything in that quote. Obviously, the name of the magazine indicates that we were trying to be a refuge of sorts. There's more than enough cynicism out there, and dark cynicism and lazy attacks directed at the arts - there's more than enough of that. Given the choice between being the thousandth outlet to publish a bad review of some new book, or publishing a rigorous and maybe even celebratory essay about an underappreciated writer, we'd just choose the latter. Everyone who writes for The Believer has so many passions they want to explain and share, so we try to give them the space to do it.
NR: Always Apprentices includes your wonderful interview with Joan Didion, who seems something of a literary hero for you. What was it like to ask her about her writing life and craft? Were you intimidated by her reputation at all?
VV: I was definitely nervous beforehand, but then we started talking and she was so funny and lovely and warm. We've done a couple of onstage events, so we have some familiarity, and we both grew up in Northern California, so there might be a shared set of experiences. She's so fearless in her writing, and the same is true of her in person -- but she doesn't take herself so seriously. She has a sense of humor and great humility.
NR: Over the past decade, what do you think has been the most unusual or surprising observations writers have made about their profession or their lives as artists?
VV: One of my favorite--and most surprising-- moments in an interview was when the writer Julie Hecht was asked: "You never do interviews. Why did you agree to this one?" Hecht said, "I don't know. I wish I hadn't. It's really wearing me out, thinking about all these things from the past." The interviewer told her that they could stop there, and Hecht responded, "It's too late. The damage is done." I love that observation, and that ending.
Another one of my favorite observations was made by the late Maurice Sendak in an interview we published last year. The interviewer asked Sendak what he thought about e-books and Sendak responded: "I hate them. It's like making believe there's another kind of sex. There isn't another kind of book. A book is a book is a book."
NR: How did you first enlist the talents of marvelous artists like Charles Burns and Tony Millionaire?
VV: That was Dave's contribution. He designed the original template for the magazine in a way that allowed the magazine to be maintained month to month by one full-time managing editor. And part of that was having a fixed template with certain featured artists - and from the beginning the covers were built around Charles Burns. Dave loved his art, and designed the whole template with him in mind. I don't know what we would have done if Charles had said no. Same with Tony. He's probably done 500 drawings for us over the years, and he's fantastically versatile and is much a part of the identity of the magazine as any other person or element.
NR: In your novels, the characters are journey women always searching for redemption and forgiveness often in a strange land. What are you working on now?
VV: I'm actually working on a book about my mom's family. She was part of a large family, and grew up on a farm in Sweden. Their mother, my grandmother, died when she was very young, leaving my grandfather with five children, ages 2, 4, 7, 9, and 11. The government didn't think a single farmer could raise a family without a wife, so there were many efforts to split the children up. But the family persevered and stayed together. It's a story I knew growing up, and I've spent a lot of time on the farm - my relatives still live there - but I've learned so many new things while researching and writing the book. I have to say it's pretty different from the last three novels, which admittedly were pretty dark.
NR: You and your husband co-wrote a charming film Away We Go about a young couple expecting their first child, just as you were at the time, I believe. If you wrote another script, what would it be about?
VV: Funny you should ask! I actually just wrote a script based on Let the Northern Lights Erase Your Name, my second novel. There's an extremely talented German director, Eva Weber, who's planning to direct it. Eva made this beautiful short called Reindeer in Lapland, where Let the Northern Lights is also set. I'd seen that short, randomly, and loved it, and then Eva read my novel and we were in touch and had a lot in common, as you can imagine. There are only so many people who have spent time in Lapland, especially in the winter.
NR: Has the magazine lived up to your expectations and what are your plans for its future?
VV: In some ways it's exceeded our expectations. First of all, it still exists after ten years. That seems bizarre and wonderful. For print magazines with tiny staffs, just enduring is an achievement these days. Along the way, getting to publish the writers we've published feels like a great honor, a dream even. The magazine's been translated into Italian and French, and that feels good. As for our plans for the future, we'd all just like to keep doing what we've been doing.
Nicki Richesin is the author and editor of 'Crush,' 'What I Would Tell Her,' 'Because I Love Her,' and 'The May Queen.' She is the San Francisco correspondent for 'DuJour' and a frequent contributor to 'Sunset,' '7x7,' The Huffington Post, Daily Candy, and The Horn Book. Find her online at www.nickirichesin.com.
REAL LIFE. REAL NEWS. REAL VOICES.
Help us tell more of the stories that matter from voices that too often remain unheard.