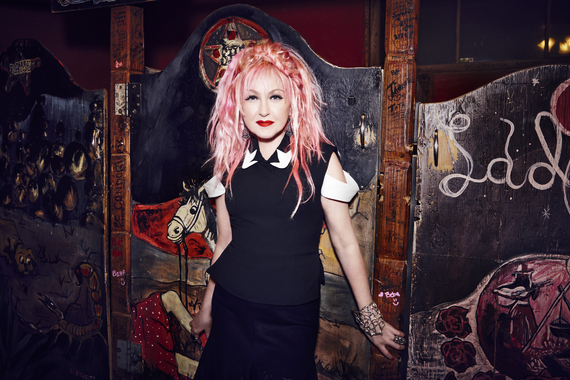 Once again pop star, dazzling icon, producer, writer, and musical Goddess Cyndi Lauper has dauntlessly created a triumphantly amazing new release, entitled, Detour. Set to be official May 4th, her album contains country classics, filled with endless stories.
As always, Cyndi addressed this project adorned in her "true colors," and unique style. I was able to share some questions and answers with her regarding her insight on the songs chosen for Detour, as well gather information on her vast up and coming tour. She is truly a special and precious soul, filled with charity and kindness, as well as love for her fans....
I feel as though the name of your album, Detour, is symbolic. Taking on a very different project than you've done in the past is dauntless, so why country, and why country classics? Did you always wish to sing country deep down inside?
Old country music was very popular when I was a young kid growing up in Queens. No one labelled it as country music back then. It was pop music as it is now. AM radio that was blaring at my Aunt Gracie's house. She listened to the radio while working in the kitchen. There I heard Patsy Cline, Hank Williams, Kitty Wells, Loretta Lynn and Johnny Cash. So when Seymour and I started talking about an era or a genre to cover on this record, we both gravitated to what a lot of people consider the Golden Age of Country..late 40s, 50-60s. Plus what made it even more attractive was that my last cover record was Memphis Blues and we chose songs from 40s/50s/60s. So when those songs were being written at the same time across the racial street the country odes were being written and I just thought Cool. What a brilliant time for music that era was.
"Funnel of Love," is a great song, full of fun, do you have a track on the album that's very special to you?
Thank you. All the songs are very special to me. As each of them remind me of a something special in life. Why I chose them for a reason. Also each of them tell a story. Wanda Jackson was a big influence. I brought her influence with me to my band Blue Angel, which was really heavily influenced by rockabilly so I had to have a Wanda song on the album.
What inspired the choice of songs on the album?
I listened to over 1000 songs..literally. No joke. Seymour, my manager and friends have all sent me songs. So I took my time and listened to each one of them. I wanted to pick songs that tell a story. Do I relate to the story? Was it a story that I could tell? I think everything is a story. When you are a singer, you are basically a story teller. That's what I look for.. A story that I can relate to and have fun with it. And of course that I could sing well and be respectful to original.
Everything that you touch turns to the most dazzling and sparkling shade of gold, how are your fans reacting to the "country" in you?
I am fortunate to have some amazing fans thru the years. They follow me thru every stage of my music career. Every twist and turn every Detour.
Do you ever feel that when you're singing, especially singing country, which is filled with story, you're like a lifeline to people whom you will never meet?
Yes that's why I chose these songs on the album. As mentioned I want to tell a story with each song. If people can relate to at least one song, then I did my job.
Is there a country artist or artists who inspires you?
When I was a kid I used to hang at my Aunt Gracie's kitchen. And she had Patsy Cline on the radio. Then I saw Patsy Cline with my grandmother on Arthur Godfrey's Talent Scout. It was a fun talent show. Patsy was on, she sang and won! I remember my grandmother saying "she is really good" I was all excited. In the 80s my friend worked at MCA Records and she would send me all these Patsy Cline albums. Of course I spent a lot of time in my room singing with Patsy! Just me and her singing together.
Her voice was like one of my "girlfriends." That's how closed I felt with Patsy Cline. And of course Dolly. Dolly has been an inspiration to me always. As a songwriter, as a singer as a performer.
How challenging was it to do this album, and how cool was it doing a duet with such country icons?
It was a challenge to pick the right songs, the right producer and the right musicians. Once all of that was decided the rest was kind of easy. I had to find a rhythm with the band, and that was on me, not them, they were all terrific. I just had to find my spot as an arranger, a band leader and a singer and it took only a day really for us to find each other and become a real band.
After your 19 city tour, in support of "Detour", what's next for Cyndi?
I am currently busy with Detour release. Then there is the tour coming in May to support the album. We just announced the second leg of the tour for the West Coast which will keep me busy till the fall. I will be in UK & Europe this summer, then also making plans to tour Japan and Australia in 2017. I am working on another musical which I am pretty excited about. Kinky Boots is keeping me quite the busy too Kinky Boots just won 3 Oliver Awards for the West End production and it's opening in Australia, Japan, Germany, Sweden and is already in Toronto and Seoul so I need to stay on top of that. Of course I have my family to take care of so it's a pretty full life.
Cyndi is doing a CD signing at Barnes and Noble on Union Square on date of release May 6th ..here is
more information.
Support HuffPost
Every Voice Matters
Popular in the Community