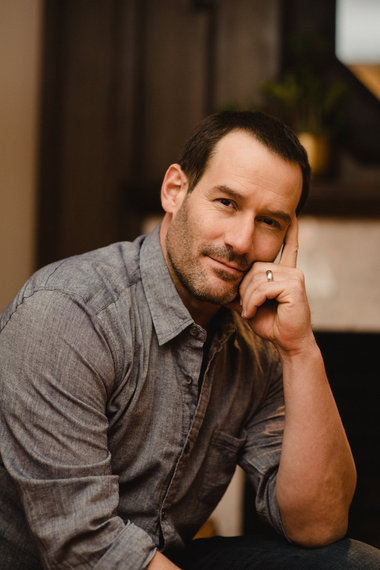 The third season of "Turn: Washington's Spies", will be beginning it's third season on the AMC channel, on April 25th, starring Ian Kahn as the iconic General George Washington.
Ian Kahn has appeared on Broadway in "Enron", as well as on television in popular series such as, "Dawson's Creek", "Sex and the City", "Bull", and "The Unusuals". After speaking with Ian, I quickly came to realize that if anyone could portray the historical character of Gen. Washington, it would have to be him...
You are portraying a very interesting role. Do you realize that you are actually creating history? No one alive today knew Gen. Washington, so all of America is relying on you now, to kind of introduce him.
That's an interesting point of view. I think that there is a lot written about Gen. Washington, but the American public seems to have a very specific view of him. I appreciate you calling him Gen. Washington, that's dead on right! He's sort of wrapped up in the dollar bill, and the personality around that. And yet, it's a great responsibility to play him and to try to bring flesh and blood to this icon of our country. One has real specific ideas about him, but they don't really know him.
You are kind of creating him, and I think that's so cool, so my next question is how did you prepare for a role like that?
When I got the job, I was lucky enough to have a friend, who had a friend who is a Washington interpreter, who has dedicated the last 15 years to portraying Gen. George Washington. That's his job. He's gotten into every aspect of his personality, and does a fantastic job of portraying him. His name is Daniel Shippey. When I got the job, my friend suggested I speak to him. It started a process where I would talk on the phone with him for 3 hours a day, and ask him pretty much every question that I possibly could about the man.
Give an example of some of the questions that you've asked him. I wouldn't know where to start.
The first place to start for me was with the script, the story that is being told. I take the information that the writer has put out. So when the show began, we were in December of 1776. When Gen. Washington appears on the show for the first time it's Dec. 25th 1776, the day after the great battle was won, and he crossed the Delaware, against the "Hessians". He told me everything that was going on. Back then, there wasn't the Internet, or pictures really. There were paintings, and there were letters. In these letters there were so many clues for actors. For an actor, information feeds imagination. So the more information that I was able to get, the more I could imagine how I would feel in this particular situation. One of the most interesting parts of George Washington, is that when he was a younger man in his 20s, he was a very reckless man. He made a lot of reckless choices, that caused real problems for the country, and for him personally. In my own experience of life, I know that I made a lot of foolish and reckless choices. So I was able to connect with the character very much from that perspective. Over time what he did, and hopefully what I've been able to do, is learn from his mistakes, because that's the best we can do as people. So that was my first hook into his personality, he was not the stone man that I know and that I had grown up with. I always thought that he was like a statue. He looked so mean and angry all the time. But he was a person. He made a lot of mistakes, but he learned from them, he became very reflective.
How did you come about getting this role?
I had moved to California with my wife, and then 1 son, to see how I could move forward as a producer. Feeling that if I was in a room with other producers, auditioning for them, that I would have a better feel for getting jobs. Then I started working with a manager, and an agent. My agent saw this role out there, and I sort of fit the description. As an actor when you get an opportunity to audition for a role, for me personally, I sit down and read it. It either comes out, or it doesn't. So when you say the words, it either sounds like it's you talking or that your putting on a character. Just from the first moment I started reading the words, I had a connection to the character. I enjoyed playing the role. That's one of the key things, hen you enjoy playing somebody, you can put more heart and soul into it.
This role has to be really different than Dawson's Creek.
Yes and no. It is very different, but at the same time it's somewhat the same. Let me see if I can make this work. So I was Danny Brecher who was Pacey's boss. What Danny was, was the boss of his little world. He was the General of his restaurant, his environment. He had a young man that he was apprenticing and looking over. Well it's very similar to what we have on "Turn". I am the General of my little world, a bigger world than the restaurant, and I have a young man, Benjamin Tallmadge, who I am trying to counsel, and be a role model to. In an odd way, there is a certain similarity in Danny and Gen. George Washington.
You have also done Broadway, correct ?
Yes in "Enron"

How do you compare doing television to doing Broadway?
I've done a lot of theater all across the country. It's a completely different experience. It almost should be considered different professions. It requires really different muscles to do the job well. What actually serves you well on screen, can often cost you on stage, what often serves you on stage can often cost you on screen. It's a delicate balance to be able to do both. I enjoy both of them very much, and for very different reasons. I guess for you it would be like interviewing an actor, and then interviewing a politician. You're still interviewing them, but the experience is so very different.

That's a good comparison. What made you decide to go into the acting industry?

I really liked it. It was fun. When I was a little boy, my grandma used to take me to Broadway shows. I remember seeing, "42nd Street", and I sat up in the mezzanine. I was watching and said, " I'd like to do that" . My grandma pointed to the stage and said, "you belong up there". She passed away when I was quite young. We were very close, and after that I joined the theater guild in my town. So I was the only boy, so I did The Artful Dodger in Oliver, and Charlie Brown, and stuff like that, and I really enjoyed it. I loved expressing myself.
You come from Long Island?
I sure do. Long Beach. That's where I'm from.
Without giving too much away, or getting in trouble, what can we expect from season 3 of "Turn"?
The series is about the "Culper" spy ring. This is all based on history. In true history what happened: it's about watching people, Benjamin Tallmadge, Abraham Woodhull, Robert Townsend, and Caleb Brewster, infiltrate and get information that could help Gen. George Washington win this revolutionary war, that we fought in 1776. It's really following the lives of these people, and the life of Washington, and most especially this season the life of Benedict Arnold. When I was growing up, there was no name you could be called that was worse than Benedict Arnold. It meant that you were a traitor and a bad person. The show is about this guy now. It's about watching him and how he became from being one of George Washington's closest friends to him turning on Washington, and the Continental Army, and joining the Red Coat side. That's what the shows about. That's what season3 is. We watch it happen, and we see it happen, and it's odd because like art, it doesn't always answer questions, it brings up questions. So you kind of look at it, and you kind of see where he's coming from. The show is about "turncoats", and spies. It's an exciting season, and perhaps our best season yet.
Calling all HuffPost superfans!
Sign up for membership to become a founding member and help shape HuffPost's next chapter