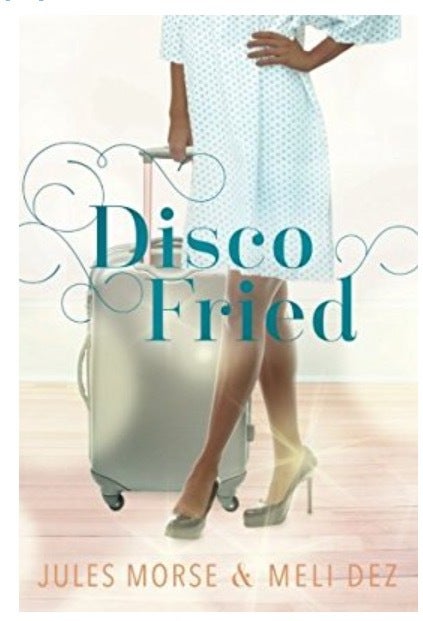 Life can be messy! And no one knows this better than the two midlife, married, working moms who are trying to do it all; it is these protagonists who move the story in the new novel Disco Fried.
Savoring the turmoil during this phase of life with finesse and style is the focal point of this book for authors Jules Morse and Meli Dez. They knew the title of this novel had to be special so they named it Disco Fried. In Disco Fried, the Momcation [a respite from parental duties] madness that ensues when a quirky New England prep drags her Long Island diva best friend on a comical Canadian quest for their "MILF" [Moms I'd like to F#*K.] crowns.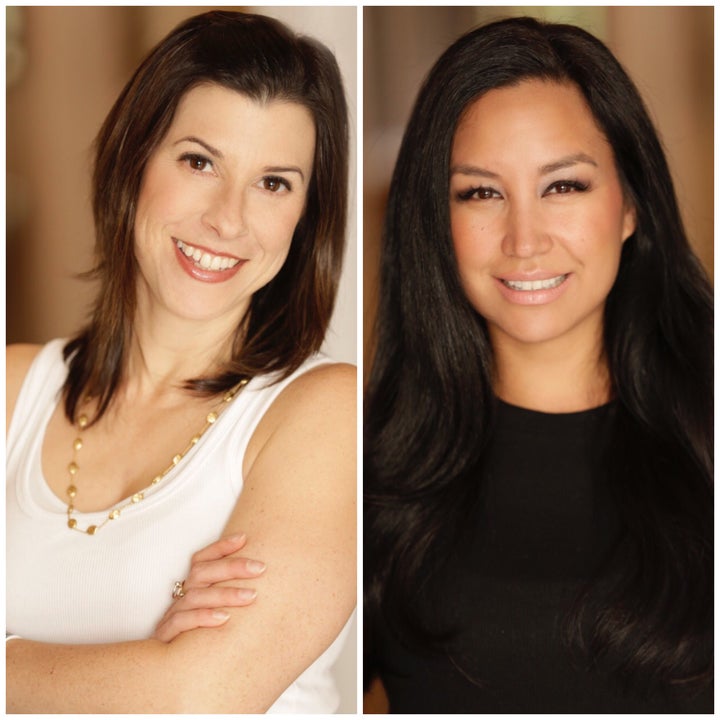 In this entertaining and dynamic story of two female best friends, Mina Baron and Jill Stone, the main characters who are feeling stuck and desperate, want to add some excitement to their lackluster lives.Both are experiencing anxieties and fears about what life has in store for them during their midlife years. Mina, a former singer, has just been diagnosed with a debilitating auto-immune disease, while Jill, is dealing with the frustrations of trying to sell her latest TV pilot. In an attempt to say, "yes" to life and live every moment to its fullest these two besties decide to take an epic Canadian weekend get-away to jump-start their lives again.
After an unexpected meeting with an old flame and a handsome businessman, these two friends confront their true fears in a shocking way that will surprise them both. To learn about the catalyst behind these delightful characters, I interviewed both authors, Jules Morse, an interactive copywriter and brand strategist and Meli Dez a press release writer and former lead singer for several bands. I asked them about the inspiration for their new novel and the following interview took place.
Dr. Robi: You both have very interesting backgrounds. Have you always wanted to be novelists?
Jules: I've been writing since I can remember. I used to write poems during Math class, which didn't do me any favors when it came to factoring polynomials, but it did help me hone my craft. I have written things ranging from poems about ice hockey, to dividend reinvestment product briefs, to strategic marketing copy. I had not foreseen writing a novel necessarily, but I've always been fairly open-minded when it comes to writing projects.
Meli: I had only ever dreamed of someday publishing a creative writing piece. As a former singer-songwriter, I had always dabbled with fantasy and imagination. I enjoyed the prospect of creating a fictitious character that might embody my alter ego or parts of my personality I thought were in need of work.
Dr. Robi: How did the two of you meet and then decide to come together to write this book?
Jules and Meli: We met at a new mothers' lecture series. The decision to write the book came much later after we had faced many challenges together: husbands with demanding careers, kids with various needs and troubles, illnesses, the constant pull to maintain our own identities separate from just caretakers of our families. After many soul-searching conversations evaluating our lives and few nights that might inspire a sequel to Bad Moms, we realized that so much of what we were facing was universal to women of all different backgrounds across North America (parenting, infidelity, aging, illness). We really hadn't seen anything in the stores that addressed these themes in a positive and empowering light, so we decided to put something fun and comedic, yet poignant, out there.
Dr. Robi: Do the characters represent either one of you and if so, in what way?
Jules and Meli: There are similarities you will see. Jill is from New England and so is Jules. Mina is from Long Island and so is Meli. We wrote about the types of places where we have lived and the types of people with whom we have crossed paths. The characters in our book are amalgams of people we have met and those we've watched from afar – people about whom we've fabricated background stories to fit our message.
Dr. Robi: What got you to write about two middle age friends?
Jules and Meli: We realize as you become middle age you rely more and more on the camaraderie of diverse women, because women understand each other's struggles even more sometimes than their own spouses do. We know the importance of having true friends – those with your best interests at heart and not just acquaintances, or frenemies. This is something we have grown to value more as we age. We wanted to portray that type of relationship in a realistic way and highlight for other people exactly why that support is so valuable.
Dr. Robi: Do you think friends during midlife present different and interesting characteristics or different issues than friendships during other phases of life?
Jules and Meli: They absolutely do because so many of the "What am I going to be when I grow up?" questions have seemingly already been answered. So now it's here. You are a grown-up. Now what are you going to do about it? In middle age, people seek friends who are on the same page with regard to what they will or won't accept about themselves and their lives. They crave being around people that inspire them to step out of their comfort zones and do things differently to change things accordingly.
Dr. Robi: There are a lot of novels out there. What do you think separates your novel from the rest?
Jules and Meli: There are so many angsty mommy blogs, TV shows, and movies that show the trials and tribulations of today's middle-aged women, but we wanted to focus on solutions, not just raise awareness of the challenges that exist. We wanted to provide people with alternatives to moping around in self-doubt and thinking about what could have been. Some seemingly impossible feats can be accomplished with the right support. This book gives people permission to live messy lives. And it gives women, in particular, permission to ask for what they need.
Dr. Robi: What do you like about your characters Mina and Jill, and what do you dislike about them?
Jules:I love that Jill is all about connecting with people. Within .two milliseconds of a conversation with a stranger, she is able to get beneath the surface. I don't like that she is so quick to let men prey on her self-esteem
Meli:I don't like that Mina is so insecure about her looks and needs validation from the opposite sex. I do love that she is spunky, edgy, and has swagger.
Dr. Robi: How did you decide to give one of the characters Guillain-Barre syndrome? It appears to be a a little known condition.
Jules and Meli: We wanted to include the element of illness, and the impact it can have on a young family. There is so much pressure on mothers to be the glue that holds everything together. A mom with just a common cold is enough to rock a household let alone a serious illness. While Guillain-Barre might not be common, a mom sick with some type of ailment is. We chose Guillain Barre in particular because Meli had experienced it, and we felt that her scenario raised so many of the concerns a young sick mom struggles with, i.e. who will take care of my kids, or what is going to happen to my family?
Dr. Robi: What is your hope for this novel?
Jules and Meli: Mina and Jill are vastly different - oil and vinegar! But when you put the two together and shake 'em up you get a sensational emulsion. We hope readers can come away with the idea that sometimes pairings aren't obvious: people may be from different backgrounds and cultures, with different outlooks, and having had entirely different experiences, and yet, if they take a step back, hear each other out, and get a little perspective, they can collaborate and really accomplish awesome-ness.
Dr. Robi: What can we expect next for the two of you?
Jules and Meli: We hope to continue to evolve while maintaining our identities. Maybe more travel and another book about Mina and Jill. Who knows? Maybe we will graduate from fast food to fast cars! To find out more about the authors and this book go to: https://discofried.com
Popular in the Community