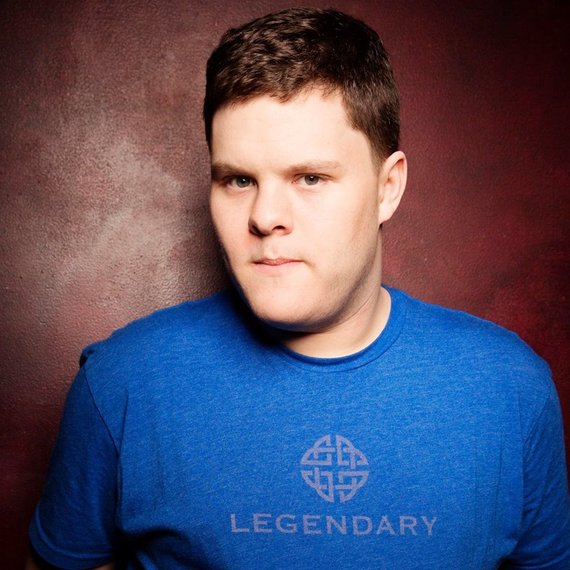 The NYC Podfest will be presented on May 20th, 21st and 22nd, and is a adventure filled occasion, for Podcast fans to view a variety of their favorite podcasting personalities while they record live on stage. This rare opportunity will be adorned with celebrity guest speakers, including, Brian Quinn, ( Impractical Jokers), Bryan Johnson, (Comic Book Men), and Gilbert Gottfried, and will provide podcast fanatics with nearly every podcast topic in life.
I spoke with founder and promoter, Jeremy Wein, now in his 4th year of showcasing the festival, to find out what one could expect to find at this celebration.

So Jeremy, when, where and how can fans become a part of this epic podcast journey?

It is May 20th at the Bell House in Brooklyn, (140 7th Street, Brooklyn), and on May 21st and 22nd, it will be at The Cake Shop in Manhattan, (152 Ludlow Street). If people want to find out more information, they can go to our website: nycpodfest.com.
Podcast are becoming crazy popular, what inspired the idea for you to run a podcast festival?
So there were a couple of things. First I was running a monthly comedy show in the city, for quite awhile, and I was looking for a project that was bigger scale than that. They were just about to launch a podcast festival in Los Angeles. I host my own podcast, and I thought the idea was very interesting. I was doing my monthly comedy show at the time, and I went to the director and asked what he thought about doing the first ever New York City podfest. That's really kind of how this started.
How many years have you been doing this?
This is going to be our fourth year.
I imagine it gets bigger every year?
It does. The first year we were in a place that had two stages, we had a lot of contents but the turnout was OK. We are now at two venues over three days, we are putting up 22 shows, we are expecting at least 1500 people to come out over the weekend. So it's definitely a lot bigger of a thing then it was when we first started.

So tell me about the contents of it.
We have a lot of different podcasts within the festival, like I said we're putting up 22 different shows throughout the event. It's not just necessarily comedy podcasts, we have podcasts that cover films, we have a podcast called "The Ensemblists", which features the ensembles of Broadway shows, we have two storytelling podcasts, we have a game show podcast, so it's a very large and vast section of different topics, that we're featuring within the festival. In terms of talent we have folks like Gilbert Gottfried, Dick Cavett, Janeane Garofalo, and that's just the tip of the iceberg. We have John Baptiste, which was the band leader for the late Stephen Colbert, so we have a lot of really great folks in the lineup this year that we really hope people will enjoy coming out to see.

What is the name of your podcast?
The name of my podcasts is called, "It's My Show", and it's interview based with pop-culture figures. It's mostly with comedians, but I try where I can to supplement that with Theater performance and other topics. I personally on my podcast have had Reggie Watts, Will Forte, a lot of interesting fun people.
It's very sporadic. I've been doing it for six years but there is only about 50 episodes. I only record when I have someone worth sitting down with. I don't want to just generate content to generate content. I want there to be some meaningful reason for why something is being put out.
Jeremy are you a comedian?
I think I'm a funny person, but I'm not necessarily trying to pursue comedy as a career. I do much more producing. I like producing in the realm of comedy.
What would you like people to know about for this podcast festival?
It's really exciting, it's the best lineup that we've had yet, I think there's something for everyone, within the festival. It's a really affordable, great way to spend some time that weekend, and maybe find some voices that they have not yet heard within the community.
Do you have a favorite podcast?
I really like Dan Harmon's podcast, "Harmon Town". There's a Podcast called " Throwing Shade", which TV Land is putting into development, for like a late night series.

Who is the most favorite person you've ever had on your own podcast?
Oh no......I will say I think, the two that I really enjoyed doing were Dan Harmon, and then do you Dino Stephanopoulos was really great.

Anything else that you'd like to promote?
NYC Podfest social media:
Festival Website: NYCPodFest.Com
Twitter: @NYCPodFest
Facebook: Facebook.com/NYCPodFest
Jeremy Wein
Twitter: @ThisMyShow
Website: ThisMyShow.Net
Instagram: jeremyWein90
REAL LIFE. REAL NEWS. REAL VOICES.
Help us tell more of the stories that matter from voices that too often remain unheard.