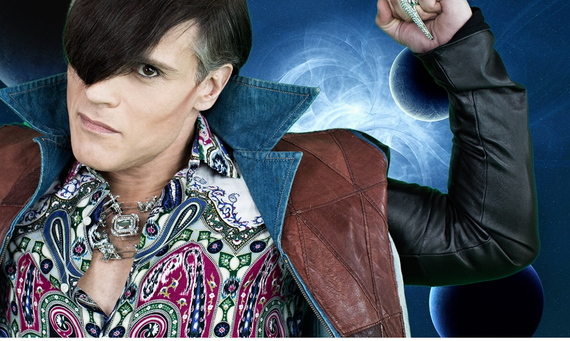 Researching Grammy winner, singer, songwriter, and multi-platinum music producer Rob Fusari, AKA 8bit, AKA Cary Nokey, was like accidentally stumbling upon a titanic, and epic, spiritual revelation destine to save the world, and then not quite being able to decipher the true essence of its consequence, but in the most glorious and glamorous way. Subsequently after watching his videos, "American Dream," "Incredible," and "B Who U R," I am sure that music will certainly hold an exciting new meaning for me.
Out of all of the people I've had the honor of speaking with, Rob is the most intriguing thus far. His fascinating, unpredictable artistry, riveting sense of fashion, and countless, innumerable "looks," seem to fuse 1000 divergent people into one very special and enchanting being.
After years of generating dreams for others behind the scenes, writing and producing music for artists such as "Destiny's Child," (No, No, No), "Beyoncé," "Will Smith," ( Wild Wild West), "Whitney Houston," (Love That Man), and "Lady Gaga," ( Paparazzi, Fame), the compelling and creative talent that Rob Fusari processes as a solo artist is about to be unleashed in the form of his new video, available April 8th, and entitled, "Don't Let Love Down." Then on April 28th, Rob will be making his debut appearance at the "Cutting Room," in "a glamorous tribute to the Music of The Beatles."

Congratulations on your new video, but right off the top, I have to ask you, Rob, 8bit, Cary....how many voices do you hear in your head, and what are they telling you to do?
Too many....I just have that multiple personality type of thing....
I feel like if David Bowie, Adam Ant and The Pet Shop Boys had a baby, you would be it.
Yes, that's a great comparison right there.
I just couldn't figure out what you are. You look completely different in everyone of your pictures.
It's funny, when I was in High School, my senior year, an acquaintance came up to me at the end of the year, and she said, "You know, how come every month of the year you look different, I can't pin point it." It started back then. I wish I had an explanation for it. Even in the music that I've written, it just varied and it changed. It's worked for me, but it also worked against me. Most of the time in the business, producers and writers, they develop a sound, a particular trade mark. You just know it's them. I don't have that. It just keeps changing. It's interesting, but you'll never hear a track and say, "oh, that's a Rob Fusari track." I wish I had that, I just don't have that.
You're even a little bit Broadway.
For sure. I grew up in a house with a family that, everybody had their own thing , their own culture, their own music that they gravitated to. My mother was Liberace, my brother was Progressive rock, my other brother was disco... it sunk in a little bit from everyone's side. I never chose a side, I'll just take it all then I guess. My mother, I was her third son so, I was the daughter to her. She always wanted a daughter. She kind of did her best to make me the daughter. She would try her new makeup products on me, she would show me her clothes... she was the female "me," so to speak. It touched my feminine side. She treated me like her daughter all those years.
I'll be honest with you, I never heard of you before.
I told you, I was a behind the scenes guy. I wanted to be behind the scenes. I didn't want to be like Pharrel, out in the front.
You know I feel like you made a lot of people a lot of money, why did you wait so long to go solo?
Well, it wasn't something I ever planned on doing. The way it came about was forced. After I finished the GaGa project, she got so successful, I was left in a very strange place. As a creative entity I didn't have the next move. I didn't expect her or the project to be that big. As much as it is a blessing, it's also a curse. It's like this thing where you could potentially peak out. It gets to be too much, in terms of what do you do next. I couldn't walk into a record label with my next artist, and let it be less than Lady GaGa. It had to be above it, it had to top it. It had to be something more spectacular. So after the GaGa project every unsigned artist was finding me. I met with a ton of artists, worked with them... because I was convinced that if I didn't find the next artist now, I never would. I was waiting for that next artist, but after two years, needless to say, it never comes. For me, I just wasn't connecting. When I met Stephanie, within moments I knew this was it. I just didn't find it and unfortunately it put me in a very dark place. For someone like myself where music is the thing that keeps me alive... so I woke up one day and decided to write a song, just to write. I had stopped doing that. There was no particular project, for someone else. I needed to write a song, for no reason, just cause I'm a writer. I wrote a song from this phrase that my mother use to say, "don't be a jack of all trades, master of none." So I wrote a song called, "Master of None." It's one of those things that came out of me very quickly, within 15 minutes. It had this very Pet Shop Boy, Depeche Mode thing to it. In my mind I thought who can I get to demo this. I didn't know a soul in all those years that could give me that kind of sound. The artists of the 80's had this very emotional, dark sound. So for the hell of it, I just did a vocal on it. When I came back to the studio there were a bunch of people huddled around the Console listening to the song. I thought they were making fun of me. They turned to me and told me that they hadn't heard anything like it. From that moment everything just changed. That's how it all came about.

You have a sound. Very Pet Boyish, Bowie....
That's why I do this. That's my inspiration, the Bowie, the Cure... it's like a collage of everything I listened to... I've been so fortunate to have worked with people like Whitney Houston and GaGa and Beyoncé. You pick up these little things from them too.

Do you ever feel that the words to your songs are like a lifeline for people that you will never meet?
Absolutely. I was speaking with someone the other day about " Don't Let Love Down." It's indicative of... I have this thing where you can feel peoples' energy. There will be a day that I'm walking down the streets of New York and see someone with a certain look, I can almost see into their life for a split second. It brings to mind a story or a title. Any writer writes about their life, but it's more than that. You are putting yourself into other people's life. With " Let Love Down"... it's a little bit if a foreshadow, because I wrote it with GaGa. We had the kind of relationship that was very volatile. We both new, unspoken, that we were never going to last. You just know, you just feel it in life. We had this explosive, creative chemistry, but we also had an explosive personal chemistry, which isn't always good. So a lot of this song is a song that I wrote with her, had a lot of this foreshadowing of "it's going to apply to us whether we like it or not." More recently I see a certain hopelessness that I sense from a lot of people that I meet. They just can't figure it out. I don't really like to write sad, breakup songs. That's not the kind of writer I am. I like to make a bigger statement. "Don't Let Love Down," it applies to so many areas of love. It's not just a relationship, it's bigger than that. So when you ask that question, very much so. Sometimes you do feel like the voice, that I'm living through other people, and my words are their words... music is personal but it's only personal because you're drawing from so many personalities...
Do you feel like you had no other choice but to play music, as though you were born to do this?
It's funny because I tried to fight it for years. I ran from it until my late 20s. I took any job you could imagine from a bakery to a gas station to a computer consultant. It scared me. I didn't think it was real. It was too far out there. Every time I would run, it would pull me right back. Finally when I stopped running is when things started happening. The answer
If you were a super hero, what would your powers be?
That's good. That's easy. I'd want to be able to go from male to female.
I think that you do that already. Would you want to go back again though?
Yeah. I'd want to go back and forth.
So what can people expect to see at the "Cutting Room?"
I'll tell you this: it's a bit of a tamer show than when I opened The RuPaul's Drag Race last year. What's different about this show is that there's gonna be more story telling. I'm going to speak about different things that I haven't really spoke about. They are really personal to me. I'm going to have in song form a conversation using all Beatle songs... a conversation that I could see John Lennon having with his son. It will be answered in all Beatle song. It's going to be really emotional. I gotta keep my composure so I don't start balling on stage.
Visit Rob on social media
twitter: https://twitter.com/RobFusari
FB: https://www.facebook.com/RobFusari/?...
Instagram: https://www.instagram.com/robfusari/
Calling all HuffPost superfans!
Sign up for membership to become a founding member and help shape HuffPost's next chapter