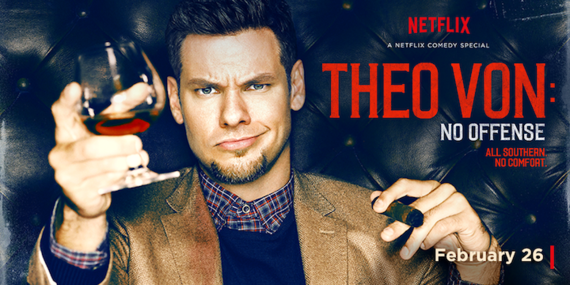 Hellaciously hilarious, and enchantingly relevant, humorous Theo Von will be showcasing his brand new "Netflix" special, entitled, "No Offense", on Friday, February 26th.
No stranger to stand-up, or television, Von has appeared in season 4 of NBC's, "Last Comic Standing", "Comedy Central", ""Deal With It", a TBS show produced by Howie Mandel, "The Arsenio Hall Show", "Hello Ross", Chelsea Lately", and " Watch What Happens Live".
Fighting to control the laughter in between the questions, I spoke to Theo about his new show, future endeavors, and the secrets of comedy. He answered them candidly, and complete with his engaging "New Orleans" accent.
So, you're in front of a live audience, and no one is laughing. What happens next?
At that point you bring it up. You recognize the elephant in the room, "Okay, what's going on here guys", "Am I not what you expected"? " Am I letting you down"? I think you actually open it up and try to get to the bottom of the situation. Then you have a common ground. Before you didn't have a common ground, because they weren't laughing. Now you at least both understand that they aren't laughing. Once you have a common ground, you can build.
What's the most embarrassing thing that has ever happened to you live?
There's a lot of embarrassment. I got booed off the stage one time. This was in a University in Florida. The students didn't know that I had to come back out 6 more times, because I was hosting the show. They just thought that I was a comedian opening the show. So they booed me off the stage and I had to go back on 6 more times in between the acts. It got ridiculous. In the end it became the joke that I was coming back out. I had no jokes left, and they weren't entertained, but because I had to keep coming back out, that became a running gag.
Tell me about the "Netflix Special".
It was really awesome, I got to go back to New Orleans and shoot the special. " New Orleans doesn't have a regular comedy club. The Louisiana comedy scene has been spotty at best, for the past decade. So I decided to get down there and show off that comedy scene. It's a city that has a sense of alcohol, a sense of partying, but it also has a sense of humor. So I think that was the most special thing there. All my friends and family got to come.
I was a breech birth if that's what you mean

Not exactly. Were you the class clown?
I think I was just loud. I think I was just a blabber mouth.
What prompted you to want to do comedy?
You get to travel. You get to escape reality, I mean you graduate High School, college, then you start a family, and I think that my life wasn't super growing up so, I'm always trying to put that off. Comedy is a way I can sort of keep that further away. As it progressed, it became more of a job, and I like making people laugh. That's the only time that I feel comfortable, when people are laughing.
What's your favorite thing about performing live?
Do you have a favorite comedian?
There's a man named Jerry Clower. He was a famous southern comedian out of Mississippi. He's gone now but he was very unique. He was a story teller, and I really liked listening to him. I really like black comics.
Do you write your own material?
I write my own stuff. It's just my life history.
Are you impulsive or rehearsed?
It's rehearsed, but now it's becoming more impulsive. Now you're just more used to being in front of a crowd. You know if they are going to like a joke before you even tell it. I think that it's something that comes with experience.
What's your funniest routine?
I tell the story of when I met Brad Pitt.

Who is your favorite celebrity that you've met and why?
Howie Mandel is my favorite. He's so friendly and he's a family man. For a lot of celebrity's to keep a genuineness about them, I think can be tough, but he really seems to work hard to do that.

So tell me what people can expect from "No Offense".
Well the "Netflix" show is charmingly offensive. It makes fun of everybody a little bit, including myself.
Do you have any new projects on the horizon?
I'm writing a book based on a website that I started awhile back. I'm working on a new hour. I'll be touring...
Tell me something no one knows about you.
I could have been a dancer. I just never got my shot at it.
You're a new addition to a crayon box, what color are you?
Extra black. The black that they have in the box is kind of shoddy.
I feel like it is...
If you were a porn star, what would your name be?

If I was a porn star my name would be, " The Impractical Poker".
Calling all HuffPost superfans!
Sign up for membership to become a founding member and help shape HuffPost's next chapter