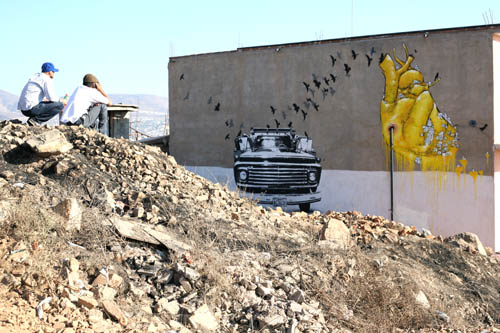 During the end of September I attended the InterZona festival held as a biannual festival between San Diego and Tijuana. I went specifically to observe a project created by an artist who I have worked with, Alfredo LIBRE, native to TJ but living in Mexico City. This project was a celebration of Urban Art in its highest and most resonating form. LIBRE organized artists from around the world to come together and discuss how their 'street art' translated across boarders and in environments displaced from their urban roots. These artist converged to work in an isolated and impoverished community so remote from the city center that a local friend got lost for an hour trying to drive us there (despite innumerable directions from countless people we asked along the way who also didn't recognize the area). The artistic results were explosions of color and energy that were infused into a neighborhood where chickens, steep dirt roads, abandoned dogs, shoeless children, and re-bar poking out of unfinished foundations became touched with positive affirmation.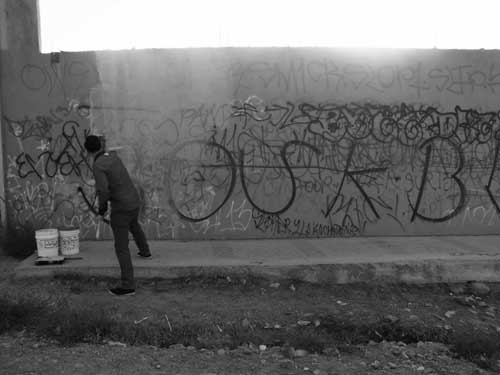 I interviewed Shawni D who works in Los Angeles as an advocate and activist for Urban Art after having a conversation with her recently at an art event. You don't need to look across the boarder to see communities in need of creative expression, nor look for examples on how this type of art can garner positive results in neighborhoods across the financial spectrum. I wanted to illustrate some of the points I found interesting as a comparison.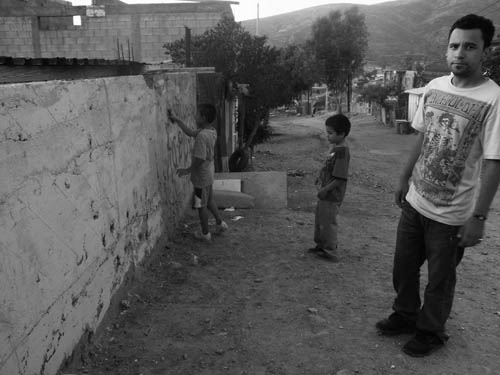 Zella: Who approached you to create this program for the Tijuana INTERZONA festival?
Ava Ordorica, (one of the organizers) told me about 2 years ago that she wanted me to organize an event involving graffiti artists from different countries. This year the project could finally be created, and it was named "Encuentro Internacional de Arte Urbano". It included a live painting performance during the presentation of a catalog on urban art from Oaxaca, and after that we had a panel discussion with each artist participating to explain the concept of art, graffiti, urban art, in their own words, and approach to art through their life and career development.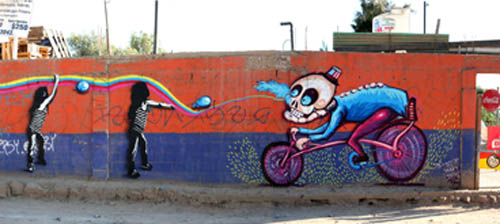 Zella: Who were the artists that were included in this project and please briefly explain why you chose them.
The selection was made based on style, country of origin and the way that their work would influence the community that the project was going to be created in. The artists were: colectivo Asaro, colectivo La Piztola and colectivo Arte Jaguar (from Oaxaca, Mexico), Itxaso Larranaga (France), Pablo A (England), Dabs & Myla (Australia), Tyke (LA-Vietnam), Shente (Tijuana, Mex) and me (Libre-Tijuana, Mex) initially. Then the project grew and other artists started to join such as Yneez (Czech Repuplic), Ofier (LA-Mexico city), Tfour (Tijuana,Mex), Dual (Tijuana, Mex), Edhr (Tijuana, Mex), Kafy (Tijuana, Mex), 1102 (Tijuana, Mex), El Norteno (Tijuana, Mex) and Pein (Tijuana, Mex).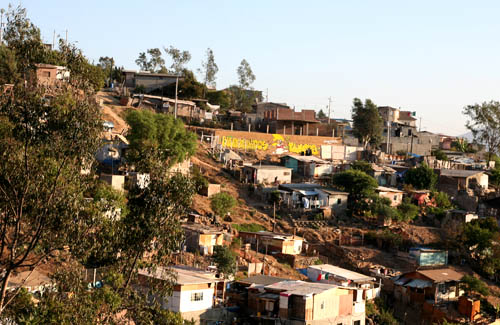 Zella: Who decided on the idea of where to create these murals and why was that area selected?
The neighborhood is called Granjas Familiares (Family Farms) and it was selected because it as long been ignored by cultural and government projects, recently there has been an outreach to this neighborhoods (by SEDESOL a government program) so we thought it would be a good idea to bring color -with the mural project- to the area so it would attract more attention to it, because it is never enough in this kind of regions where it's to far from the center of the city that often takes years to bring pavement, plumbing, public lighting, etc.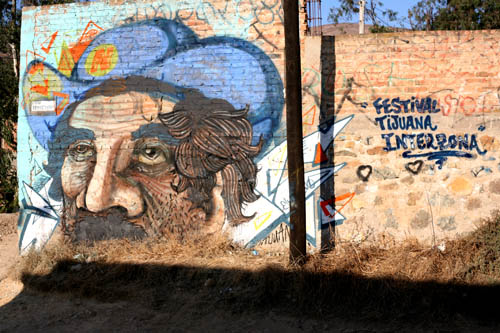 Zella: How did the community respond and the city of Tijuana respond to this project?
For the community it was an overwhelming project. The families were very happy with the outcome, and we literally ran out of paint. We were planning on painting 10 walls and ended up painting 24. At the end the artists were being asked by neighbors for us to return and paint more walls. Coincidentally, all of us focused on giving messages to the kids and making the murals as accessible and simple as they could be. For the city of Tijuana this was a great project because of the diversity and scope of the artists involved. Many local artists were very enthusiastic about their presence and went to the conference and followed us during the development of the murals and interaction in the neighborhood.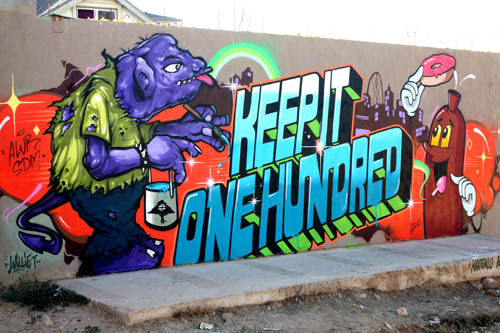 Zella: How did the foreign artists and artists native to Tijuana interact amongst each other, and how did the community where they were painting respond to both?
There was a very good interaction between the foreign and local artists, especially because the artists from Tijuana knew the work of the international artists from magazines, videos and internet. For them to meet in person and interact with these artists was a very good experience. The community was impressed by the murals and to see someone not Mexican painting in their neighborhood was very exciting for them. Also, the reaction when the kids and teens helped with the murals was great, because after we leave, they are the ones who live with the paintings. Since they were involved in the creation of the works, they somehow become also invested in the art.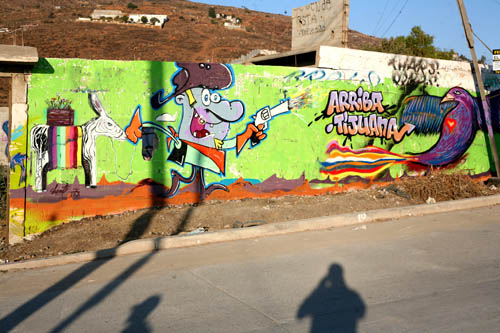 Zella: How does Mexican culture and the city of Tijuana respond to murals? How did this project contribute to the reflection of murals in Tijuana?
Muralism in Mexico is a very old tradition, since the Mayans, Aztecs, Toltects, etc., and in Tijuana has been a constantly developing movement over the last 50 years. Renowned artists have been painting big format murals in cultural centers in Tijuana, such as ave Revolucion, the border crossing between Mexico-USA. This project was a major contribution because it involved the participation of local artists and famous artists of different nationalities gathered in a city, in a neighborhood just for one cause, to paint the walls, to rehabilitate a surface with their styles. What made it have more impactl was that this area wasn't in a "pretty neighborhood" and we placed it where we saw the most need.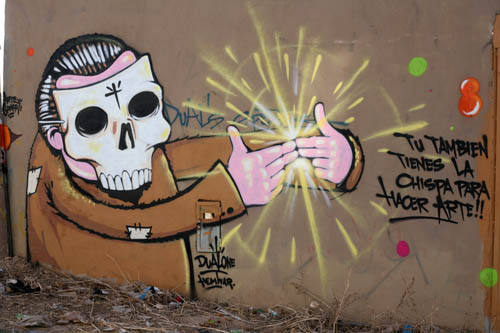 Zella: Do you think that murals are an important part of community and urban environments? Please explain.
They are a huge part of an artistic manifestation because they take the brown and grey from the streets and walls in a battle against commercial and political propaganda. They fill areas with color and texture where it used to be deteriorated and neglected. This is especially true for in the community of Granjas Familiares where the Interzona project was developed. There it used to be all tagged and grey, with decaying surfaces that looked depressing.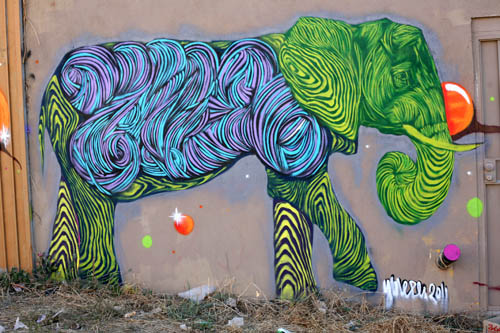 Zella: Describe one outstanding moment from this experience.
At a point in the project a lady in the community said "why are you here? this neighborhood? nobody will see it here" and we responded, "Cause we need to be here maam! This is the area that needs color intervention.".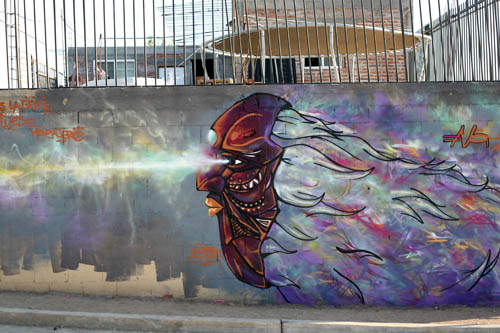 Zella: What is your involvement with the mural movement and advocacy in LA?
My involvement with the mural movement began in June of 2010, when collaborating with Bryson Strauss, Founder of L.A. Art Machine, and iconic L.A. graffiti/muralist Mear One on behalf of The Loft at Liz's and the Miracle Mile Art Walk. It was during this time I learned about the ban placed on murals in 2002. I quickly discovered how confusing and complicated the ordinance as written was, and the fines and legal issues involved affecting both artists and property owners blew my mind! Ironically, hundreds of murals have been painted all over our city since 2002 and to this day continue to be. In addition many artists have been fined, arrested, jailed and property owners have also suffered by having to pay exorbitant fines for allowing murals to be painted without knowing the legalities involved.

At this time, Tanner was in the process of inviting a select group of longtime muralists, graffiti artists, street art curators, and art advocates, as well as area arts reps to work together giving guidance allowing him to re-write the legal language of the ordinance as well as introduce him to stakeholders in areas. This is why he invited me to work with this group, Mid City connects Venice and Downtown L.A. So, my involvement and advocacy started at the same time.
Zella: In your words, why are murals an important part of our cultural heritage and community?
As mentioned, I have lived here since 1967 and have many vivid memories of beautiful works of art all over L.A., and parts of Orange County. In the 70's and through the eyes of a young girl, they told stories that I could understand and also provided huge resources of inspiration for me to paint, or draw or do what I could with color; I know if I was affected in this way others must have been too. At that time "street art" as it is known today didn't exist, there were two visual experiences happening at the same time, the murals and the graff and they both intersected. And it goes without saying a lot of the graff was gang related, but some of it was also there to inspire the community and provide hope - not to mention making political statements in a way people in those communities could understand, it was their language, their alphabet and well respected. It is very sad that most of those masterpieces are gone today. Studies and research has proven that areas that incorporate murals increase property value, actually keep crime away, and prevent tagging, not the opposite as some would like the general public to believe. This is one reason I feel they are vital to economically challenged areas of metropolitan cities as well as suburbs.
Zella: What is happening currently in the political realm with the mural ordinances?
This is very exciting news to share! Last Friday, Tanner sent an e-mail (as written) to our group letting us know on October 12th at 3:00pm, there is a Joint Special Planning & Land Use Management and Arts, Parks, & Neighborhood Committee Meeting with the City Council. The joint-committee will discuss policy regarding murals from approximately 3:30 pm on. The Council members are expected to give the departments direction for the mural ordinance before draft language can be released to the public to take it to the next level.
Zella:What role does graffiti play in the discussion of urban art and murals?
An extremely important and vital role. Today, in most art circles and discussions graffiti is synonymous with both; one cannot be mentioned without the other. The traditional muralists that painted many of the walls throughout Los Angeles and Orange County, including the many long gone commissioned works along the freeway were painted primarily with brush or airbrush. I am honestly not sure how many painted with spray paint, which is kind of a defining line that is considered the tool of most graffiti artists today, both letter writers and those who paint figurative cartoons, portraits, landscapes, etc. or abstract works. Traditional brush paint as well as airbrush are still used as well.

Zella:How does American society differ in terms of its relationship and appreciation of public art as compared to other countries in your opinion?
Many in our society LOVE public art and are doing what they can to secure its well deserved place in art history forever. However, at the same time it is also a very misunderstood form of art because of the stereotype placed on these visionaries, rebels, introverts, truth tellers.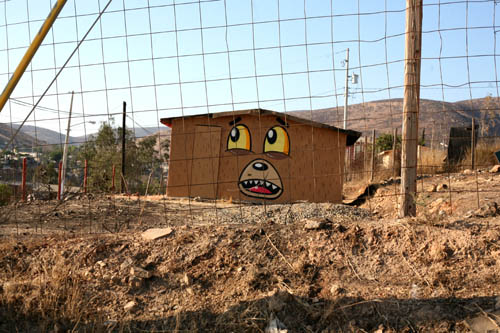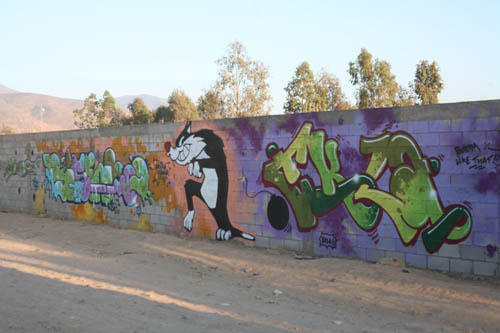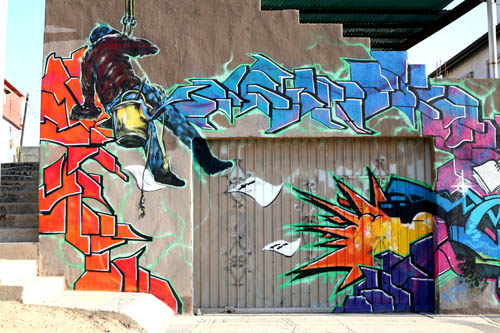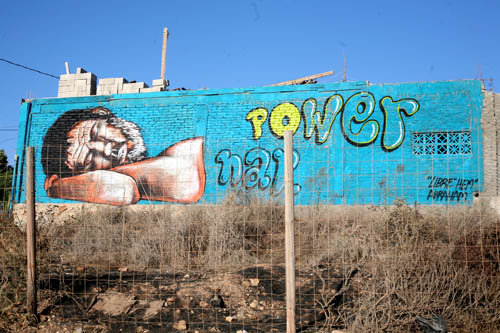 Calling all HuffPost superfans!
Sign up for membership to become a founding member and help shape HuffPost's next chapter