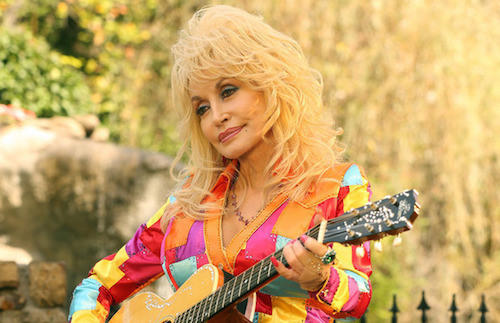 Hi all! Before you read on, I want to remind you that my Twitter username and Instagram name have changed! Good thing is that they are both the same so they won't be hard to forget - @byingridvasquez
12.14.15 #SongBlogIV (my song of the day): "Coat of Many Colors" by Dolly Parton
The country legend graced the Voice stage shy of the Voice season 9 finale but just in time for her NBC special of the same name. As described by contact music online, "The film told the story of Parton's childhood, growing up in Tennessee as her family 'struggle to overcome devastating tragedy and discover the healing power of love, faith and a raggedy patchwork coat that helped make Parton who she is today." The song's lyrics give you a beautiful look into that story:
Back through the years
I go wanderin' once again
Back to the seasons of my youth
I recall a box of rags that someone gave us
And how my momma put the rags to use
There were rags of many colors
Every piece was small
And I didn't have a coat
And it was way down in the fall
Momma sewed the rags together
Sewin' every piece with love
She made my coat of many colors
That I was so proud of
As she sewed, she told a story
From the bible, she had read
About a coat of many colors
Joseph wore and then she said
I hope this coat will bring you
Good luck and happiness
And I just couldn't wait to wear it
And momma blessed it with a kiss

My coat of many colors
That my momma made for me
Made only from rags
But I wore it so proudly
Although we had no money
I was rich as I could be
In my coat of many colors
My momma made for me

So with patches on my britches
And holes in both my shoes
In my coat of many colors
I hurried off to school
Just to find the others laughing
And making fun of me
And my coat of many colors
My momma made for me

And oh I couldn't understand it
For I felt I was rich
And I told them of the love
My momma sewed in every stitch
And I told 'em all the story
Momma told me while she sewed
And how my coat of many colors
Was worth more than all their clothes

But they didn't understand it
And I tried to make them see
That one is only poor
Only if they choose to be
Now I know we had no money
But I was rich as I could be
In my coat of many colors
My momma made for me
Made just for me
And because it is the holiday season no matter what holiday you celebrate, I wanted to highlight a few songs that are covers of classic holiday music, remixes, or just versions of their own.
1. RUN-DMC: Christmas in Hollis
2. Fetty Wap: Merry X-Mas
3. Ying Yangs Twins: Deck the Club
4. Kanye West: Christmas In Harlem
5. U2: Christmas (Baby Please Come Home)
6. The Used/My Chemical Romance: Merry Christmas (War Is Over)
7. Band Aid: Do They Know It's Christmas
8. The Killers: Don't Shoot Me Santa
9. Sara Bareilles, Ingrid Michaelson: Winter Song
10. Wham!: Last Christmas
11, Justin Bieber: Mistletoe
12. Mariah Carey/John Legend: When Christmas Comes
AND of course a few of the versions you've probably heard a thousand times now:
* Mariah Carey - All I Want For Christmas Is You
* Chris Brown - This Christmas
* Lady Antebellum - "I'll be Home for Christmas"
This is my favorite Christmas song. I can't decide which version I like better though ...
- Idina Menzel and Michael Buble
- Lady Gaga and Tony Bennett
-- Honorable Mention: Twisted Sister for originality. Here's their Christmas album:
Make sure to follow me on twitter & Instagram: @byingridvasquez to get my #SongBlogIV every day of the week (Monday - Sun) (I write about a lot of things so you won't be bored) and invite your friends to read #inthegridmusic exclusively on the Huffington Post.
REAL LIFE. REAL NEWS. REAL VOICES.
Help us tell more of the stories that matter from voices that too often remain unheard.