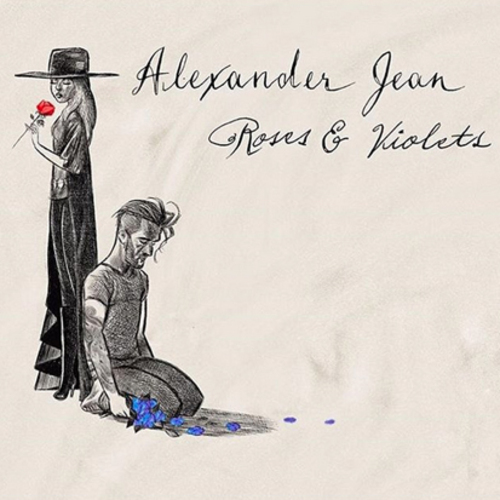 Hi all! Before you read on, I want to remind you that my Twitter username and Instagram name have changed! Good thing is that they are both the same so they won't be hard to forget - @byingridvasquez
12.30.15 #SongBlogIV (my song of the day): "Roses and Violets" by Alexander Jean
If you don't think you've ever heard of Alexander Jean, YOU ARE WRONG. Whether it's through dance, music or TV, the artistry of Alexander Jean, made up of Mark Ballas and BC Jean, has already been introduced to you. | @_AlexanderJean_

BC Jean is singer, songwriter who has been around music from an early age. Her grandparents were in television variety shows fron the 50s and her parents did music as a hobby and her mother worked as a talent manager. Having released solo music on her own:
BC has proven that she is both a talented vocalist and performer. I'd categorize her somewhere in between Pink and Alanis Morissette. She has the looks of your next Top 40 diva but she has the spunk and vocal capability to be much more than that. That's what makes me excited about this new duo. Just like a comment for the above video says "no need to waste the voice on boring, sappy pop songs," it seems like BC has finally found her sound in Alexander Jean.
It's important to note that she can give you music for Top 40 charts, though. Ever heard this song?
Although both Mark and BC have both said that they wouldn't really classify their music as a certain genere (considering they take influence from everything like Gwen Stefani to Bohemian Rapsody), there's something different to their music when they're creating (and performing) it together.
That performance was from Dancing With the Stars after show. If you may have not guessed it by now, Mark Ballas is a pro dancer on the show and has won two of its mirror ball trophies. Mark, the son of renowned ballroom dancers Shirley and Corky Ballas, attended Rosemead Preparatory School in London with coworkers (co-dancers?) and siblings Derek and Julianne Hough in their early teen years.
While Julianne moved back to the United States before Mark and Dereck, they all were brought together in American when they booked Dancing With the Stars.
While he's one of the most recognized and best dancers from Dancing With the Stars (E! Ranked him #2), his passion for the arts was first found in music.
(Fun fact: "Get My Name"features fellow DWTS dancer Whitney Carson and was directed by Derek Hough).
I think his magic number is two though - a duo.
While the name ALEXANDER JEAN has managed to get more attention after a performance of their single on Dancing With the Stars, that quickly vanished. So it leads me to ask, if America's DWTS sweethearts can't get them more recognition, who (or what) can? I invite you to purchase their song (while we wait for their EP) on ITunes and help make their single the "All of Me" of 2016. In my book it already is. Now its your turn.
Make sure to follow me on twitter & Instagram: @byingridvasquez to get my #SongBlogIV every day of the week (Monday - Sun) (I write about a lot of things so you won't be bored) and invite your friends to read #inthegridmusic exclusively on the Huffington Post.
Calling all HuffPost superfans!
Sign up for membership to become a founding member and help shape HuffPost's next chapter