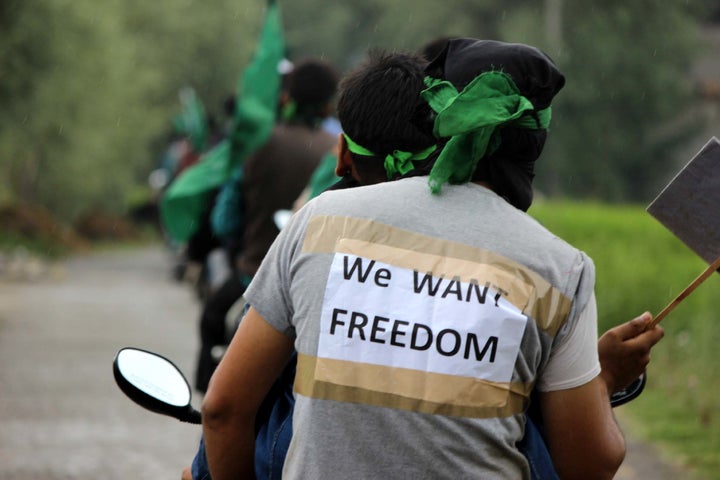 The clamour of slogans started risen around the vicinity of local mosque with a recorded hymn, praising the beauty of "Jihad". The voice was echoing out of the walls, making the sound clear and people were rehearsing, yelling the slogans loudly. People of our village were discussing outside the local mosque and talking loudly how good it is to achieve martyrdom. Among us, there were many young boys listening harangue from chief cleric of our village, who had witnessed the days of 1990 when armed struggle in south Kashmir was on peak. The crowd was surrounded by some intellectuals who had been in jail for a long time on fake charges which were never proved till date. They were repeating the past memories which have had gone fresh with the 2016 uprising. They were narrating how Indian army had done atrocities on them and how they were tortured many times inside jails on fake charges. They call those memories painful and haunting but they endorse the fact that the 1990 armed struggle gave Indian troopers sleepless nights. Among us was a former militant who was released a few years ago. He was booked under POTA, allegedly for attacking army convoy. He stood up and started narrating how and where he had been tortured brutally. The torture marks were clearly visible on his body and he had lost fluence of speaking frequently. The tears were rolling down from his eyes when he narrated how he was tortured sexually in a local detention centre. May Allah save all of us from such brutality, he said in a low tone. Everyone around felt numb when he showed the back side of his body and the deep torture marks were seen visible to the human eye. These marks are 15 years old and still they look fresh. This is what I got "call it a gift from Indian fence" he said like cracking a joke. It's hard to believe that Kashmir will get freedom one day but my heart says that no longer but sooner we will get it anyhow, at any cost, whether it will cost my life. This was the last message he told us. Time flies away, but we were engrossed towards his sermon. He put some sort of aggression in our veins and our blood was totally running at a very high speed. No body among the crowd was aware that it would be his last sermon. We all were totally aggressive while listening to the harangue which he gave before leaving this world. It was hard to believe that the troopers will fire indiscriminately on us. In the blink of an eye everything around us turned paused for some time. Bullets, teargas shells, pellets everything was showered on us. It was hard to move on to some near safest place. Everything around me was looking messy. The air was laden with teargas canisters, pellets and some sort of smoke gas. The ground was making sense of war like situation. As some sort of sound bombs were also used to put pressure on us. The forces were continuously trying to maim people. They were not only torturing us physically but mentally also. "M**d*r c**d (mother fuckers)" come here, fight with us, you want freedom you d**k-H**ds, come get freedom here. These were the only words which were reverberating in air. It was making sense that the police and other security forces have planned to go for a massacre. Some of my friends dragged me to a near safest place. My eyes were blurring, I thought I lost my eye sight. The forces who cordoned our area went berserk, vandalised the venue, tents, chairs and other things. They attacked whole village, broke windows panes, mirrors and dragged other boys from their houses. They announced that the area was under curfew and how we dared to organise a pro-freedom rally. They set fire on tents, burn wooden chairs which were set to be for some pro-freedom leaders. The women's of our village showed kinda bravado, came out from their houses, left the cozy life aside, started throbbing chest and began wailing loudly. This is ubiquitous across Kashmir. Women's have always been courageous when it comes to freedom. They challenged the police officer to touch them. The police officer who was in charge to the brutal forces had seen the anguish among the women's vis-à-vis men's and young boys. It was just a glimpse, a woman yelled loudly "walwie marwie ---- come Kill us". He retorted back and said "you bitch, what you want? Jeered then and said Freedom?" the back crowd yelled loudly and retorted in anguish. This would have allayed fears among women. This infringement of law had taken place with the connivance of police officials. The police officer's connivance with other cops made sense that the higher authority had allowed them to go for a shoot at sight encounter inside the village to incapacitate people from organising any such event. I quickly ran from the spot and went back home. I switched on one Indian media channel; the situation which they projected was totally unbelievable, that Goosebumps me. I was baffled to see what they were telecasting. The projection made sense that the Indian media seems to have completely complacent at our grief. The projected words they have inserted were "terrorist, separatists, pro-Pakistani supporters, pro –Isis supporters, Pro Taliban supporters so on and on". More than 20 were injured and one among them was seriously injured, as he was hit with a teargas shell on his head, later on was referred to Srinagar for advanced treatment.
The air was laden with teargas canisters, pellets and some sort of smoke gas. The ground was making sense of war like situation.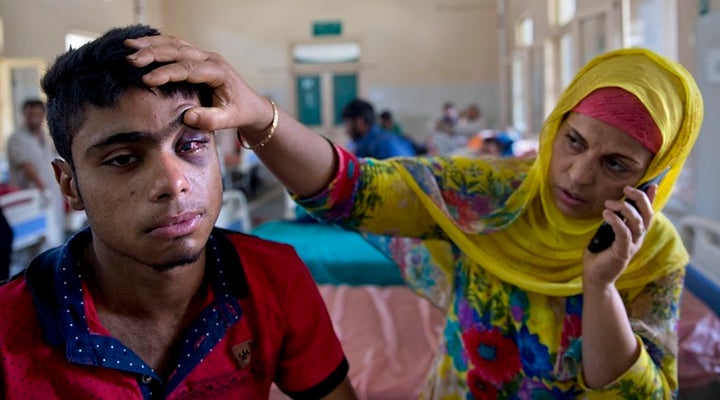 Just an hour passed away, olive green paramilitary vehicles with teargas guns auto adjusted on the roof rack, solemn-faced soldiers on the top of vehicles with pellet guns in their hands once again cordoned the area. This time a white police vehicle on front entered the village announcing that the area has been put under curfew. It was familiar among people; as usual they use to announce it regularly since burhan, a local hizb-ul-mujahideen commander, was killed. This time they came with a convoy of army (Rashtriya Rifles) for cover up. The army troopers, with olive green uniform, machine guns on their shoulders, some of them have teargas and pellet cartridges hanging around, making a sense of siege across village. They hurled abuses and beat many people who came on their way. A group of people came out and started sloganeering. Within seconds whole village came out and joined the procession. People were sloganeering anti-India and anti-government slogans. The Armour vehicle with more than 4 CRPF troopers masked, who were hanging on the back side of vehicle entered into the village, went berserk and started vandalising things. They lobbed teargas canisters into the air which suffocated the whole atmosphere. It was hard to breathe. They were something warning people but the repeated echo of voice was not making the sound clearly. Somehow I went outside to listen what they are announcing. The armour vehicle was surrounded by more than hundred CRPF troopers, and it's looking like they are here to eliminate someone. They seize a group of boys and started beating them indiscriminately. They dragged few boys which was giving an eerie feeling. With a lap of time there was another announcement made by the cleric of masjid. The announcement was "Army walou raet saen kah nawjawan aasie paazie sarnie nearun --- the army troopers have captured some of our boys and we all should come out for a protest". When people reached near cull de sac the CRPF troopers with police connivance started once again firing at the procession. This injured many. People were running to any safest place. This was the time when I went back to the mosque and saw one person lying in a pool of blood. A group of local boys quickly carried him in a private vehicle and I saw it's the same person who was giving a sermon an hour or two before. He was almost dead, a friend yelled on my back and said "eamou ha morr yea zaenith---they killed him deliberately". Preferably it was a cold blooded murder as the bullet had hit his chest. Sloganeering continued and a procession was taken from the village to main ground, where other people from adjoining areas were waiting for us. More than one lakh people gathered in the nearest cricket ground and were protesting against the oppression done by Indian army. People were crying, some were sloganeering, while some were leading the march. An ambulance reached nearest us and some of our neighbours were inside the ambulance. They came down and said he died. People started screaming when they carried the body of local, who an hour before was alive and gave sermon, hinted that it might be his last speech. A group of people, I think who were from hurriyat started their sermon and the first thing they yelled "AA ZAALIMO AA JABIRO---KASHMIR HAMARA CHOD DOE----OH TYRANTS AND TORMENTORS LEAVE OUR KASHMIR" "Another screamed loudly HUM KYA CHAHTEY" people who erstwhile gathered for a protest retorted loudly "AAZADI". the next people continued sloganeering in which they many a times recalled "BURHAN" "some in group gave a slogan "BURHAN TERAY KHOON SA INQILAB AAYEGA---BURHAN YOUR BLOOD WILL BRING REVELUTION". These things are familiar in Kashmir. This is how they bid adieu local mujahideen's. Whenever any sort of uprising starts people usually praise local mujahideen's in their sermons and speeches.
A group of people came out and started sloganeering. Within seconds whole village came out and joined the procession. People were sloganeering anti-India and anti-government slogans.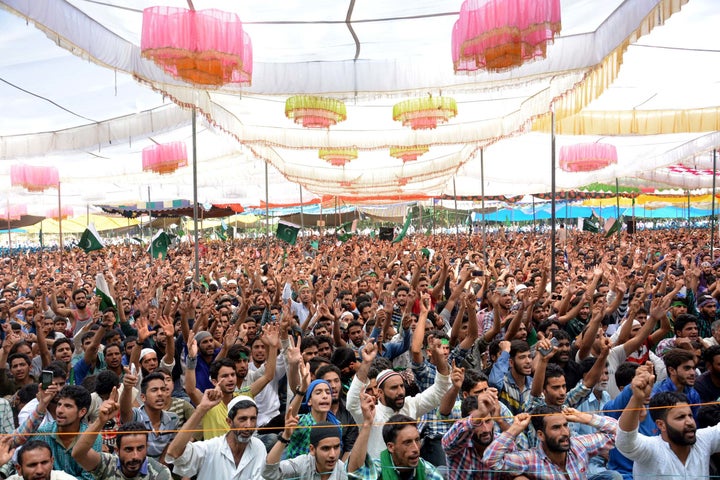 Late evening the police officials came for nocturnal raids. They raided some houses and arrested some local boys for making a "local chalo" successful. The forces faced wrath of local protestors who pelted stones on them. It was important as many dignified people joined the stone pelters. Many old as well as young joined the stone pelters, some came out with axe's in their hands, some with iron rods. They have made our life hell; this is now intolerable a young civil servant said in a harsh tone, how come peaceful protests become seditious for them, he yelled loudly. The police officials ran from the spot and went back to the police station. The next morning, when newspaper reached home, a headline in bold and capital letters, printed in red, usually this is how they prefer to announce another killing "ANOTHER DEAD, DEATH TOLL REACHED 69 IN JUST 45 DAYS" People forget the days to count, they are just counting the deaths which each and every day, anywhere, across Kashmir happens. Usually in between the talks they say "aaz tee ha moud akh---today another died". Today the news was about the local neighbour who was killed in cold blood. A big picture of him on the front page with a black background and a long story of infringement of law by so called army jawans make sense of how he was killed in cold blood.
They usually come and brutalise people. They charge young boys under POTA and put them behind bars it happens regularly in parts of Kashmir, especially in those place which have an army camp in there vicinity. Late night people cannot roam freely, as the local army troopers beat mercilessly sometimes they arrest locals and put them behind bars. It's believed to say that a few years before more than12 boys went disappeared and they never returned back. Some eyewitnesses say that the local army came in olive green trucks and told that these twelve people have connections with rebels who had infiltrated a month ago. As per local eye witnesses they say they never returned back till date. They call it as "KHAKI TERRORISM".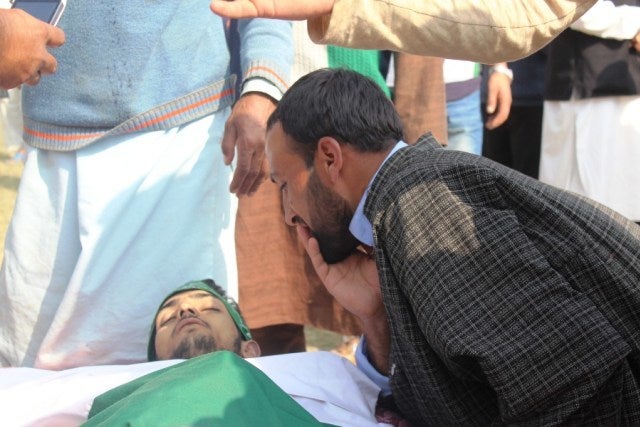 It happens only in Kashmir where a father has to give shoulder to the coffin of his son. It only happens in Kashmir where old remain alive but they kill the young to expand the illegal occupation to avoid resistance.
It happens only in Kashmir where father shoulders son's coffin. It only happens in Kashmir where old remain alive but they kill the young to expand the illegal occupation to avoid resistance. Since 2008, it's the third this sort of civil uprising took place. More than 1000 young's boys were killed in a broad day light and no one was booked for these killing, in fact those police officials in connivance with others cops were honoured and promoted to other rank. More than 50,000 boys were injured. Use of lethal weapons on people , since the first uprising took place. Nocturnal raids pushed young boys to move to unknown place. More than 2 lakh boys face seditious charges. Some were booked on fake charges. It's believed to say that the government has planned to make a Guantanamo bay like another jail in Kashmir, so to prevent resistance from people, but people of Kashmir have always been courageous. They have always showed kinda bravado. For "Aazadi" they have sacrificed everything.
REAL LIFE. REAL NEWS. REAL VOICES.
Help us tell more of the stories that matter from voices that too often remain unheard.