Listen to how one U.N. agency is working to reach 400,000 Syrians trapped in towns that have become war zones, and what it took for one humanitarian convoy to break through.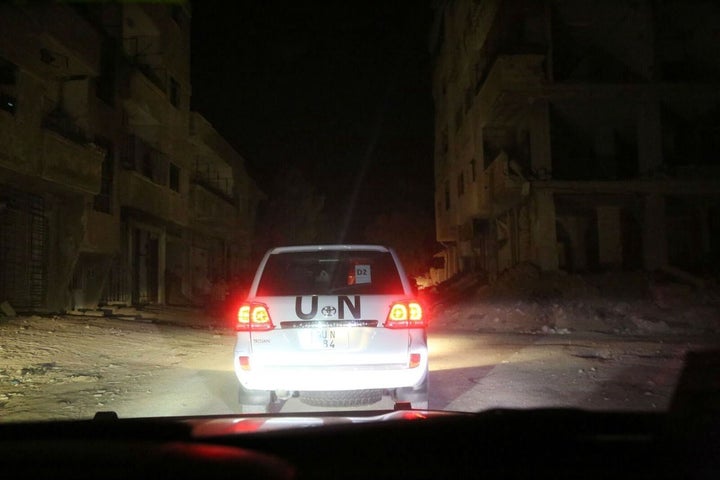 When a U.N. aid convoy began rolling into the city of Moadamiyeh earlier this spring, the besieged community in Syria looked like a ghost town.
"Not a single house was still intact," said Jakob Kern, head of the World Food Programme's emergency operation in Syria. "Every house was either completely destroyed or partially destroyed from the shelling, from the bombs, from the fighting."
At first, aid workers encountered nothing but silence. The city was shrouded in total darkness; power had been shut off many months ago. The streets stood eerily empty.
Then, slowly, people began to emerge. Many looked gaunt and sick from months of hunger and malnutrition. After a year and a half of besiegement, families in Moadamiyeh were boiling grass and skipping meals to survive.
At once, Jakob and his fellow aid workers found themselves surrounded by hundreds of hungry Syrians desperate for food, medicine and basic supplies. Yet a remarkable sense of calm prevailed. Members of the community pitched in to help unload 55 trucks carrying everything from wheat flour to diapers.
As the aid convoy departed, a pair of women came running toward the U.N. trucks, each carrying a baby in her arms.
"'Take my child!'" Jakob recalled one of the women pleading with him as she held up her toddler. Both children were so malnourished that their bodies had essentially stopped growing. "They looked like newborns."
The interaction haunted him. Would the child die? Might it survive? He stood there powerless and without recourse, constrained by the rules and politics that had granted him permission to make the delivery in the first place.
And so Jakob rode back. His adrenaline was still high, not knowing whether he and his team would cross through Moadamiyeh's checkpoint unharmed. He had visions of a boy in a red sweater, covered in flour, on the cusp of his first real meal in a long time. In his head, he was already planning his next convoy back.
Click below to hear the incredible firsthand account of Jakob's 37-hour journey to reach families in Moadamiyeh from the World Food Programme's headquarters in Damascus — just 9 miles away.
REAL LIFE. REAL NEWS. REAL VOICES.
Help us tell more of the stories that matter from voices that too often remain unheard.