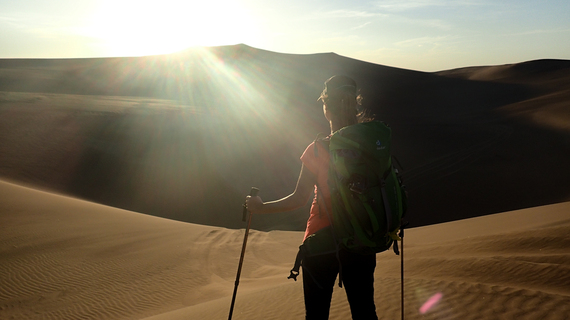 Visibility was almost nil. The howling sandstorm rendered walking along the narrow ridge almost impossible; engulfing us in a dense cloud of razor-sharp, golden sand particles. The gale-force winds roared furiously from all sides, ramming into us, imperiously demanding we get off this 600-metre mega-dune, at once! Balancing precariously on the spine of this gigantic, shifting monster, our team of 12 women carried on resolutely, ignoring the angry storm, carefully putting one foot in front of the other. As we advanced in close formation, trying in vain to use the person in front of us as a human shield, I realised we had no choice but to keep moving forward. If we turned back, we would simply find ourselves in the same impossible predicament. Squinting through my goggles while battling with the straps of my backpack, which were flapping wildly in the wind and whipping my face, I said a silent prayer that the next gust of wind wouldn't carry me off the mountain.
Our crossing of the Dasht-e Lut of Iran (otherwise simply known as the Lut desert) in November 2016 was nothing short of surreal. In truth, it was breathtaking, challenging and ultimately, transformative. Under the banner of 'Women On A Mission', a non-profit organisation, which supports and empowers women survivors of war around the world, we became the first all-female team in history to cross the Lut desert on foot.
In 1271, the legendary Marco Polo journeyed through the Lut, as did British explorer, Wilfred Thesiger, in 1964 -- but both used camels. Our team covered more than 200 kilometres in seven days, across a magnificent and varied landscape, which boasts wildly contrasting temperatures and climates. The Lut is truly exceptional and full of contradictions. From the sweltering heat of the mega-dunes to the icy cold nights in the valley of the Kaluts (sandcastle-like rock formations), from the salt plains cracked by the fierce sun, to the sand storms blasting through the meteorite craters, the desert kept us captivated by its raw beauty and versatility.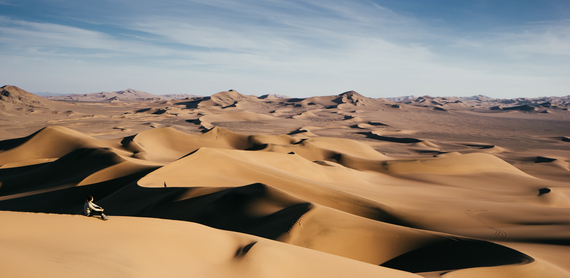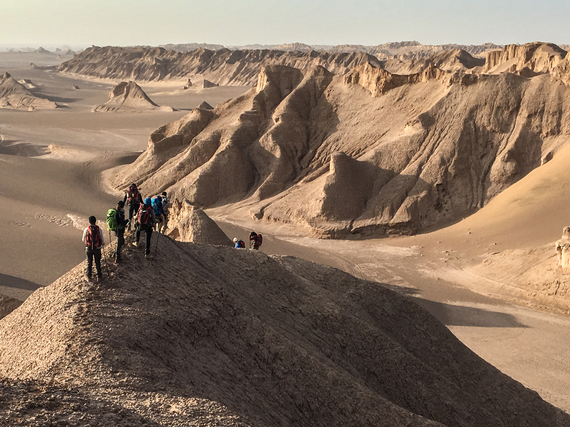 In Persian, 'Lut' means 'emptiness'. This immense expanse of sand is home to the hottest recorded temperatures on Earth. Global satellite surveys once registered ground temperatures of 70.7 degrees Celsius. "NASA scientists say it's the closest thing we have to the planet Mars" declared Mehrdad, our Iranian guide, as we strode across the Eye of the Lut. The Eye is a massive crater believed to have been formed when a large meteorite struck the earth. Mehrdad proceeded to point out the similarities between the Lut and Mars; the scorching temperatures, unyielding aridity and the sheer force of the winds, which converge from all four directions at once, causing the formation of massive star-shaped sand dunes, which radiate across the desert plains.
During our voyage, despite the long and tiring days of trekking, the team stayed positive, motivated and fiercely determined. We were up every day at 4:30am and on the road by 6am. Majestic and imposing, the dunes lead us up their sinewy paths, charming us at every turn with promises of vistas more awe-inspiring than the last. On most days, we hiked till sunset, averaging a distance of 30 kilometres a day, made more tiring because of the uneven sandy terrain. A steady rhythm was maintained, alternating 50 minutes of fast-paced walking with a 10-minute break and so on. This gave us a good cadence throughout the journey, with a short stop for lunch, usually around noon. Then onwards again, charging ahead all afternoon, lured by the serpentine curves of the Lut's hypnotic landscape. Walking, walking and more walking... The days seemed endless.
As the last thin rays of sunlight glimmered and our shadows lengthened against the amber-coloured sand dunes, we knew our daylight hours were running out. We resisted the temptation to stop for more pictures and picked up the pace in order to reach the camp before nightfall. Upon arrival, our individual tents still needed to be set up, and our preference was not to do so in total darkness. Once the tents were up, those who still had some energy tried their best to "de-sand", treat blisters and other sores. Since showers were not an option, we freshened up using wet wipes in the privacy of our tents. By day two, I had given up trying to brush the sand out of my hair, which had turned into the driest, straw-like mass imaginable.
Once everyone had settled into camp, our guides would then serve tea and prepare a hearty dinner, which usually consisted of a bean and vegetable stew served with white rice. By 7:30pm, eyelids would begin to get heavy as we stared at the spectacular starry galaxies above. A few of us managed to extend our bedtime hour by drinking more tea and chatting around the campfire, but in truth, we were exhausted from the day's exertion. Thus, after a quick visit to the "loos", which were usually downwind and not too far from our camp, we'd drift off, one by one, and retire to our tents. By 8:30pm most of the campers were sound asleep, or if not, tossing and turning in their sleeping bags, trying desperately to ignore the aches and pains in their muscles and bones, praying the Gods of Sleep would soon arrive.
The next day, it would start all over again. A cacophony of different alarm clocks would go off at around 4:30am. Torches were strapped back onto the sleepy, dishevelled heads, lighting up our green tents one by one like a cluster of glowing caterpillars. Next, as people struggled to get out of their sleeping bags and tents, the sounds of shuffling, packing, zipping and unzipping resonated across the camp, as if suddenly an army of giant plastic bags had descended on us.
The campsite slowly came out of its torpor; and inevitably, the sound of women chatting and giggling would ensue. Despite temperature being close to zero degrees at this ungodly hour of the morning, the noises of a waking-up camp were strangely comforting. While we continued to move around drowsily, packing up our things and sorting out our backpacks, the deep voice of Mohammad, our guide (aka the-best-breakfast-chef-in-the-world) would bellow, "Ladies, your eggs are ready!" - and that never failed to put a smile on our faces.
Soon my fellow explorers and I were off again, fresh and ready to tackle another long day of hiking in the sand. Our group was eager to see what new sights and creatures we would encounter. There were a few lizards and dead birds on the way, and a slithering, sand-coloured snake zigzagged across our path one morning. We were told that over the past few years, drug smugglers from the nearby Afghan and Pakistani borders had used the southern part of the Lut as a travel route. Luckily, apart from a few wolf, fox and camel tracks, we encountered no other sign of life.
During this pioneering journey, our 'Women On A Mission' team grew closer. Beautiful bonds of friendship flourished, as we pushed our limits in the desert. Within the intimacy of our sisterhood, cut off from all communication with the outside world, we felt free to open up and share our hopes and dreams for the future. As the journey ended, the team was overjoyed and I shared in the genuine pleasure of our achievement; yet, a part of me didn't want it to end. My emotions were conflicted. I felt slightly melancholic to be ending a routine and leaving a world that was like no other I had ever experienced.
Today, we come home to our families with more gratitude in our hearts than ever before and feel extremely privileged to be able to undertake such a journey by choice. Often during our trek, we thought of women who are less fortunate than us, who have to flee their country because of war or unrest, escaping with just the clothes on their back, crossing vast expanses on foot, uncertain of any future. It felt good to rally our strength in support for these women survivors of war.
In hindsight, if we had based our travel plans on what some of our friends and family had said about Iran, we probably would never have made it to the Lut. For decades, the county has been cast as the bogeyman of the Middle East by many in the West, for various reasons, one being Iran's dire human rights record. Nevertheless, during our travels there, and especially during our time in Tehran, and in the towns of Birjand, Keshit and Kerman, we found the people to be incredibly kind, spontaneous and generous, with hearts of pure gold. Indeed, our own logistical 'dream team' in the desert (as we liked to call our guides) lead by Mehrdad and his brothers Babak and Mehdi, along with their friends Ali and Mohammad, looked after us with every care and attention. They treated us like little sisters and today, they have become dear friends for life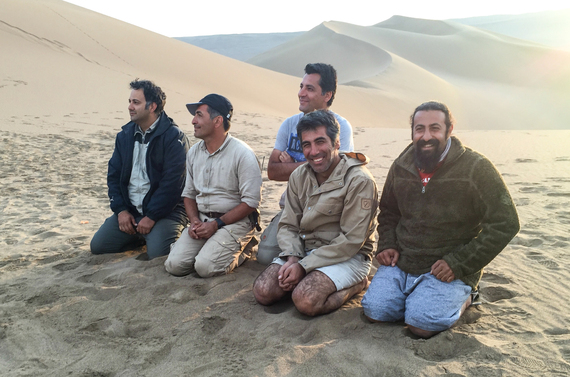 We felt incredibly safe and warmly welcomed in the Islamic Republic of Iran. Its proud civilisation and rich cultural heritage are remarkable. Walking around the sublime, turquoise-tiled domes and minarets of the cities, the atmospheric teahouses, bustling bazaars, and of course, witnessing the sheer force and beauty of the Lut desert, contributed to weaving for us a rich tapestry of colours and experiences of magnificent proportions. Undoubtedly, we left a piece of our soul in the vast emptiness of the Iranian desert and with the people whom we came to know during our journey in this astonishing country. In the end, Iran surpassed all our expectations and gave us memories to treasure for a lifetime.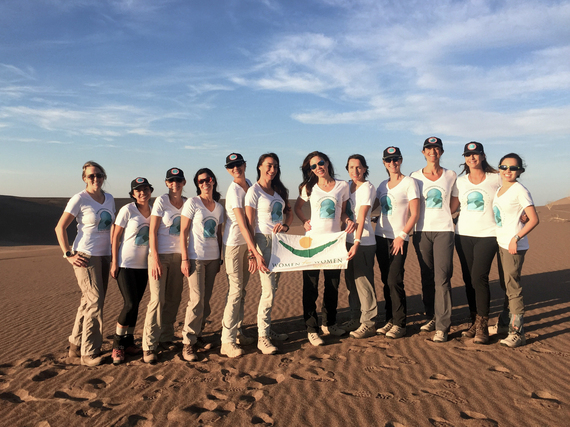 ---------------------------
This 'Women On A Mission' (WOAM) Iran expedition, has successfully raised over S$100,000 for Women for Women International (WfWI) UK - an independent humanitarian organisation, which provides women survivors of war, civil strife and other conflicts, with the tools and resources to move from crisis and poverty to stability and self-sufficiency.
WOAM, now in its fourth year of operation, has managed to raise a total of S$700,000 to date, in support of organisations that advance the position of women and girls around the world. Their past expeditions have been to Everest Base Camp in Nepal, Wadi Rum Desert in Jordan, the Tsum Valley in Nepal, the Yamal Peninsula of Siberia and Angkor Wat in Cambodia.
Photo credit: WOAM - with special thanks to teammate Sandra Lim
Related