This blog consists lessons learned from my friend Safaa, a Syrian refugee who has moved into my neighborhood. I started out as her teacher for English but she has become my teacher in lessons about family, love and friendship. More posts available: https://www.huffingtonpost.com/author/kathleen-jacobson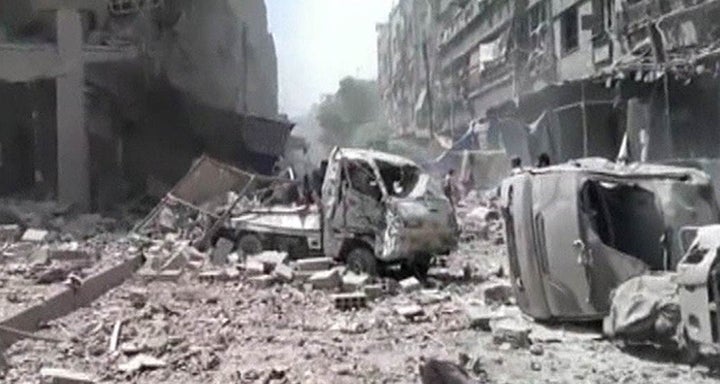 When I look at how my life has changed over the years I am amazed that I was once so ignorant about the world. I lived in my little bubble and I didn't worry about what I thought didn't affect me. When we open ourselves up to great love, we also open ourselves up to pain. But this new vulnerability has made me more alive and connected. This is what is normal for my life these days.This week as I spent time with my Syrian refugee family, we did our usual; going through mail, paying bills, playing with the baby, eating a delicious dinner, talking about Syria and the latest news they received about who in their family died. There are not many left. Safaa showed me a picture of her husband's cousin Mahmoud Wawieh holding one of his two daughters, a two year old with a pretty smile and a lacy dress. Then they showed me a picture of a bloody man sitting in a chair, head gone. This was the same man. He was decapitated by a piece of shrapnel that sheered his head right off. He was meeting someone to sell gasoline when the bomb fell nearby and his body remained as he was, sitting upright, one hand in his lap, one hand hanging lifeless by his side. So strange to see a body without a head sitting in a chair in such a normal pose. But there was the blood, so much blood. These pictures are taken and sent out through a network of photographers that remain in the city to get the word out to the world and family members who have escaped this horror. Safaa was afraid to show me the photograph but in my mind, this exists, this is real and if I don't see it, it isn't any less real.
Later Safaa showed me a video of their home town of Douma before the war. This was a nostalgic moment. A song played in the background about the love for this place. It looked like such a normal town on a rainy day. The camera showed us Douma through, rain drops as windshield wipers keep a tempo to the song playing in the background. It looked like it could be any city with cars parked along the curb, people rushing around under umbrellas, trash cans out by the curb under the shadow of the tall apartment buildings. Who could have guessed what was coming back then? Now this city is in rubble and the people I see rushing by are mostly dead now. I pretended not to notice as she wiped away a tear. I save my tears for the drive home. I usually try to process the evening on my drive home. I thought about the bloody picture and contrast that with my family safe here in California. I wondered why I feel this sadness and anger. It's not my cousin who died. It's not my city being destroyed. I am heartbroken but I don't want to be comforted, that doesn't seem right. How have I suffered? I don't know what I need. I guess I still don't know, after two years, how to process seeing pictures like this. I make myself look so that I know what is real, what people are capable of doing. I need to know what is happening because for so long I lived in a fantasy world that didn't extend much past my own town. I have opened myself up to great sadness in the revelation of this suffering and death. But I have also opened my heart to love and compassion more than I ever knew myself capable of. I feel this sadness because I love. I love my Syrian family and the people they tell me about from Douma. I love the world more now and I want to heal the pain I see. I see a bigger picture of not just pain and suffering but certainly that is part of it. I see beauty too and because of the tragedy, we must appreciate the beautiful things, the special moments. We must cherish those we love. We must be kind to each other. I am learning about the reality of this world and who I want to be in it.
Related
Popular in the Community