America's longest-running personal injury litigation, the one infamous for those TV mesothelioma ads, is having a "moment" right now, with state and federal authorities considering how best to regulate payment from billions of dollars held in special bankruptcy trusts.
Asbestos lawsuits are, of course, always an issue for the civil courts community. For one thing, they involve so much money (by some estimates, the industry is as big as the NFL and tens of billions are held in the trusts) and for another thing, asbestos disease still devastates thousands of lives each year.
Even so, it's worth noting that in just the past week North Dakota and Mississippi became the third and fourth states to pass transparency legislation aimed at reforming those asbestos trusts. With California facing a key committee vote this week (April 25th), according to the Norcal Record, it is clear that state-level reform is a trend.
It's interesting that the California reform proposal, coming in what amounts to a one-party state, leverages an ongoing civil court backlog. A common part of the asbestos trend is increasing transparency so victims' attorneys can't tell one story to bankrupt firms and another when suing solvent companies.
California tackles that by making such trust-filing disclosures "voluntary," but uses that case backlog for some serious arm-twisting.
The Record explains that the pending asbestos trust legislation "... would require lawyers to reveal that they have filed for awards with asbestos bankruptcy trusts, established to compensate victims of exposure, before receiving 'preference' when filing a separate action in a civil court. Absent preference, a civil action in California's overburdened courts can take three years for a case to come to trial, legal experts say."
It's also worth noting that California is a magnet state for asbestos cases, which can involve long jury trials. In a recent study, the Civil Justice Association of California (CJAC), a major tort-reform group, found that between January 2010 and May 2016 out of a total of 25,503 plaintiffs, only 10.1 percent or 2,568 were from California (just in Los Angeles and San Francisco).
The debate over the asbestos issue even included a Thursday work-in-progress screening of the Paul Johnson documentary "UnSettled: Inside the Strange World of Asbestos Lawsuits" at the historic Crest Theater in Sacramento. (Disclosure: The National Courts Monitor, where I serve as publisher, has participated in UnSettled, including helping to organize a National Press Club screening in December 2016.)
A similar screening is reportedly slated for May 9 in Harrisburg, PA.
All the state-level activity also comes as the Republican-dominated U.S. Congress is considering its own asbestos reform, and it's getting a bit tense as a key U.S. Senate committee considers a bill thought to have the support of President Trump.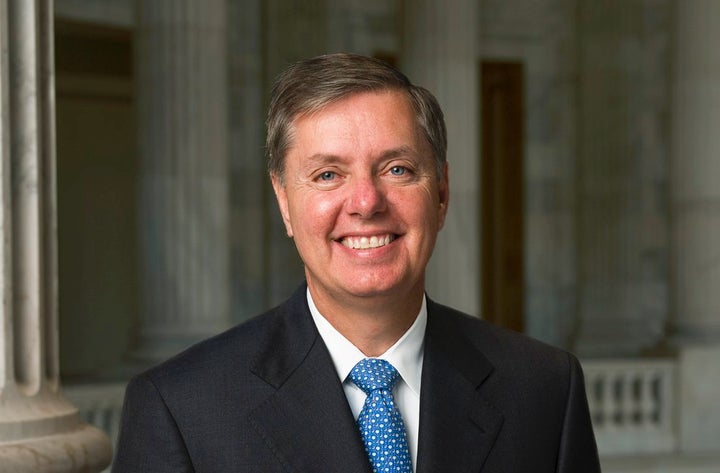 A Wall Street Journal editorial (always a good place to check in on conservative agendas) took on Lindsey Graham (R-South Carolina), saying "… it's good to be a Senator, especially if you are a Republican who is the most important opponent of tort reform on Capitol Hill."
The Journal was among those observing that Sen. Graham was the guest of honor at a Houston fundraiser hosted by Mark Lanier, a prominent victims' lawyer. The WSJ explained that the Lanier Law Firm "… has vacuumed up some $13 billion in tort verdicts over the years from Vioxx to asbestos. The invitation asks Mr. Lanier's tort comrades to share their wealth to the tune of $500 to $5,400 for 'Team Graham.'"
Transparency fans will be glad to know there was nothing subtle about the Houston event: "Our goal is to show Senator Graham an appreciation from both sides of the bar for what he can help do, especially with tort reform running rampant from the house," Mr. Lanier added in an email cited by the WSJ. "It will take Senator Graham to help educate folks and lead the charge from the Republican side."
Sen. Graham is key because he's on the Senate Judiciary Committee, where the GOP has an 11-9 majority. If he sides with the Democrats to block Republican efforts, the changes can't exit the committee. The WSJ likens him to a character in The Godfather, the undertaker Bonasera, who knew he would one day be called upon to "do a favor."
Adding to the legislative intrigue is investigation by 13 state attorneys general into several of the largest asbestos trusts.
Forbes' Daniel Fisher broke the story in March, explaining that the AGs "cite the Medicare Secondary Payer law, a little used federal statute that carries stiff penalties for insurers and others who arrange for lawsuit settlements to be paid directly to claimants without making sure they first settle outstanding bills for Medicare coverage."
Actually, Friday (April 21) was the deadline for those trusts to respond to a Utah-based lawsuit demanding information from the trusts, and the first debate is likely to be over jurisdictional issues.
Those arguments were not available for this post, but they will no doubt be among the next milestones proving that the filmmaker Paul Johnson's title certainly got it right: Asbestos litigation is a strange world and it's certainly unsettled.
Sara Corcoran Warner is publisher of the National Courts Monitor website, "Your Daily Ration of Civil Justice Rationing," an organizer of the Asbestos Double-Victims Workgroup, and a frequent commentator on national legal policy and civil courts issues.
Popular in the Community