Online video conferencing is becoming more popular. Video is being used for more than conferencing too! One of the most well-known live streaming video platforms is on Google+, called Hangouts. Since this technology is so new, many people get frustrated by the fact they don't know how to use it. As someone who's been using Google Hangouts for over 18 months, I am often asked to help people understand Hangouts. Here's an intro to Google Hangouts.
There are actually two different types of Hangouts: Hangouts and Hangouts On Air
Hangouts are typically used for private video chats with another person or group of people. They are not recorded to YouTube and only visible to the people you invite to them.
Hangouts On Air are publicly viewable and automatically recorded to you YouTube channel associated with your G+ account. You can invite individuals or circles to join the hangout and up to 10 people (including you) can be on at one time. You can not invite the public to join on air, but by default, they are able to be viewed by everyone.
In this video, we cover everything from starting a Hangout On Air to embedding it on your site.
Some important take aways:
Hangouts are the GREEN icon in the upper right of your G+ page. Hangouts On Air are the yellow icon in the left sidebar on the G+ page (the left side bar is shown when you hover over the home icon in the upper left corner).
You want to mute, or unmute, yourself when you are not talking (talking), especially when more than two people are in the hangout.
External headphone and microphone is a must when hanging out with more than two people. You don't have to spend a fortune on equipment, use you earbuds that you talk with on your phone.
Lighting is important. Have the light source in front of you, not in back of you.
If you are hosting the hangout, make it easy for people to join or watch. For Hangouts On Air, you can put the YouTube video into the Google+ event or embed on your site. You can also make sure people know they are invited by copying the URL of the HOA and messaging or posting for them to see if they don't see the notification.
In addition to hosting my own Hangouts On Air, I'm also the community manager at HuffPost Live, where the majority of our guests join us using Google Hangouts. I use Hangouts more than I use my phone to talk to people. If you have any questions or want to learn more, please leave a comment below and I'll try to address it.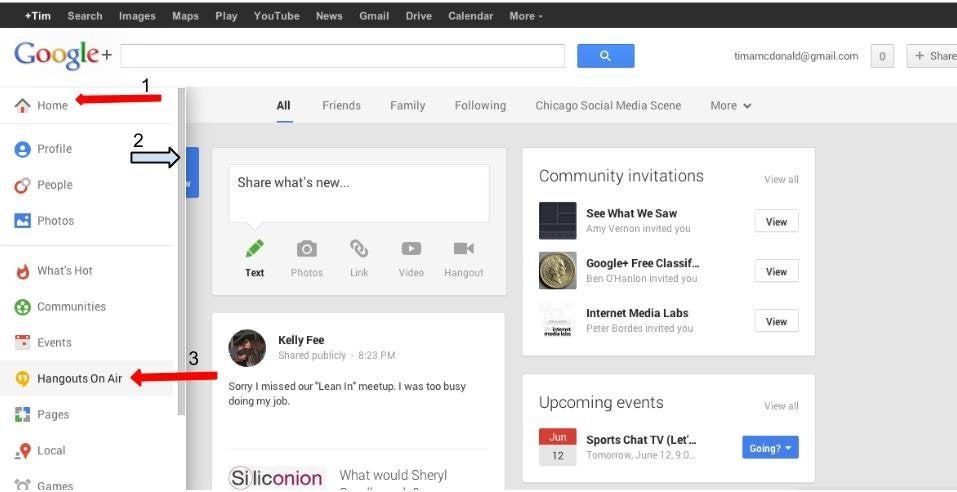 Google+ Hangout On Air
Related
Popular in the Community