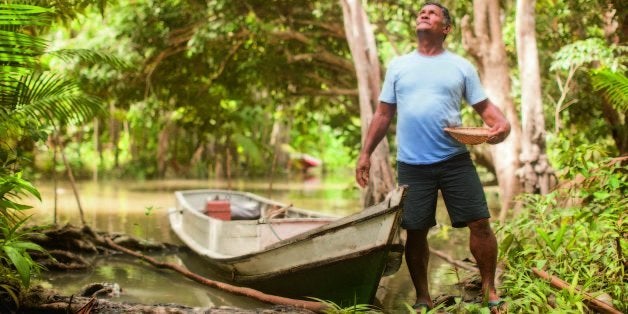 Unconscious capitalism has led us to consume much more than the planet can regenerate. In order to end this dangerous cycle, we need innovation and cultural changes.
The large-scale challenges that our world faces today are not simple to solve. We are dealing with the greatest environmental threat ever seen by humanity, with impacts already affecting living standards and worsening inequalities.
Unconscious capitalism based on consumerism has led us to exploit more than the Earth can provide. By 2050, with global population reaching over nine billion, we might be consuming 2.3 times the resources the planet can regenerate. But still we keep looking for continued growth as if natural resources were infinite. We maintain economic models based on extraction, production and disposal, which increase environmental degradation. We put up with the huge inequality that prevails in many parts of the world.
This is clearly unsustainable. Creating new patterns of consumption and production, as proposed by the Sustainable Development Goal 12, is about building the foundations of a sustainable society to avoid a future collapse. In order to escape this dangerous cycle, we have to change the way we see and do things. Things must no longer be planned for obsolescence. We need to be both conscious and competent to design products that emulate nature's life cycles, making sure that they endure and are either recycled or absorbed. We must also optimize the use of our resources and goods, just like the sharing economy has recently enabled us to do. Technology certainly has a key role in this, but so does our consciousness. Businesses should be aware that their impacts reach way beyond their walls, developing therefore the tools to either mitigate them or generate positive externalities.
At Natura, we have long been committed to measure and improve the impacts of our activities. With the help of international experts, we are mapping the environmental externalities of our whole supply chain, having finished aspects such as CO emissions and waste production, and have started to assess our water usage. By choosing our suppliers based on environmental indicators, we have reduced our carbon footprint by 33 percent and stimulated a whole supply chain to adopt new behaviors and develop more sustainable ways of doing business. There's certainly a lot more to do. Above eliminating or compensating our negative impacts, we believe businesses must create positive impact, which means contributing to regenerating nature and making society fairer. This is a long-term goal that we expect to achieve by deepening our Triple Bottom Line model, measuring and putting financial value on all our externalities.
However, this will not do the job if consumers don't join in, which means we need a real cultural change. "Being" and "experiencing" must be more important than "having." It's time for us to understand that we are all interdependent. If we want to increase our own happiness, we need to invest in growing the community happiness and also take care of the whole, of mother Earth. In the last 30 years, Natura has tried to build a business through both promoting and putting these values into practice. We have developed our products, services and relationships in order to make them the main vehicles of our beliefs. Brands such as Ekos and SOU are designed and produced in a way to respect people, the planet and biodiversity, while also encouraging consumers to reconnect with nature and the produce's history.
Today, 82 percent of all Natura's ingredients are of plant origin. The company already works with 33 traditional communities that provide these natural ingredients, many of them in the Amazon, sharing with them the benefits and helping to keep the forest standing. There are certainly very serious and urgent challenges ahead, but also great business opportunities. Our ecological, social and economic issues are a call for innovation and entrepreneurship, an opportunity to create business solutions. Make no mistake: business forces, if used long-sightedly, are the tools for leveraging new consumer behaviors, new and smarter ways of production and for accelerating the transition to a sustainable world.
What is the role of business in meeting the Global Goals?
On Sep 24th The B Team is hosting a discussion, featuring some of the world's most innovative and ambitious leaders, to explore the answers to this question. Tune in to watch the discussion live here.
Natura is a 2015 winner of the Champions of the Earth award, the UN's top environmental prize
This post is part of a series produced by The Huffington Post, "What's Working: Sustainable Development Goals," in conjunction with the United Nations' Sustainable Development Goals (SDGs). The proposed set of milestones will be the subject of discussion at the UN General Assembly meeting on Sept. 25-27, 2015 in New York. The goals, which will replace the UN's Millennium Development Goals (2000-2015), cover 17 key areas of development -- including poverty, hunger, health, education, and gender equality, among many others. As part of The Huffington Post's commitment to solutions-oriented journalism, this What's Working SDG blog series will focus on one goal every weekday in September. This post addresses Goal 12.
Related
Popular in the Community