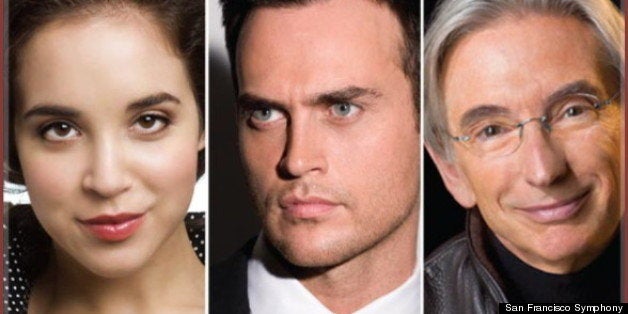 Say it loud, say it soft -- West Side Story. And there's music playing. It's just there, deep in the heart, engraved in the culture and playing somewhere right this moment. San Francisco Symphony is presenting five performances of West Side Story, June 27-30 / July 2, and like you've never seen or heard before. They are the first to present the complete 1957 musical on a concert stage. And hold on, the production is being recorded. It may prove to be the most significant recording of the show since the Original Broadway cast. Conductor Michael Tilson Thomas worked with Leonard Bernstein and is internationally renowned for being the composer's champion interpreter. In the roles of the star-crossed lovers, popular Broadway and TV personality Cheyenne Jackson as "Tony" and the fastest-rising soprano in musical theatre, Alexandra Silber as "Maria." It's the stuff that dreams are made of.

Alexandra Silber, Cheyenne Jackson and Michael Tilson Thomas
Photo courtesy of San Francisco Symphony
Alexandra told me she heard about the project early last February. The word was out that SF Symphony was putting together a full concert presentation of West Side Story. They were searching for Maria. After watching several of Alexandra's YouTubes, it's easy to see why the role has her name written all over it. "I'm going to get that," said her inner voice.
"Once in a while you get those whispers," said Alexandra.
But this was very strong. This was more of a shout! A flame went off in my mind, in a manner unlike any I'd had for any project ever before. I knew I had a lot to say about this role and I knew this would be an ideal setting in which to do that. I sent a couple excerpts of me singing from the production of Carousel in the West End. It's similar in style and tone and I was singing with an orchestra. Thus far, I've come from a predominantly theatrical background even though I'm transitioning into more of a cross-over person. I'm doing a lot more music that has one foot in the classical door, the other in a theatrical door. I was asked to audition live in New York.
Remember the cold and flu epidemic that hit last winter? It hit every singer I know from coast to coast.
"Then I got unbelievably sick -- flat out," she said.
I cancelled everything I had that week to simply get well enough to go. It was just one of those things. The audition was held at Juilliard. I went and did my best -- and my best was at least good enough to be heard again. I sent them another tape and then I had a Skype session with Michael Tilson Thomas. I didn't know where he was on the planet at the time, but our internet coaching session was with 'One Hand, One Heart.' I have to say the audition process was a joy.
Alexandra Silber may be the firestarter for getting the Broadway world re-acquainted with its "legit sound" -- the same crystal clear, open voice that Leonard Bernstein would have heard in his first "Maria," soprano Carol Lawrence. Last April, Alexandra made her Carnegie Hall debut in a staged concert version of George Forrest and Robert Wright's 1944 operetta, Song of Norway. A week ago she was appearing as "Amalia" in a staged concert rendition of She Loves Me at the Caramoor Arts Festival in New York. Her co-star was tenor Santino Fontana, an old friend from high school, recently nominated for a Tony as the Prince in the current revival of Rodgers and Hammerstein's Cinderella.
I hope I can carry the torch of singers like Florence Henderson and Barbara Cook. It's wonderful to have this leaning, to have this proclivity and be able to sing what is arguably one of the best and most endemic, pure soprano roles in musical theatre. As I'm working on it, it's like drinking liquid gold. It's such an indulgent and beautiful experience. I can't think about the recording too much or I'll get very nervous. Sometimes I think the best way forward is to just go back to my training as an actor and just be in that moment, right then, and relate to the people. Hopefully, the recording will reflect that truth. You can only do the 100 percent you have that very day.
Cheyenne Jackson's new CD, I'm Blue, Skies was released on Tuesday. It is a fantastic collection of twelve of his original songs. One of the tracks, "Don't Wanna Know," has an accompanying video which has so far accumulated nearly 300,000 hits on YouTube. Fans of Glee know him as "Dustin Goolsby" and on 30 Rock he is "Danny Baker." His recent screen credits include Behind the Candelabra and Mutual Friends. Last week he finished shooting a film by writer and director Neil LaBute. His duet album with Michael Feinstein, The Power of Two, is beautifully produced and with fifteen harmonious tracks of such Broadway standards as "We Kiss in A Shadow" and "Someone To Watch Over Me" -- very strong on message. On Sunday morning, prior to the matinee of West Side Story, Cheyenne will be participating as Grand Marshal in the City's Gay Pride Parade. He has promised to save his high notes for the performance. Michael did not need to audition for "Tony."
I met Michael Tilson Thomas at Carnegie Hall when I went to see him conduct one of those really new modern pieces -- which I know he's very fond of. I was sitting with Bette Midler -- how's that for name-dropping -- and it was just so crazy, so very forward and avant-garde. You just had to open up your mind! I met him afterwards, we had a good rapport. Then I heard through the grapevine that he was doing West Side Story. Someone from San Francisco Symphony reached out to me to see if I would like to sing Tony. It is my all-time favorite musical, book, libretto, dramaturgically -- one great song after another. I did the show when I was twenty, at a community theatre in Issaquah, Washington. Now I'm going to be a 37-year-old Tony -- which I think is hilarious.
It turns out that Cheyenne Jackson is a more conventional Tony than some may have thought or put together. Larry Kert, the first to sing the role on Broadway, was also gay. "Flamboyant" might have been the description used by other gay members of the creative team -- lyricist Stephen Sondheim and choreographer Jerome Robbins. On the edgier side of the question, I asked Cheyenne about the ever-compounding messages of West Side Story and the impact in 2013. With this pivotal event and the forthcoming recording, Jackson becomes forever linked to the now-definitive American musical that just keeps on giving and giving.
"For one thing," he responded:
it's a timeless story. Different classes, different backgrounds -- ethnically, socially, economically -- all of that stuff rings true and always will. Great musicals like West Side Story, Gypsy or Funny Girl will always ring true. And the fact that I'm going to be representing Tony for a lot of folks is not lost on me. I know how that manifests in some folks. But I've always done this. From my first step on the New York stage, I've defied convention. I'm comfortable in my skin. I know who I am. I'm married to a dude. We've been together thirteen years. There are no secrets. That is a big portion of why people relate to me and follow me. I have these wonderful friends who call themselves 'Cheyennetologists.' They come to my shows and wear shirts that say 'Church of Cheyennetology.' I approach every piece in truth. I just try to find the truth of what it is, whether it's a gay part or a straight part, a comedy or the revival of Finian's Rainbow. I like to find something that's funny, find the meat, find the thing that can make the character a real person. Fortunately, Tony is all fleshed-out. In terms of storytelling, all the work has been done for me. I just have to commit, get into it and do my very best. A lot of guys look up to me. Touching on the point you made -- I get a lot of fan mail, mostly from younger girls and gay guys under the age of 18 who are struggling. They live in the "square states" and they see me as somebody to look up to. At first, I found that a little daunting and almost a burden. But over the years, I've realized it's a wonderful thing. Just the fact of me being myself and going out there and giving my heart through my art is inspiring to folks and can help people in some way. Who could ask for more than that? I'm just so looking forward to this project on every level.
Click here to get in on the action.
Calling all HuffPost superfans!
Sign up for membership to become a founding member and help shape HuffPost's next chapter