In uniting professionals across a variety of different art forms, this renaissance has unlocked an unprecedented wave of creativity, all in about three years. Where many have fixated on developing and discussing the wealth of amazing new tech, James Hanusa and Alison Raby were most excited about the great minds behind it, and wanted to bring them together in a way befitting a revolution of this scope.
Enter Digital Raign, a groundbreaking VR-focused, full service executive search firm that launched earlier this month. For those unfamiliar with the field, think of a search firm as a matchmaker and consultant for companies and industry professionals.
The seeds for Digital Raign were planted when Hanusa, a management consultant in technology and culture, moved to Seattle in 2015, where he noticed a swell of talent from major tech companies working in virtual and augmented reality. Energized by what he saw, he contacted longtime friend Raby, a serial entrepreneur and twenty-year search industry veteran, kicking off a discussion that would come to change both their lives.
"James really opened my eyes to this next wave that I've been affectionately calling the 'Reality Revolution,'" said Raby. "It's very clear, as far as I'm concerned, that it's going to change the evolution of our species, and I have just been completely, passionately interested and drawn to it from day one."
Inspired by this burgeoning energy, the two were determined to find the point where their respective backgrounds intersected to address a need in the field. So they ran an exploratory experiment, attending VR/AR/MR meetups and events to better understand the state of the industry.
"We said we'd do a one-week experiment to see what we could produce together -- from bringing our backgrounds together, our knowledge together, our networks together and did a minimum viable product for getting the organization together -- with knowing that there's a lot of white space in the industry that we would uncover as we got to know it better," said Hanusa.
The clarity of their vision is borne of a drive to maximize human capital in new ways by continuing to ask necessary questions.
"In looking at how much need there is for talent at all levels in the reality industries it was really clear it was a great time to offer something that was dramatically different and start asking questions about how we can serve the industry," said Raby.
That took place June. Three months of tireless work later they announced Digital Raign. These two know what they're doing and don't waste time. When I remarked on the whirlwind expediency of their experiment, Hanusa laughed.
"We experiment well," he said.
In crafting Digital Raign to be the first search firm specializing in the New Reality space, its founders are tapping the pioneer spirit of the movement to reinvent what a search firm can be, bearing in mind the lessons they've learned in their respective experiences. It of course offers all the staples -- retained executive search, technical recruiting, and management consulting for companies -- but what truly sets the firm apart from anything before it is the full embrace of immersion and impact as an ethos. In practical terms, they plan to use VR as a tool for search and recruiting, as well as to create 360-office experiences, VR company tours, VR interviews, and impact event production. Imagine if you could tour a company from the comfort of your own home. Imagine if a company could gauge a candidate's compatibility by putting them to the test in an absorptive, real-time crisis akin to what one might experience on the job. These are the sorts of opportunities VR uniquely affords, and they're exactly what Raby and Hanusa want to to use to make their network of professionals a totally new type of search firm.
The job market for VR professionals is soaring. Since 2014, Indeed.com has seen an 800% increase in VR job postings and 1800% increase in VR job searches. And, for the foreseeable future, those numbers are only going to rise.
"This will affect every single industry," said Raby. "Every day I hear one more industry that's adopting or leaning toward adoption. People are hiring at all levels, and technical rock stars are what's most needed right now."
Tech can be a fast-paced, competitive field, but it's vital that we don't forget the human element. One guiding principle for Digital Raign, which has been integral in the lives of both Raby and Hanusa, is the notion of impact.
"Why impact? It is deeply seated in both of our DNAs," said Hanusa. "When we started the company and the experiment we said, 'Hey, let's think impact from the start, it's not a bolt-on, that's who we are, that's what we're about.'"
Impact can take many forms -- it's about the mindset to make real, positive change in the world. Raby views the opportunity to work with others to make the best possible choice(s) in their career as a chance to build community in a lasting way. After all, your job is where you spend a majority of your adult life.
"I love the leave no trace movement, but I also really believe in leaving a trace," said Raby. "At this moment in time, unless things are changing, none of us are getting out of here alive, so what do we want to leave behind as our living legacy when we pass?"
Based in San Francisco, the undisputed tech capital of the world, Digital Raign is certainly in the right place at the right time. But the founders conceive of their community as a global one. To that end, they've announced that they are producing Wisdompreneurs' Shifting the Paradigm Summit at the iconic Esalen Institute. The impetus for this breakout impact event is to bring together great minds from many different sectors of the industry under one roof to share ideas and collaborate.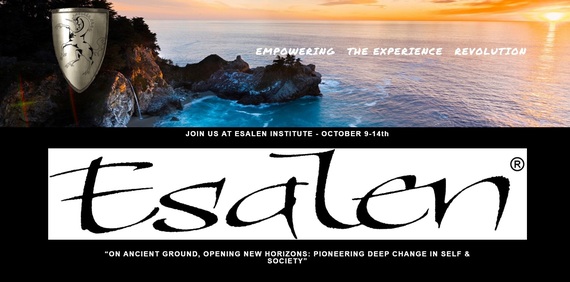 "There's a lot of goodwill in the industry, but it's lacking in the foundation and collaboration," said Raby. "So we really wanted to invite leaders, the people who took the first step forward, who are taking the first steps right now, to come together to shape the industry."
Tying together the threads of impact, Wisdom 2.0, collaboration, and humanistic alternative learning, they are hosting the event at Esalen, which has been instrumental along their respective paths in conscious evolution.
"I think about what we're doing at Esalen as an impact experience with the aspiration for transformation," said Hanusa. "It's such an amazing place to start this journey, and it's so attractive to people on so many levels, and I think that's part of the energy being generated that we can't keep up with. I am very much a curator of experience, and alchemy of people, so we're reaching out to specific people to set the tone of where this is going, because it doesn't end at Esalen. We're trying to bring in doers, and we're trying to start an expectation that this a participatory experience."
That gets at something key of Shifting the Paradigm: Raby and Hanusa are most excited about the type of conversations that can be created among the top thinkers in the field, without the usual bounds of industry gatherings.
"We've visioned something that feels really radically different," said Raby. "We're really saying let's come together and do something different than what we've all been to -- this is not going to be like the usual summit or the usual conference or the usual workshop. We're all leaders and we're all participants, we're going to help reach the next step of this revolution in our evolution. It's not a conference with speakers and audience, it's co-creating."
The response from the community has been resounding and immediate. Within a week, they had received more applications than they have spots, but they're still open to seeing more. Their goal is to find the people who are dedicated to creating meaningful content and bringing a sense of social purpose to their work.
"We're trying to bring together the UN of VR at Esalen," said Hanusa. "If we're not talking about doing meaningful work within this new medium, how does that affect the trajectory, if it's going to be the next interface after computers, the Internet, phones? It seemed like the timing on this conversation is really relevant, that we're having it right before this big boom comes and that a community starts to form around really thinking about the effects on society and humanity with this new next-level technology."
In their minds, building this community is one of those rare situations where the sum is greater than its parts, especially considering their aim to continue developing and producing impact events around the world.
"Our hope is that we're bringing a level of quality and care and trying to put the human back into human capital management," said Raby. "Our model is everyone wins."
Digital Raign is a revolutionary firm for a revolutionary medium. For more information and up-to-date press releases from Digital Raign, visit their news page. More information about Shifting the Paradigm can be found here.
Calling all HuffPost superfans!
Sign up for membership to become a founding member and help shape HuffPost's next chapter