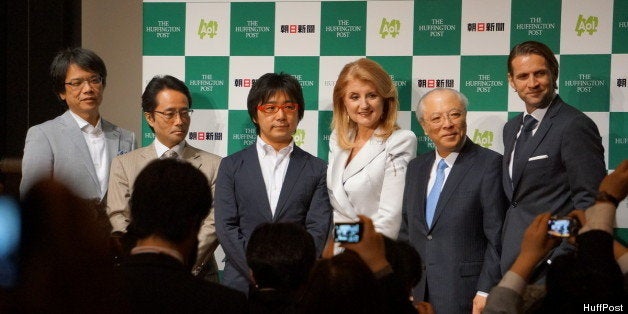 Konnichiwa! After spending a beautiful weekend in Kyoto visiting temples, meditating, and walking through magnificent Japanese gardens, I'm back in Tokyo for the launch of the Huffington Post Japan. After a few nights of sleep discombobulation, I'm fully adjusted to the 13-hour time difference -- the transition made easier by the spirit of omotenashi, the legendary and very real Japanese tradition of hospitality. I'm here with my daughter Isabella and a small team of HuffPost international editors, joining our talented HuffPost Japan team in their Akihabara offices to launch the new edition, our first in Asia. We are all elated that after launching editions in the UK, Canada, France, Spain, and Italy, HuffPost has gone east -- not only to a new country, but to a new continent, and a new hemisphere, with consequences that are anything but symbolic. The launch of Huffington Post Japan represents the fulfillment of our goal of inviting ever more voices from around the world to join our growing global conversation. And it's living proof -- since Huffington Post Japan is "live" as of today -- of the way 21st century media have transcended once-formidable barriers of geography, language, and culture.
Any time would be a fascinating time to launch HuffPost in Japan, right now the country is living through a pivotal moment. The country's prime minster, Shinzo Abe, took office -- for the second time -- in 2012, and has vowed to avoid the austerity-related missteps of so many other world leaders, so that Japan might "make a break with the shrinking economy of the past." The tragic consequences of the devastating earthquake, tsunami and nuclear disaster that wreaked so much destruction in March, 2011, are still very much apparent -- as are the remarkable displays of resilience, courage, and empathy that followed in the tragedy's wake and continue through to the present.
In addition to telling the stories of such defining events, and inviting Japan's people to tell their own stories, HuffPost Japan will be exploring and celebrating the country's culture, from deeply-rooted traditions -- including zen meditation and tea ceremonies, with their rich rituals and fascinating tea masters like Sen no Rikyu -- to its embrace of oddball pursuits, like, yes, crying baby contests. We'll also be putting the spotlight on Japan's unique approach to one of my favorite subjects, sleep -- from capsule hotels to the abundant photoblogs of people sleeping on trains. And of course HuffPost Japan will be a place to discuss pastimes like food, books, theater, movies, travel, and sports.
When it comes to media, Japan presents unique challenges and opportunities. As our CEO Jimmy Maymann has said, "In most markets, around 20-25 percent of our audience is coming from mobile, but in Japan that will be so different. Mobile Internet in Japan is 'Internet." Three of the biggest newspapers in the world are produced in Japan. At the same time, the Japanese are voracious users of social media and social-networking sites -- not only Facebook and Twitter, but smartphone services like Line, Comm and Gree. Akira Morikawa, a developer of Line, has described the rapid growth of social messaging as "a movement," adding that "we hope it will spread to the U.S., Europe, and elsewhere."

For years, Asahi Shimbun has prioritized giving back to various communities and causes in Japan, and especially to organizations that support culture and sports. Several of its finest hours as a news organization have come at times of tragedy and difficulty in Japan, notably in its comprehensive coverage of the Fukushima nuclear disaster in 2011 and its uncovering of the Recruit insider trading scandal in the late 1980s. And key to its philosophy -- and its growth -- is looking beyond Japan's borders and speaking to the wider world: in addition to Japanese, Asahi Shimbun reports in English, Chinese and Korean.
Finally, the company is not only a pillar of journalism, but of civic values. As Asahi Shimbun's president Kimura Tadakazu has written, "We believe that mutual understanding deepens and democracy matures when we respect and listen to one another without self-righteousness and when we voice our individual views in a straightforward manner." And here is the company's credo, introduced in 1952: "To be impartial and unbiased; to safeguard freedom of speech and thus contribute to the perfecting of a democratic nation and the ensuring of world peace. To be devoted to the welfare of the nation, in the name of justice and humanitarianism; to reject all forms of wrongdoing, violence and corruption. To report the truth fairly and promptly; to keep editorial comment liberal, yet impartial. To cherish tolerance at all times; to preserve a sense of responsibility and dignity without sacrificing vitality and freshness."
HuffPost Japan's editor-in-chief is Shigeki Matsuura. Born on Hokkaido, Japan's second-largest island, he graduated from Tokyo University of Science and worked for several IT and media companies, including Conde Nast Publications Japan, where he helped launch the Japanese edition of Wired. He also helped launch BLOGOS, and even designed an orbit route for a satellite. More recently, he managed GREE News, part of the mobile and gaming company GREE, growing the site both financially and in terms of traffic. He writes in his launch-day post "The Huffington Post Japan hopes to be the place where we have an honest conversation about the future of Japan, and our editors will work to bring your voices and ideas onto our pages to achieve this."
Our launch day lineup of bloggers includes Yukio Edano, member of the Japanese House of Representatives, on whether the prime minister's ecomonic policies, known as "Abenomics", will fix Japan's persistent deflation; Seiko Noda, also a member of the House of Representatives, on her hopes for new policies that benefit women in the Japanese workforce; former Miss Japan Yurie Yoshino on her battle with a rare form of cancer; and the University of Tokyo's Kenji Shibuya on ways Japan's aging population can stay healthy.
It has been such a pleasure working with everyone who has helped make possible the launch of HuffPost Japan -- a group effort that has spanned many months across two continents. At The Asahi Shimbun Company, we are grateful to CEO Toshikazu Kimura, Shinichi Yoshida, Yoichi Nishimura, Takamichi Ono, Yoshiichi Yada and Eri Goto. At HuffPost Japan, deep thanks to our editor in chief Shigeki Matsuura, front page editor Chitose Wada, traffic and trends editor Atsushi Nagayama, reporter Chika Igaya, news editors Akihiro Chishiro and Naoko Utsumiya, and blog editors Kenji Ando and Kaori Matsumoto. At AOL Japan: Yasushi Okue, Noriaki Sakata, Yuji Ando, for their contributions that brought us to this day. And of course, deep thanks to our US-based HuffPost team who have spent a lot of time both in New York and Tokyo training the Japanese editors and bringing the HuffPost DNA to Japan: Nicholas Sabloff, David Flumenbaum, Joanna Zelman, John Pavley, Otto Toth, Nik Petrov, Philip Moortgat and the rest of our great tech team.
So please join us in welcoming Japan to the HuffPost family. And as always, please use the comments section to let us know what you think.
Calling all HuffPost superfans!
Sign up for membership to become a founding member and help shape HuffPost's next chapter