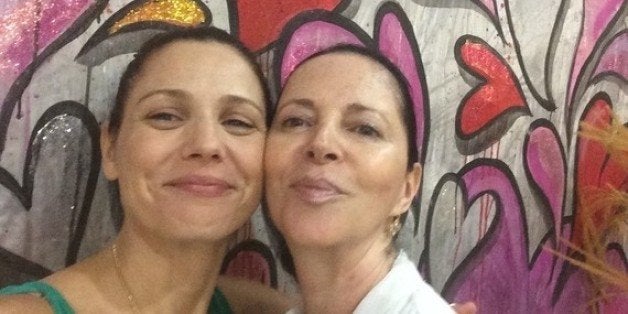 I spent a great day recently with my dear friend, Ele. We went to a spa and had the royal pamper treatment -- sauna, steam, body scrub and massage, followed by an amazing vegan Japanese dinner at Shojin. After dinner, we took a picture of ourselves in front of a wall painted with hearts. It was the perfect way to end the evening.
The next day we both felt really good, and carried that feeling with us throughout our day. It occurred to me that what we had was a "love day," and what we did together was all about feeling good and sharing love. Maybe you've spent similar days like that with your friends or loved ones, but what inspired me was to give that kind of day its own name so that when we have one, we won't take it for granted. I'd like to declare a new day called "Love Day," and I hope everyone takes the time to have one, or as many days as you want devoted to nothing but feeling good.
Here are some ways to do that:
1. Pick a day in your week to have a "Love Day." It will give you something to look forward to.
2. Make your "Love Day" all about being good to yourself.
3. Allow yourself to be in the present moment with everything you're experiencing on your "Love Day."
4. Invite someone to share a "Love Day" with you.
5. Surprise or gift someone a "Love Day," and make all the arrangements for them.
6. If you're spending your "Love Day" with someone, think of what you can share with them that's positive and uplifting.
7. If you're spending your "Love Day" alone, give yourself total permission to really appreciate who you are.
8. Take time in your "Love Day" to be filled with gratitude. Appreciating what we have makes the day even richer and more meaningful.
9. Don't let anything distract you or get in the way of having a completely satisfying "Love Day."
10. Talk about your "Love Day" with others, and if you took pictures, share them. It will inspire them to have one.
11. Host a "Love Day" group or party.
Wouldn't it be great if there really were an official "Love Day," but in a way, I prefer it being something we decide to do. That way it doesn't have to be once a year like Valentine's Day, or New Year's Day or birthdays. We can have as many love days as we want. Imagine that -- each day devoted to feeling good. You might find yourself not wanting to settle for anything less!
Related