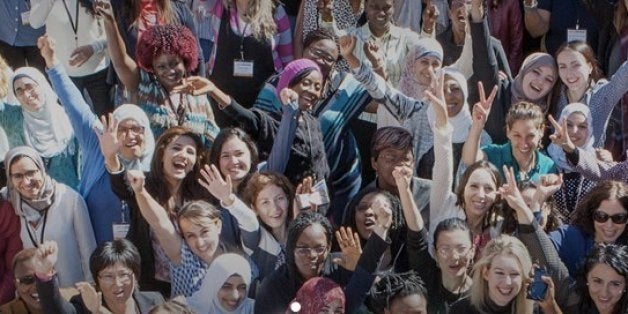 History teaches us that beneath every glass ceiling is an iron woman, and iron is stronger than glass, especially when one iron woman joins forces with many.
I am proud to announce the Iron Sisters Campaign, a movement that will bring together women from around the world who are pursuing careers in science, technology, engineering, mathematics, (STEM) and business to support each other --- learn from each other, encourage each other, and celebrate each other's success to pave the way for future generations of women to succeed in these fields. Working together -- Iron Sisters -- we can eliminate the stereotypes and remove the barriers that discourage girls and young women from entering STEM fields, and we can create a culture in which women in STEM businesses are supported and celebrated.
I once had a conversation with the CEO of the Girl Scouts, who told me about an event she hosted for the valedictorians in the program. The girls in attendance were asked to raise their hands if they thought they'd grow up to become leaders in STEM businesses.
Not a single hand went up.
Many of the girls in the room that day could not envision themselves leading in STEM businesses because there were not enough role models for them to follow. We find ourselves trapped in a cycle: too few women are starting or building and leading in STEM businesses because there are too few women starting or building and leading in STEM businesses.
The Iron Sisters Campaign will work to break this cycle by breaking the glass ceilings that prevent women from entering STEM fields in the first place. Madeline Albright once said that "there's a special place in hell reserved for women who don't support other women." I believe that there's a special place in history for women who do, and that is what the Iron Sisters Campaign is all about.
I know first-hand how important this is. When I went to college, I was the only woman in my chemical engineering class. Today, it is not uncommon for me to be the only woman in a room full of scientists, business executives, or venture capitalists.
I want every girl and every young woman out there to get the support they need. I want them to get the message that they can be the best. And I want them to get it especially from other women and girls on whom they can rely -- as their Iron Sisters.
The Iron Sisters Campaign will host intensive workshops designed to build a supportive community of women in STEM business. It will also maintain an active presence on social media, using #ironsisters, which women can use to share each other's accomplishments, strengthen each other's networks, and support each other's businesses.
This is a global initiative, and it is already underway. Last weekend at Theranos, I hosted and provided training for more than 100 women from 21 countries, who took an #ironsisters pledge to help and inspire at least 100 other women to pursue their dreams, meaning that the Iron Sisters Campaign will be felt by at least 10,000 women on day one. These women come from Algeria, Cameroon, Egypt, Jordan, Kazakhstan, Kenya, Kyrgyzstan, Lebanon, Libya, Morocco, Nigeria, the Palestinian Territories, Rwanda, Sierra Leone, South Africa, Tajikistan, Tunisia, Turkmenistan, Uzbekistan, Yemen and Zimbabwe. They have inspiring stories that need to be told.
Though these Iron Sisters all come from different backgrounds and have had different experiences, we all share a passion for what we do, and we are united by a deeply held belief that we can use innovations in STEM fields to change the world for the better -- because one of life's greatest rewards is to do well by doing good. In business and innovation, women share a common language, no matter where they are from.
In order to succeed, women must help other women. We know that we will face setbacks along the way, and there will be no shortage of critics who want us to fail. But we will always encourage each other to get back to our feet and to keep moving forward. As our success grows, so too will the challenges we face, as those who benefit from the status quo mount resistance to change. But together, Iron Sisters, we can and will support each other as we build new businesses and make new discoveries that will revolutionize the world.
Glass ceilings will be shattered. And, someday, a group of little girls sitting in a classroom will be asked who among them wants to grow up to lead in a business in a STEM field -- and many hands will reach for the sky.