I recently attended a book fair at our neighborhood book store benefiting my kids' K-8 school. I couldn't help noticing that serial young adult novels were all the rage among the middle schoolers, especially those -- not surprisingly -- about vampires and young love.
There's nothing wrong with these books, especially if they get kids to read. Still, I was left wondering, Do the books I loved as a child -- especially the classics promoting values and self-reflection -- hold any interest for kids today?
For advice, I turned to my good friend and writer, Laura Duggan. Duggan is also a publisher and educator, and recently hosted a number of parent talks on this very subject, publicized as "Values not Vampires: Choosing Uplifting Children's Literature."
The genesis of Duggan's talks is that she, too, questions whether kids might be attracted to the books she loved as a child. Since she's a teacher at a charter Waldorf School, she re-read her favorites with her students in mind. Would titles such as Anne of Green Gables, Heidi, and Little Women still make compelling reads for today's kids?

Happily, Duggan discovered that a great read is still a great read. Perhaps because what makes a book a classic is its good storytelling and deeper understanding of human nature. As she puts it, "It was a profound experience, realizing it was no accident that I loved those books and will always remember them. I can see the seeds of who I am right now in these books."
For Duggan, this means such a profound experience is universal, and can be felt by today's young readers as well.
This realization inspired her to create a website called LitKids.com, an online anthology of children's books devoted to selecting quality literature for children ages five to twelve. Duggan and her readers review children's books to help parents and grandparents select books for young people that engage the imagination, transmit values, and unlock the magic of reading.
To qualify for her website's select list (as well as for her own grandson's reading list), Duggan looks for books with these qualities:
1.Imagination and a sense of wonder. A favorite is The Secret Garden by Frances Hodgson Burnett. Here's an excerpt: "Of course, there must be lots of Magic in the world, but people don't know what it is like or how to make it. Perhaps the beginning is just to say nice things are going to happen until you make them happen."
2.Well -written and exhibiting the beauty of language. Examples are Shannon Hale's Princess Academy; Kenneth Grahame's Wind in the Willows; and the much beloved Mary Poppins, in which the author P.L. Travers so eloquently writes: "It was one of those mornings when everything looks neat and bright and shiny, as though the world had been tidied up overnight."
3.Transmits universal values. Great books offer experiences of compassion, empathy and hope. Standouts include Edith Nesbit's 1906 The Railway Children -- "Very wonderful and beautiful things do happen, don't they? And we live most of our lives in the hope of them." Or, written a century later, Kate Di Camillo's The Miraculous Journey of Edward Tulane, in which the author encapsulates what is perhaps most important about life -- "If you have no intention of loving or being loved, then the whole journey is pointless."
4.Transports a child into another world -- real or imaginary. A good story is, after all, a good story. Duggan points again to the British writer Edith Nesbit, whom she calls the "mother of fantasy literature for children." In The Enchanted Castle, Nesbit writes, "There is a curtain, thick as gossamer, clear as glass, strong as iron, that hangs forever between the world of magic and the world that seems to us to be real."
Like the proverbial horse being led to water, it's one thing to offer quality books to children; how do you get them to read? Here's one trick. I've found that kids are fascinated by what their parents were like as children -- who were their friends, what they did for fun, even what they watched on TV or read from the library. Talk to your kids about the stories you loved at their age and why. Describe the wonder you felt when you first read a favorite book and the worlds it opened for you. Explain why a particular passage or character still resonates with you after all these years. There is, after all, nothing like a good teaser to hook a young reader's interest.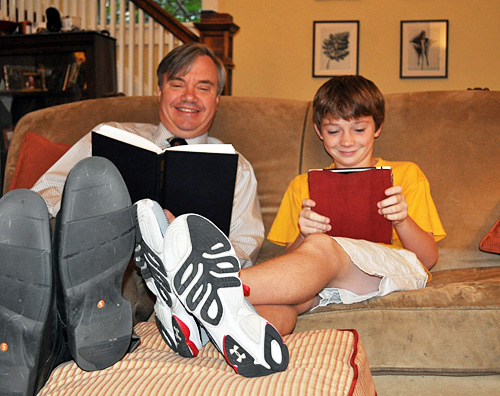 If you want to find more information about choosing quality, value-driven children's books, you have many in-person and on-line options. For personal recommendations, consider of course your school or public librarian, teacher, guidance counselor, book store owner, or clergy. Other parents are also a good resource, especially those who share your passion for quality children's literature.

For on-line sources, in addition to Duggan's LitKids.com, look for recommendations from your librarian for good websites, or visit those sponsored by the U.S. Department of Education, your state's education departments, or children's literary associations.
A little extra effort in finding the right books for your kids will pay enormous dividends. Says Duggan, "We nourish the hearts and minds of children by offering them something more than junk food for the mind. Whether you are a parent, grandparent, or teacher, you can make a difference in kids' lives just by the books you offer them."
John McCormick and his sons William and Connor are the authors of "Dad, Tell Me A Story," How to Revive the Tradition of Storytelling with Your Children (Nicasio Press 2010). For more information about family storytelling, visit the authors' website and blog at http://DadTellMeAStory.com.
Related