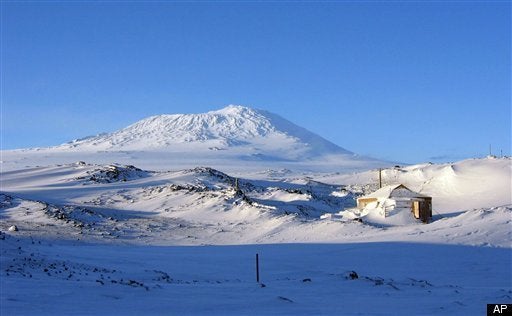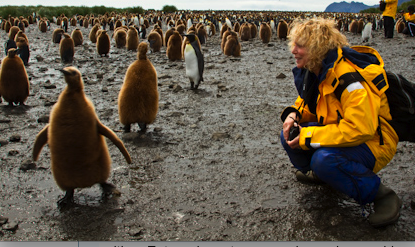 I have just returned from Antarctica, the loneliest, driest, most desolate place in the world. There are no people, no hotels, no restaurants and no streets; no cell phones, no email, no electricity. The only way to get there is by ship. So why go? To see thousands of penguins in colonies and rookeries nursing their furry chicks or kissing their mates, touching bills; to watch a mother seal suckle her newborn pup; to watch pink and white dolphins porpoise through the water next to your ship.
Imagine a place with not a human in sight for thousands of miles -- just ocean, beach, island, penguins, seals, birds, and an occasional whale. Imagine a universe of silence except for the thunderous sounds as a glacier calves and crashes into the sea. Skirt the sea ice in a zodiac past icebergs bigger than entire buildings. Watch an albatross with a 6-foot wing span soar in the sky on the thermals. Antarctica is the last pristine universe on earth, and a place which you must visit now, before all the whales are gone, before global warming melts the ice, before the animals develop a fear of man.
If you're considering a trip to Antarctica, here's what you might want to know:
IS IT FREEZING? No. November through March is Austral summer. Most days it was around 50 degrees. The only time it was cold was when I swam in the frigid (0.8 degrees Celsius) waters in order to join the "Polar Plunge Club." (And, I wasn't cold until back on land trying to pull my expedition gear over my wet bathing suit).
MOST ANTARCTIC TRIPS SEEM TO BE 11 OR 20 DAYS. IS THERE REALLY A DIFFERENCE? Yes, a HUGE difference. The 11-day trips include at least four days at sea which leaves very little time to explore the Antarctic Peninsula. The 20-day trips include the Falklands and South Georgia, which have some of the largest penguin and seal colonies in the world. (For wildlife, you won't see anything like this anywhere else). As my Expedition Leader, New Zealander Cheli Larsen (who has done 25 Antarctic trips) said, "God goes to South Georgia for his vacation."
WHAT ABOUT COMMUNICATION? As in all of life, if you want it, you can pay for it, but I chose to take a 20-day vacation from email and phone. After the first day, I didn't miss it, and now, I'm almost sorry I'm tied down and online again.
I'VE HEARD ABOUT THE DREADED DRAKE PASSAGE. IS IT REALLY "THE DRAKE SHAKE?"
My trip started out east to the Falklands and South Georgia, which means I didn't have to cross the Drake stating out. But any voyage going to the Antarctic Peninsula, if returning to Ushuaia, must cross the Drake. I brought patches for seasickness but didn't need them because when we crossed, it was the Drake Lake -- as calm as a bathtub. The Sea Sickness Gods must have been on vacation. May they be absent on your trip, too.

WHICH TOUR OPERATOR SHOULD I CHOOSE? Be sure to choose one with experience and an excellent expedition staff, because you're only as good as your guides. Ideally, your ship should offer daily presentations and include a staff marine biologist, geologist, historian, and ornithologist -- all are important when it comes to understanding this unique continent. I chose Quark for their 20-day "Explorer's Quest" aboard their new luxury ship, the Sea Spirit. The expedition staff was first-class and the ship was small (only 107 passengers). Beware a ship with 200 or more passengers -- you'll have much less time on shore.
DOES LUXURY REALLY MATTER? To me it does -- especially on a three-week trip. My spacious cabin had a king-sized bed, desk, easy chair, couch, temperature controls, telephone (I could call home but didn't -- but could also call reception), walk-in closet, bathroom with shower, bathrobe, TV with Antarctic-based movies, sliding glass doors leading to a balcony where I could sit, and binoculars to spot the whales.
WILL EVERYONE BE AS OLD AS MY GRANDPARENTS? On my voyage, most passengers were 40-60, plus one 13-year-old girl and 7 twenty-somethings who had us laughing and partying till all hours of the night.
WHAT DO I NEED TO BRING? Your tour operator will supply a clothing list. Quark supplied not only a brand new expedition jacket (with a zip-out fleece jacket) and ours to keep, but they also supplied high rubber boots for the wet landings. Just bring hat, gloves, rain pants, warm socks, and various layers -- chances are you won't even need them all. (There was laundry onboard but also a clothesline in the shower and garments dried overnight). I brought books and my ipad, but there was a library where you could borrow books, and as it was, I barely had time to read.
DO YOU NEED TO BE PHYSICALLY FIT? You need to be able to get in and out of the Zodiac. If you have trouble walking, the trip won't be much fun because to get past the seals and to the penguin rookeries, you usually have to walk uphill through tough clumps of tussock grass. There are days you'll be walking in snow up to you calves. (My most fun day was the day expedition staffer (and Quark V.P.) Bill Davis, led us up a steep snowhill and showed us how to body-sled down, head-first, on our backs. Yahoo!