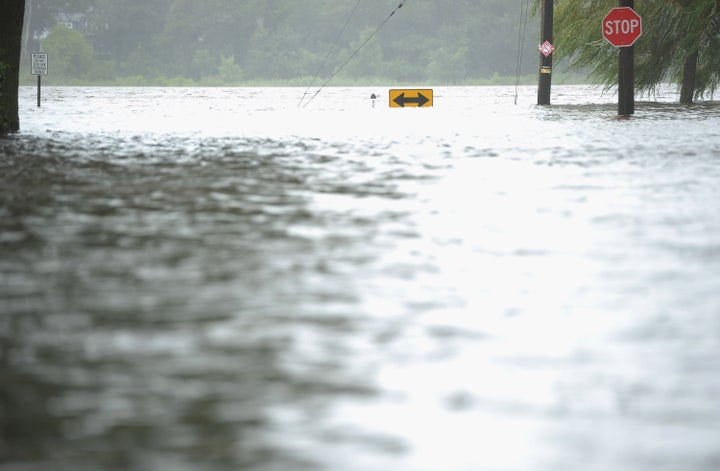 Our hearts are with those who have lost loved ones and are left with damaged homes, businesses and communities in the days that Hurricane Irene moved up the East Coast.
There was a collective sigh of relief when Hurricane Irene was downgraded to a tropical storm by the time it made landfall in New York this past weekend. Swelling creeks and rivers still threaten many other parts of the Northeast and New England, and we see the damage in North Carolina.
It's a reminder of the potential damage nature can do -- exacerbated by climate change -- as Hurricanes Katrina and Irene unwittingly stumble into each other today. Monday, August 29th is the sixth anniversary of Hurricane Katrina after all.
While Irene spared NYC from a worst case scenario, caution over the potential surge from the storm and flooding forced evacuations in New York City for low-lying areas. These same areas are vulnerable from sea level rise as a result of global warming. You can see here just what sea level rise can, do to New York City.
A somber reminder that climate change is making our coastal communities even more vulnerable to storms and natural disasters. There is a lot we cannot control -- hurricanes, earthquakes, and other natural disasters -- but we can control the mark we leave upon this planet and we need to work together to fight climate change so that we can guarantee a secure, safe, and healthy future.
Following Hurricane Katrina in New Orleans, I embarked Global Green on a mission to help rebuild the city green. Our goal: to take preventative steps to reduce the threats posed by climate change by creating sustainable models for climate-friendly communities and cities, and create a response to the realities of global warming. Of course, recovery from a devastating natural disaster is never easy, especially when communities are destroyed and there is loss of life.
Six years after Katrina's wrath, we still see its devastating effects, but we also see clear and inspiring signs of hope with the progress being made. Recovery takes time and rebuilding is costly, but green rebuilding is an investment in our future and also offers benefits in the short term, with savings on utility bills, healthier air quality, and more comfortable shelter -- whether the building is a home, school, or office. Add in green and clean energy jobs, and the benefits grow.
For the residents of the Northeast and New England, the good news that Irene has weakened. Yet hopefully the very real threat to NYC from sea level rise, and its worsening of storm surge during major weather events, helps spur us to act to reduce climate change.
If not for the overwhelming science and its sobering reality, why not do it for the love of the sacred lives of our family and neighbors, not to mention the beautiful places we hold so dear?
Popular in the Community