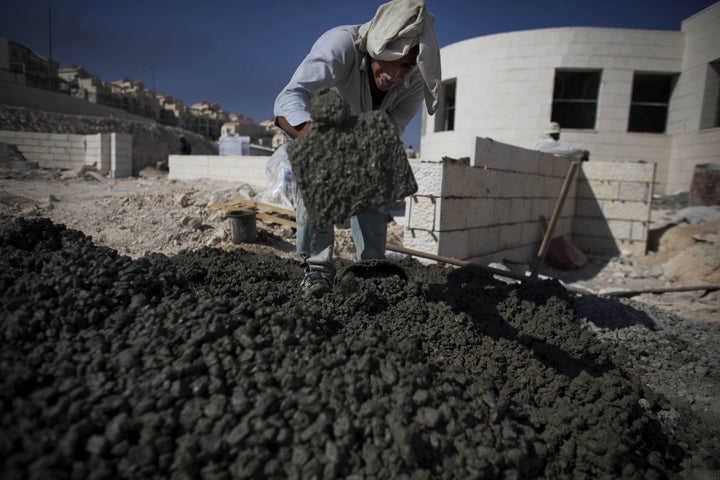 At J Street U's first public action on Tuesday night, forty student activists from colleges and universities around the East Coast gathered to raise their voices in opposition to the Hebron Fund's annual fundraiser, which supports the Jewish settlement in the West Bank city of Hebron. Funding settlements poses an existential threat the dream of a democratic Jewish homeland in the land of Israel. Settlements are a cancer eating at Israel's soul; they entrench the occupation and deprive the Palestinians of human rights and basic dignity.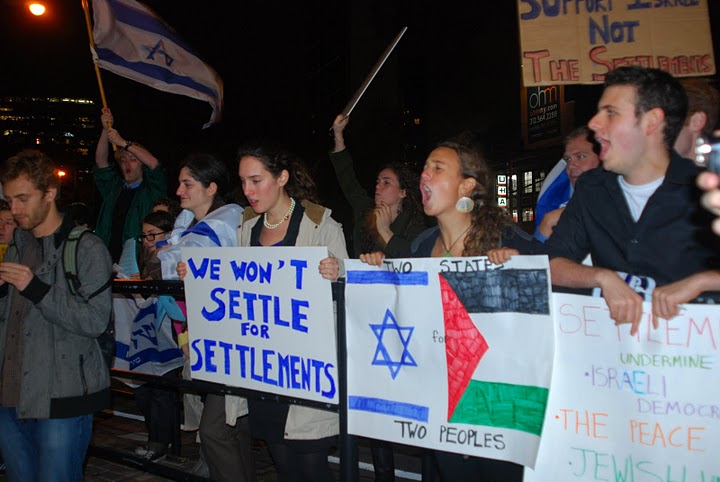 We gathered on Tuesday night to say that no matter how entrenched the Occupation has become, the Occupation is not Israel. We stood shoulder to shoulder to express that it is not only possible to love Israel and oppose the Occupation, but indeed that anyone who loves Israel must oppose the Occupation. I felt both honored and humbled to be part of a student movement that is brought together by outrage at organizations like the Hebron Fund, and by a shared concern for the future of Israelis and Palestinians. It has been a long time since I have felt so proud to raise the Israeli flag.
The Hebron Fund expends so much effort to support Jewish settlers in Hebron because Hebron is a holy site in Judaism, but it is precisely because Hebron is a holy site in Judaism that we, as Jews and as supporters of an Israel that embodies Jewish ideals, oppose the crimes perpetrated there in the name of Judaism. For no stone is holier than a human soul, no piece of earth worth more than the dignity of any of God's children. We support Jews' right to worship peacefully at the holy sites in Hebron, but we cannot support the settler fortress that has been built in Hebron at the expense of basic Palestinian human rights, and that is maintained at the expense of peace.
Those of us who have been to Hebron have seen the Jewish stars spray-painted next to slogans of "Death to Arabs" on the doors of Palestinian homes. We have seen the roads and walkways designated as "Jewish only." This is not our Judaism. We have read the reports issued by B'Tselem, an Israeli human rights groups, stating that the settlers in Hebron regularly harass and humiliate Hebron's Palestinian residents, including "beatings, blocking of passage, destruction of property, throwing of stones and eggs, hurling of refuse... and urinating from the settlement structure onto the street." This is not our Judaism.
In all likelihood, the Hebron Fund and groups like it will not stop investing in the Occupation and jeopardizing Israel's future as a Jewish, democratic homeland. They will pretend that our voice is marginal and that our message can be dismissed. They do not understand that our message of peace and justice is at the core of our Jewish identities and thus no amount of scorn can uproot these essential values. For there is nothing more pro-Israel, nor more fundamentally Jewish, than raising your voice in support of peace. As Rav Abraham Isaac Kook said, actions that regard non-Jews as inferior "prompt the total destruction of [our people's] positive spirituality."
Our numbers may have been small on Tuesday night, but we were but a sliver of the movement that is growing on campuses around this country. In less than a year, we have established J Street U chapters on over 40 campuses across the United States, and we are gaining force every day. Groups like the Hebron Fund have not led us to despair at what the Zionist project has become, but rather provide us with renewed commitment to fight for what the Zionist project needs to become: an embodiment of the Jewish values of justice, tolerance, respect and peace.
We gathered to send a message to our parents generation: invest in Israel and not in the Occupation. We gathered to tell pro-Israel students around the country that they can speak loudly and clearly in support of Palestinian Rights and statehood without being accused of betraying Israel. We gathered to tell supporters of Palestinian rights that they should no longer hesitate to express support for Israel and Israelis for fear that their message will be understood as supporting the Occupation.
The Occupation is not Israel and the Hebron Fund does not speak for the American Jewish Community. We stood there on Tuesday night as a challenge to all of those who see the Israeli flag as a flag of Occupation. We challenge groups like Hebron Fund, who have co-opted and perverted the meaning of Zionism, and also those supporters of a simplistic and misguided boycott of Israel and Israelis. We invite all of those who care about Israel's future as a democratic, Jewish homeland that is committed to upholding human rights to join us.
Related
Popular in the Community