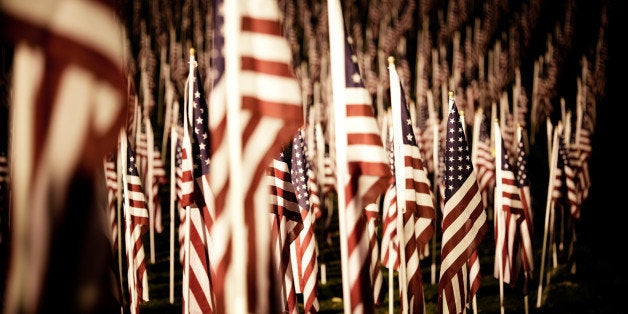 Each Veterans Day, our nation pauses to salute the service of our brave servicemen and women who fought for our nation, many of whom made the ultimate sacrifice.
According to the Department of Veterans Affairs, more than 1.8 million veterans call California home. Nearly 50,000 veterans live in the Congressional districts that we serve; it is an honor and privilege to represent them in Congress.
Thanks to strategic investments to create and preserve good-paying jobs, the national unemployment rate has fallen to 5.8 percent. However, the unemployment rate for our nation's 9/11-era veterans is 7.2 percent. This is unacceptable.
As a nation, one of our most pressing priorities should be providing good-paying jobs for veterans. As members of the Appropriations Committee, we have long fought to prioritize funds for our veterans because after fighting for our nation, no veterans should have to fight to find a good-paying job at home.
First Lady Michelle Obama and Second Lady Dr. Jill Biden have been working together on such an initiative for many years and have had great success. But, we still must do more.
Congress needs to build on their actions by providing positive incentives for companies to hire veterans. We must provide opportunities for veterans to transition their military skill set into respected civilian competences.
That is why we have introduced a bill to take a small, but positive, step to promote good-paying job opportunities for our veterans. The INVEST -- Incentives for our Nation's Veterans in Energy Sustainability Technologies -- Act (H.R. 5494) will help put our nation's veterans to work building our nation's sustainable energy future.
Our legislation would provide a tax credit reward to renewable energy sector companies that hire veterans. It is a simple step that will have profoundly positive implications for creating good-paying jobs for veterans and developing a sustainable energy grid, improving energy efficiency and developing new technologies.
We should INVEST in our veterans, advanced technologies and our sustainable energy future. This legislation would achieve all three goals making it a win-win-win.
During their service in our armed forces, our veterans gain expertise in advanced technologies, an expertise we can use in the civilian sector to build renewable energy infrastructure.
We are proud this legislation has earned the endorsement of American Legion and Veterans for Common Sense.
Additionally, scientists, business and military leaders and the American people agree that addressing environmental sustainability is critical for our economy and the future of our humanity.
For several decades, other nations have been making investments in the sustainability energy technologies that will power our future. Tragically, the U.S. has not maintained a competitive edge in this industry sector. We are being outcompeted.
As these technologies begin to power a greater share of the global economy, the U.S. will become beholden to foreign companies that have developed and perfected these technologies. We cannot allow this to happen.
Let's employ the ingenuity and expertise of our nation's veterans to build the world's sustainable energy future, right here in America.
Let's create good-paying jobs for veterans that are also good for the planet.
Let's help our veterans continue their fight to make the world a better and more secure place by providing jobs building a more sustainable future.
On Wednesday, Congress will return to session for four weeks. In that time, Congress could quickly pass the INVEST Act and help put our nation's veterans to work building our sustainable energy future.
Even though this is a "lame duck" session, we can still accomplish something to help our veterans, our economy and our environment.
Congresswoman Barbara Lee represents California's 13th Congressional District and is the daughter of a veteran; Congressman Mike Honda represents California's 17th Congressional District.