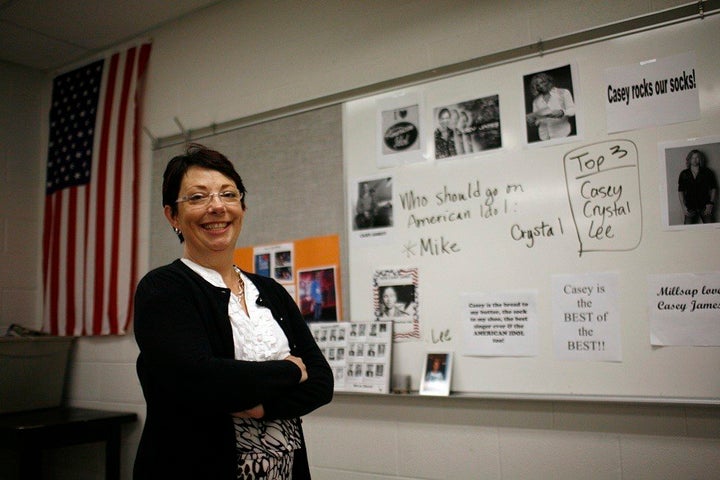 When the rankings of the best school systems in the world were released earlier this year, Americans were shocked: our former number one standing slipped again, this time to number 26.
The rankings showed a new trend: the highest-performing school systems in the world are mostly in Asia.
What are the Asian school systems doing right? And what can the United States learn? Asia Society invited top education ministers from China, Hong Kong SAR, Japan and Singapore to sound off on these questions.
There was no lively debate. The answer was clear: invest in teachers.
The best school systems in the world boast good salaries and prestige in the teaching profession.
In Japan and China, teachers have equal or higher salaries compared to other government workers. Liu Limin, the Chinese vice minister for education, deadpanned that, "as a civil servant, I can say the salaries aren't high." But in reality, they are high enough to draw some of the best candidates into the profession.
In Singapore, only the top one-third of a college graduating class may be considered for an education degree, and only one in eight candidates is accepted into the teaching profession.
In order to elevate the teaching profession, the governments of China and Japan subsidize teachers' salaries. The Japanese government pays up to 30 percent of a teacher's salary to ensure that all municipalities, especially the smaller ones, can afford to pay teachers a competitive salary. China has a 120 million-person teaching force, and the government invested a whopping $70 billion toward teacher compensation alone.
It's worth noting that the United States invests more per pupil than most other school systems. The U.S., however, allocates a disproportionately higher amount to non-academic costs, like sports programs and transportation systems to get students to and from school.
Teacher professional development:
Investing in teachers goes far beyond compensation. After bringing good people into the profession, school systems must work hard to retain them.
"The culture of learning must start with the teaching force," Kenneth Chen, the undersecretary for education in Hong Kong, said. And school systems must provide the right environment for teachers to excel.
The Hong Kong education system takes a systems approach to creating that right environment. Teachers are encouraged to "teach less and learn more." A 21st-century curriculum de-emphasizes rote learning and challenges students to be inquisitive problem solvers.
In China, educators take part in 360 hours of professional development each year.
S. Iswaran, the senior minister of state in Singapore said, "From pre-service to leadership positions, professionals must nurture the profession." In other words, Singapore has a wholly professional-led workforce development program. This program is tied to the education system's career advancement framework.
Assessment and career advancement:
Singapore has instituted a simple-to-understand, merit-based system of advancement. Educators with proven track records in (1) raising student academic results; (2) holistic development of students; (3) contributing to the improvement of school culture; and (4) leveraging best practices for the benefit of the field, can expect to be promoted.
Hong Kong and Japan have decentralized evaluation systems. Both systems believe in promoting the local autonomy, but based on a system-wide competency framework. Such frameworks place emphasis on effective teaching, but also look to external stakeholders for input. For instance, in Japan, parents and others in the wider community help to evaluate schools. In Singapore, a teacher's character is also taken into account. All these systems emphasis a broad, merit-based system of career advancement.
Singapore has a rigorous professional development program for every level of education leader, which focuses on how to evaluate, mentor and coach newer educators and education leaders.
Mr. Iswaran compared a school to a medium-sized private enterprise: a standard school director will have 80-100 educators reporting to him or her, with thousands of students representing very important stakeholders. Yet the stakes are higher and the needs more complex for students than for most businesses. "You cannot leave this type of leadership to chance," Iswaran concluded.
What to do with bad teachers?
The panelists agreed that the quality of schools lie in the quality of teachers. So how do they deal with under-performing teachers? Here, the advice again has a clear message.
In China, teachers need to go through teacher certification every five years. Those who slip in their performance must undergo full-time training, much like pre-service teachers do.
Etsuya Kanamori, deputy minister of education in Japan, said, "Under-performing teachers are taken out of the classroom for a year of re-training." In Japan and Hong Kong, teacher evaluation happens at the local level. Some teachers eventually return to the classroom, but many are directed to new professions.
Singapore has a national evaluation system, but the message is much the same. "Accountability without consequence makes no sense," Mr. Iswaran said. But under-performing teachers in Singapore receive constant feedback on what works, what could be better, and what does not belong in an effective classroom. Bad teachers are retrained, and in some cases, redeployed.
Popular in the Community