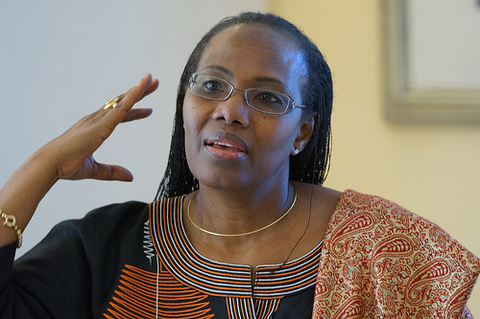 Backdrop:
On April 25 people across the globe take part in a wide range of activities to mark World Malaria Day. For half the world every day is malaria day -- a day to keep up the fight against this killer disease. [1]
Invest in the Future, Defeat Malaria has been the theme from 2013-2015, and this aims to encourage more individuals, organizations and even nations to do more to support the fight against Malaria.
Today's guest, Dr Fatoumata Nafo-Traore is the Executive Director of the Roll Back Malaria Partnership. She has more than 25 years of experience in public health, both in her native country Mali and at the international level.
In today's stroll we talk about the Roll Back Malaria Partnership; its successes, losses and goals. Dr Fatoumata also told me a bit about what growing up was like for her. Here's my stroll with Dr Nafo-Traore, I hope it inspires you to join the fight against malaria.
Ebenezar: Hello Dr Fatoumata, it's a pleasure having you on the Stroll.
Fatoumata: I am delighted to be strolling with you Ebenezar
Ebenezar: What led to the formation of the RBM partnership initiated?
Fatoumata: The RBM Partnership was initiated in response to a call from countries in the late 1990s when malaria was killing a child every 30 seconds, and endemic countries were really suffering economically, and socially. Malaria is preventable and treatable, but it is a deadly disease caused by the bite of mosquito. At that time existing treatments were failing due to drug resistance, nets were not available or they were ineffective and more than a million people were dying every year from malaria, particularly in sub-Saharan Africa.
The World Health Organization got together with UNICEF, the WORLD BANK and UNDP -- and the Roll Back Malaria movement was launched -- to ramp up malaria control worldwide and try and reduce the terrible burden on malaria endemic countries. A little later on it became a public /private partnership which brought together over 500 agencies and organizations involved in fighting malaria, and helped to provide coordination towards an agreed set of goals and targets.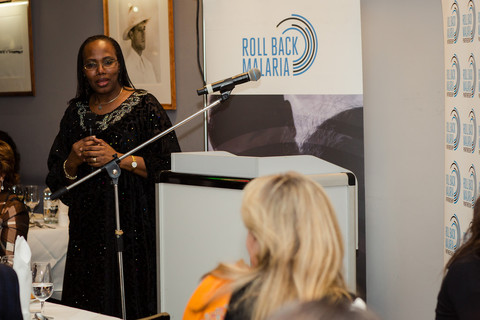 Ebenezar: Between when it was founded and now, how much malaria have we rolled back?
Fatoumata: We have come half the distance with half the funds! This is tremendous progress -- but we still have a long way to go. Malaria deaths have nearly halved worldwide, and in Africa by nearly 55 percent. As a result, since 2001, more than 4 million lives have been saved, and most of these are the lives of young children -- our precious resource, our future. This has been achieved because of political commitment, new effective prevention and treatment tools, better coordination and increased funding.
Ebenezar: That's really interesting. So what are some challenges facing the RBM Partnership, and what are some ways these challenges can be combated?
Fatoumata: The challenges facing the RBM Partnership are many and various. This year the Millennium Development Goals come to an end and new Sustainable Development Goals will drive the agenda in the future. Essentially these new targets cannot be achieved if we do not succeed in eliminating malaria. To do this we will need new tools, more investment both internationally and nationally from endemic countries.
The Partnership is looking closely at what this will take, in the way we are organized, our structures and how we move forward. What is clear is that malaria countries and communities have gained much from the last 15 years of collective efforts and we must continue to prioritize their needs, and ensure we do not derail progress and allow malaria to resurge while we rethink our architecture. I believe in the old adage " if it ain't broke, don't fix it " .....we must build on the progress we have made , a lot of the groundwork has already been done, but we need to reorient our efforts to achieve the new 2030 goals.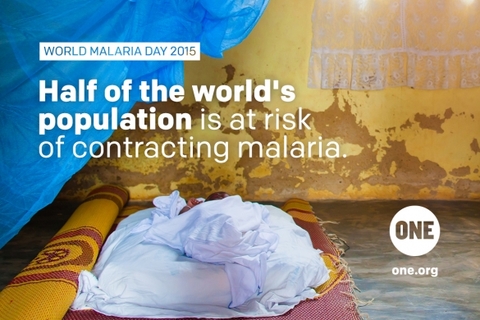 Ebenezar: How can regular citizens of the world, like me, join this fight against malaria?
Fatoumata: Ebenezar, regular citizens like you can lobby their governments, and ask them to maintain their contribution to overseas development to tackle diseases like malaria, which will reduce poverty and bring stability and security to millions of people around the world. People like you can be great advocates, activists and join forces with local NGOs or charities in your countries to make the case for a malaria-free future. To commemorate this 2015 World Malaria Day there are dozens of social-media campaigns running throughout the month of April -- they are gathering momentum.
Ebenezar: Just as you've mentioned, April 25 is World Malaria Day, and the theme for the past 2 years has been, "Invest in the Future, Defeat Malaria." Often times I've wondered about the impact many of these campaigns we start at the UN have around the world. How will you rate this particular campaign which has been on for about 2 years; do you think it has achieved the desired result?
Fatoumata: This World Malaria Day campaign, Invest in the Future, Defeat Malaria was the first three-year theme ever, and was particularly pertinent for the last three years of the MDGS. As I said before, we are entering a new era of development priorities; malaria is included but now there are many additional priorities which also need to be addressed. As more countries set their sights on malaria elimination it will take more targeted programs and therefore more targeted investments.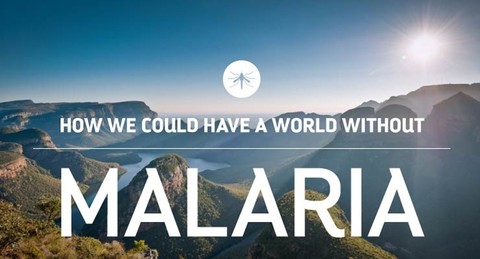 Fatoumata: This campaign has put a spotlight on malaria and health when people were discussing new goals ; I believe it has helped to keep malaria on peoples radar, especially those decision makers and high level thought-leaders who influence global agendas. One should never underestimate the power of suggestion, of repeated briefings, of continued debate and advocacy; it shapes consensus and outcomes. The UN is about uniting nations. If you see how many people are referencing this theme ...it probably runs into millions ! That's a result !
Ebenezar: So let's talk a bit about you now. What was growing up like for you? You grew up in Mali right?

Fatoumata: Yes I did . Growing in malaria endemic country at that time wasn't easy. Like most kids I suffered from malaria at least once a year. This was a reality we all faced. But I was among the luckiest, I survived, I was able to benefit from my education, I was healthy. Later on I was also privileged to visit all the districts in my country as a medical doctor and witnessed the impact of malaria on all our communities. I became well acquainted with the imperative of providing good community health services -- and malaria prevention and treatment close to the home.
Ebenezar : You also grew up at a period when the African Continent wasn't so big on women's rights and girls education. How were you able to grow through that to become the global figure you are right now?
Fatoumata : Sadly some or many countries still lag behind in a big way on women's rights and girls education. As I said I was lucky enough to have a family that valued girls education, so I had the opportunity to go to school, be further educated abroad and work for International Organization such as the World Bank and the World Health Organization. I had a chance in my career to work with great leaders who valued my work and talent, supported and coached me. We have a responsibility to promote youth, to promote and support girls; we have to trust and empower them and give them enough room to practice, get experiences and lead. They are the leaders of tomorrow and deserve our respect and recognition.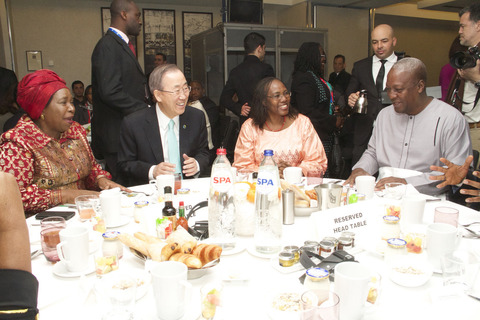 (Left to Right: the Chairperson of the AU Commission Nkosazana Dlamini Zuma, UN Secretary General Ban Ki Moon, Dr. Fatoumata Nafo-Troare, Executive Director of Roll Back Malaria Partnership, and President John Mahama)
Ebenezar: What factors influenced your decision to become a Medical doctor?
Fatoumata: I lost my mother when I was six. I still have the image of her in a hospital bed. That was more than enough for me to decide to dedicate my life to saving lives and to caring for those who need it most. In addition to my official work I am member of the Lion's Club and many associations and charities.
Ebenezar: Okay, finally, Mr Bill Gates and UNSG Ban Ki Moon are really hopeful that same way polio was stopped; someday malaria will be totally eradicated from Earth. Do you think we'll see this happen in our lifetime?
Fatoumata: The RBM partnership vision is a "malaria free world" . We are all really hopeful that malaria will be eradicated totally from the earth -- and why not in our lifetime ? With the right tools, the right actions, sufficient financial investment, great political will and huge community involvement it is doable.
Ebenezar: Thank you so much, once more for your time, ma. I wish you all the best with RBM, and your other projects.
Ebenezar: I wouldn't forget. Thank you ma, and I will sure follow back on Twitter.
_______________________
Food for the Soul: "You were in serious trouble, but you prayed to the LORD and he rescued you. By the power of his own word, he healed you and saved you from destruction. You should praise the LORD for his love, and for the wonderful things he does for all of us." (Psalm 107:19-21, CEV)
(Images Credit: RBM, one.org, malaria.com, Friends Africa, FH Communications Bureau)
For more strolls, and to learn more on how to #Observe the UN Observances, visit writeparagraphs.com
Calling all HuffPost superfans!
Sign up for membership to become a founding member and help shape HuffPost's next chapter