It is Time to Stop the Merger Talks and Start the Investigations -- We've Been Played.
Time Warner Cable (TWC) cable TV rates in Brooklyn NY increased 306 percent from 1992-to-November, 2014, from $22.95 a month to $93.16 a month.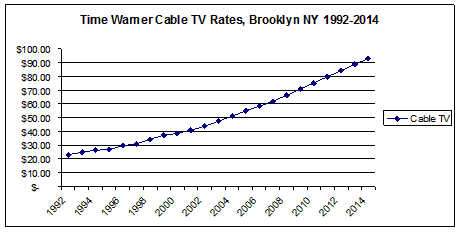 My last post featured a marked-up TWC Triple Play bill which went from an advertised price of $89.99 to $190.77 in a period of about 2 years. Besides the fact that you can never, ever get the advertised price, or that the bill now includes a collection of made up fees and pass-through taxes, there are also a host of related issues that surround the sale and promotion of these services. And while this focused on Time Warner, the other cable companies are also engaged in the same questionable practices.
22 Years of Cable Prices: How Did They Get Away with Continuous Increases?
I decided to see what happened before I got that Triple Play in 2012. So, to close the loop, I rummaged through dust-covered boxes to find my old TWC bills. I had a stand alone, regular cable TV service, starting in 1992 until through 2007, when the price went from $22.95 a month to $61.96 a month by 2007.
However, in updating the info (using my current triple play and Time Warner's pricing guides), I found that basic cable service is now $93.16 a month -- a 306 percent increase, (and in the triple play package, the cable costs come to $87.76).
I'll get to what happened to the cable prices in a moment.

The Social Contract on America
Truth is, I was looking to answer a specific question -- Did Time Warner remove the $5.00 a month charge on my bill after the Social Contract expired in 2000?

Short Answer: No.
To sum up, in 1995, there was an agreement between the cable companies and the FCC called the Social Contract and it allowed Time Warner (and Comcast) to add up to $5.00 a month to pay for network upgrades (like high-speed Internet) and the wiring of schools.
The Time Warner Social Contract was for 5 years, starting in 1995, and the company was required to invest $4 billion "to rebuild and upgrade all of its domestic cable systems". In exchange, TW was able to raise rates $1.00 in the first year, and up to $5.00 a month extra in the fifth year.
The companies also committed to bring the Internet to schools in their franchise areas. While it varies by company, in general, schools were all to be given free cable modem service, a free cable modem, (the electronic box designed to let the customer use the Internet), -- and would receive the inside wiring at cost. Moreover, the Time Warner "Social Contract" specifically states that the first modem is free and all of the other modems in the school will be 'at cost.'
No Drop in Price to Customers After the Social Contract Expired -- Or Ever.

Last I heard, if you sign a contract with someone to pay them $5.00 extra a month, when the contract expires, then, the company can't keep charging you. Not in this case.
If you had continuous cable service since January 2001, you will have paid an extra $835.00 (though November, 2014) not counting all the extra franchise fees that are passed through, which added $41.75 (though it may vary around the US). On TWC's New York City bills, it is 5 percent on all cable charges.

The bills showed that there was no drop in any year during the period and that the actual increases of the total bill on top of what would have been added from the Social Contract alone (1995-2000), was $24.00 for the year 1996 to $81.60 extra in 2000. In 2001, it cost an extra $14.07 a month ($168.84 for the year) above the 1995 price per month.
I decided to see if there was any wisdom to explain the Social Contract so I scoured the Time Warner Cable and Comcast annual and quarterly SEC filed reports for guidance. TWC actually detailed in one quarterly report that there were increases in revenues and profits from the addition of this Social Contract.
"Revenues benefited from an increase in basic cable and Primestar-related, direct broadcast satellite subscribers, increases in regulated cable rates as permitted under Time Warner Cable's "social contract" with the FCC and an increase in advertising and pay-per-view revenues. EBITDA and operating income increased as a result of the revenue gains, as well as net gains of approximately $15 million recognized in 1997 in connection with the sale or exchange of certain cable systems." (Emphasis added.)
Conclusion: Time Warner did increase bills as part of the Social Contract, which was supposed to terminate in 2000, which helped the company's financial bottom line. And, there was no removal of the extra charges starting in 2001. In fact, there were a host of other increases to the cable service bill.
How Did the Cable Bill Keep Increasing? -- By Sneaky Means.
Because of the laws and agreements, there was a plan afoot-- keep one line item, 'Basic Tier', at a relatively low cost and let the companies game the system in multiple ways. They:
Added new extra fees, including some made up fees.
Got customers to pay the companies' 'franchise fees'.
Made the 'cable box' a separate line item, then continuously raised the rental price.
Priced the other "tiers" to be as much as they can get.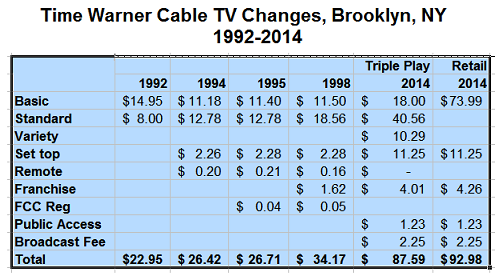 Total Bill and "Cable Tiers" - 306 percent Increase.
In 1992, the cable bill had two charges, a 'Basic' tier of channels for $14.95 and a 'Standard' for $8.00. These two groups were originally designed to separate the 'regulated' cable programming channels, such as the original 'over the air' broadcast stations, like CBS or NBC (and the local Public, Educational and Government (PEG) Access Channels) from the less regulated or non regulated channels, from the Food Network to AMC. Notice that by 1994, while the 'Basic' tier pricing went down, while the 'Standard' tier went up.
By 2014, there are now three or more tiers, including the "Preferred or "Variety", not to mention sports packages, Spanish language, etc and each includes a group of different available channels. Click to see Time Warner channels and 'tiers'.
In total, the basic, regular cable TV service (with a 'standard' and 'basic tier') now costs $93.16, from its previous price of $22.95, thus an increase of 306 percent. (I note that the 'triple play' discounted cost for the cable service (with the "Variety" tier), came to $87.76.)
The "Set Top" Box -- Up 398 percent
.
This is the box that connects the TV to the cable service, and the price may include the TV "remote". In 1992 the box and remote were included in the cost of the service, but was definitely a separate line item by the 1994 bill at $2.26 ($.20 for the remote).
By 2014, the set top box is $11.25 monthly. I note that Time Warner Cable requires you rent their box, and yet it is not included in the advertised price of the service.
Added Fees: Regulatory Fee, Broadcast Fee, Public Access Fee, Franchise Fee.
In 1992 there were no added fees. In 1995, we see a sneaky FCC 'regulatory fee' which went up to $.08 a month, but the largest added fee was in 1998, when they added a separate "franchise" fee -- which is a fee on the company for its use of the Public Rights of Way (PROW) but that they can pass on to you and it is capped at 5 percent. By 2014, we also have an additional, itemized "Broadcast TV fee" and "Public Access" fee.
"We pay fees for the right to carry broadcasters' signals, and those costs increased by almost 40 percent in 2013. Most customers will not be impacted by this fee, which is a portion of what we pay to broadcasters."

97 percent Profit Margins on High-Speed Internet?-- The Social Contract and Throw Away "Fair and Reasonable".

This information comes directly from the Time Warner 2013 Annual Report and it gives the break-out of the service revenues per subscriber, as well as costs to offer the service per subscriber for Cable TV (and video), High-speed Internet and Digital Voice.
According to Time Warner, the company brings in, on average, $43.92 for the high-speed data/Internet services per customer, and it cost the company $1.32 to offer -- a 97 percent profit margin -- or another way of looking at this, it has 3227 percent profits above the cost to provide the service.
NOTE: A 10 percent profit margin would mean that you would be paying $1.32 + $.13 cents.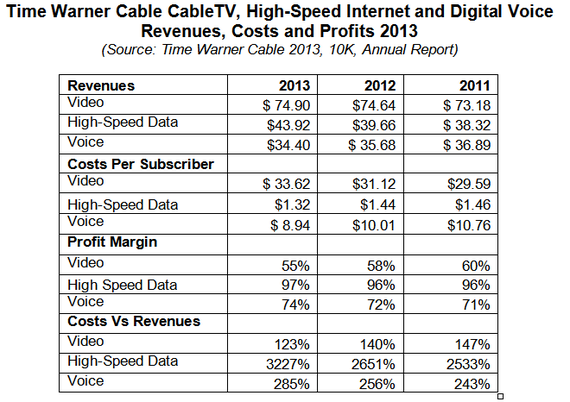 Let's put this in context:

Is this Fair and Reasonable? With a 97 percent profit margin on high-speed Internet, it brings up a question -- The Social Contract charged customers extra for upgrades, including high speed Internet. More importantly, that Social Contract charge should have stopped, but didn't. The extra $5.00 helped to generate these profits -- and it is a simple case of corporate gluttony. Is this 'fair and reasonable'?
Where is any investigation of these obscene profits?
Also, with 97 percent profit margins it is clear that the Internet, broadband services are getting a free ride and are cross-subsidized by the cable TV customers. I.e., the Internet service doesn't pay market pricing for use of the cable networks, which would lower the price of cable TV services.
But this also brings up question about the "total bill". How can regulators claim that there is competition in this marketplace when there are continuous price increases? If one of the services is almost pure profits, then why shouldn't the entire package of voice, video and data services be examined for 'fair and reasonable' pricing?
They Argue: We Added Hundreds of Channels. Who Cares?
The cable companies will say that they added hundreds of new channels and programs, and that they cost more and more money and .. blah, blah, blah (this is a technical term).
Nielsen is the bible on TV viewing and from 2008-2013, while there have been a growing number of channels, people only watch about 17 stations per household. That's it.
"The average U.S. TV home now receives 189 TV channels--a record high and significant jump since 2008, when the average home received 129 channels. Despite this increase, however, consumers have consistently tuned in to an average of just 17 channels."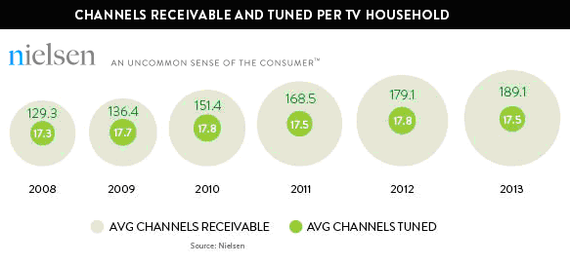 The tiers were set up to maximize profits for the companies; they are not about, for example, allowing the customer to select the programs they watch.
School Wiring for High Speed Broadband and Internet?
Finally, we can find no reports to the FCC or local municipal franchisors that detailed how many schools were wired for high-speed Internet and broadband services. Reports from auditors in multiple states who examine the communications bills of schools indicate that the companies never wired most of the schools in their areas.
However, one must remember, that for every school not wired under these programs, they most likely applied for federal and state Universal Service Funds (USF) for eRate support for these undelivered services and connectivity. And on your communications bills, all 'interstate' charges -- wireline or wireless, have a federal USF tax, currently hovering around 16 percent being applied. Billions of dollars extra appears to have been added to America's bills because the schools weren't upgraded.
We are looking for any information or documentation about this. What happened in your community?
Bottom Line - Why is there any discussion of mergers? It is time for immediate investigations of the continuous increases in rates, the Social Contract commitments and fulfillment, and the whether your area's schools were or were not wired.
I note that Sullivan County in New York State, has written a letter for an investigation by the NY Public Service Commission, which has responsibility for cable and telecommunications regulation and oversight.
Popular in the Community