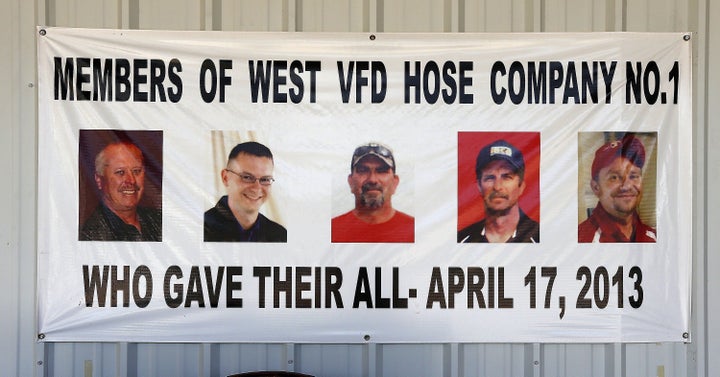 (Reuters) - A blast that killed 15 people three years ago triggered by a fire at a fertilizer plant in West, Texas was a criminal act, a Bureau of Alcohol, Tobacco, Firearms and Explosives investigator said on Wednesday.
ATF Special Agent in Charge Rob Elder said a reward of up to $50,000 was being offered for the person or persons responsible for starting the blaze at the West Fertilizer Co.
No arrests have been made yet, Elder told reporters, adding that investigators had eliminated accidental and natural causes.
"The only hypothesis that could not be eliminated ... and was confirmed by extensive testing ... is incendiary," Elder said. "We have never stopped investigating this fire. It is our highest priority to see that the victims of this tragedy are provided an accurate explanation of what happened that day."
If a suspect is found, that person could face capital murder charges, which can bring the death penalty.
More than 400 interviews have been conducted and more than $2 million spent on the probe, which is still active and ongoing, Elder said. The costs included rebuilding to exact specifications portions of the plant to determine what happened.
The fire was reported on the evening of April 17, 2013, and a large explosion ripped through the plant some 22 minutes later, Elder said.
Twelve of the 15 people who died were first responders, Elder said. Many other people were injured and more than 500 homes destroyed.
"Your loss is felt by ATF," Elder said, addressing members of the victims' families directly. "It has been a driving factor into why we have gone to the lengths and the details that we have. These individuals were people serving their community in a volunteer capacity."
The explosion damaged an area measuring roughly the size of 37 city blocks, Elder said, and left a crater 93 feet (28 meters) wide by 12 feet (3.7 meters) deep.
The source of the explosion was ammonium nitrate stored in a wooden container at the plant, investigators said previously.
The ammonium nitrate detonated with the force of approximately 15,000 to 20,000 pounds (6,800 kilos to 9,000 kilos) of TNT, according to federal officials.
The blast obliterated an entire neighborhood - including the high school and a nursing home - on the north side of the town, where the plant had been operating for more than 50 years.