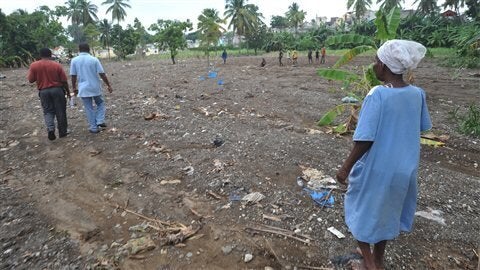 "Who is wise? One who learns from all people." So teaches a passage in the Pirkei Avot, an ancient collection of Jewish texts. I'm reminded of this insight's relevance today when I see how governments and international organizations are responding to disasters -- those that strike thousands of miles away and those that hit close to home in New York City.
More often than not, the people we perceive as victims of disasters are the people from whom we have the most to learn about effective solutions. Yet the resourcefulness of these "victims" is frequently dismissed by people in power.
Three years after the Haiti earthquake left Port-au-Prince in rubble and took the lives of an estimated 300,000 people, the nation is still struggling to recover. Compounded by the devastation of Hurricane Sandy, millions of Haitians are still without safe, stable housing -- a sobering reality that has plagued victims of Sandy in New York and New Jersey, too. Haiti's decimated agriculture has ravaged the country's local food supply, and cholera remains rampant.
A study by the Inter-American Development Bank estimates that the total cost of the Haiti earthquake was between $8 billion and $14 billion. Countless humanitarian aid organizations, celebrities, international governments and the Haitian government have invested in Haiti's future -- often with moral certitude and the best of intentions. Nonetheless, aid has been slow to reach people who need it most and strategies for long-term solutions have not been fully fleshed out.
Partly that's due to these recovery efforts lacking a critical ingredient for success: the knowledge and "know how" of Haitian people themselves. The ingenuity required for long-term recovery lies within Haitian society and depends on the power of grassroots organizations. But sadly, a mix of bureaucracy, corruption, and top-down decision-making has crippled lasting progress.
Consider Haiti's housing crisis. After Haitian President Michel Martelly called for the clearing of public areas where camps for internally-displaced persons are located, many earthquake victims were violently evicted, losing all of their belongings after their tents were burned or bulldozed. Others were paid to leave the camps and return to their pre-earthquake homes, most of which are uninhabitable.
American Jewish World Service (AJWS), the organization I lead, supports a Haitian coalition called Force for Reflection and Action on Housing (FRAKKA), comprised of 40 grassroots organizations and committees that advocate for the rights of 500,000 Haitian people still living in camps. FRAKKA mobilized an extensive network of supporters and made specific recommendations to Haiti's government for a strategic, sustainable housing plan. These recommendations include: 1) government-sanctioned land for the construction of affordable, permanent homes; and 2) the establishment of a housing ministry responsible for overseeing a dignified housing strategy, not squalid camps.
Despite having a proposal signed by tens of thousands of Haitians and a small but significant amount of international recognition, the coalition's efforts have fallen on deaf ears.
Another powerful example can be found in Haitian peasant groups, which are repeatedly under-served or entirely ignored by the Haitian government but have expanded seed banks and micro-credit services to boost Haiti's agricultural production in rural areas. This is enabling Haitian people to bolster their local economy and feed themselves in the long term.
During Hurricane Sandy, one peasant organization, known as OP7G, provided emergency credit specifically to women, because they are often better positioned and considered more trustworthy than men to help Haitian communities in the aftermath of disasters. These women purchased seeds in villages unaffected by the storm and then re-sold the seeds locally so that the community would have crops in the next harvest. With more than two thousand members -- and four programs that advance health, food security and economic self-sufficiency -- Haitian women who are often excluded from political decision-making are at the center of OP7G's solutions.
New York City has had its own share of successful grassroots responses in the aftermath of Sandy. For example, The New York Legal Assistance Group mobilized a legal aid disaster relief program to help victims of the storm deal with a range of legal issues that local and national governing bodies have been ill-equipped to address. With more than 100 legal professionals and a network of 800 volunteers, the group has helped underserved victims navigate mortgage issues for damaged homes, determine eligibility for housing vouchers, appeal denied insurance claims, and access food stamps.
As governments and international organizations continue to invest in Haiti's future, we must have the humility to admit that we don't have all the answers. Let's heed the advice that knowledge lives with people on the ground -- not within the bowels of bureaucracies. We must listen to and learn from Haitian people at the grassroots. After all, tradition teaches that one who learns from all people is wise.
Ruth Messinger is president of American Jewish World Service and former Manhattan Borough President.
Popular in the Community