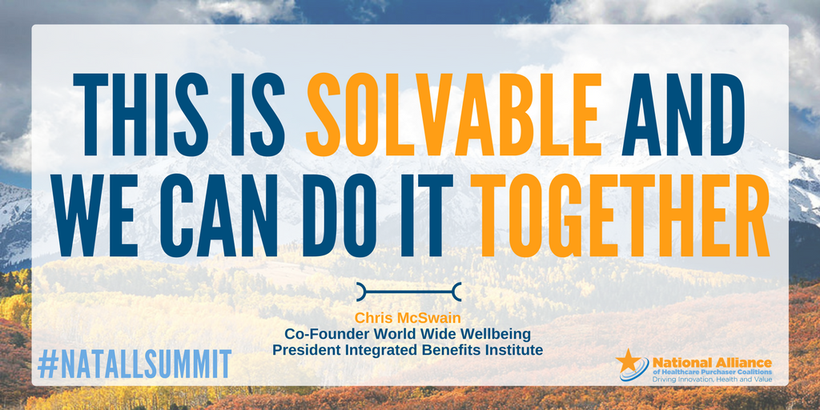 Today is the first official day of Mental Health Awareness Month. However, as I've shared in previous posts, with the energy and hopefulness that's been so evident at the many events we've attended in April, I feel as though it started weeks ago. At the conferences we attended last week we saw incredible examples of cross-sector collaboration, and particularly participation from the corporate sector. This is exactly what we need to create the culture shift that will really move the needle on the challenges we face in the mental health advocacy movement.
At the National Alliance of Healthcare Purchaser Coalitions summits, we heard from business executives whose companies are choosing to prioritize the wellbeing of their employees and developing innovative ways to do so. There was a level of consensus around moving to a more holistic vision of health that I'd never seen at any other convening. As we progressed through the two-day summit (Day 1 was on Mental Health, and Day 2 on Well-being), more and more, it became clear that the interests of all groups are more aligned than we've previously realized. We all have a stake in the health of our communities -- whether workplaces, cities, or countries -- and, fortunately, we can all do something to be part of the solution.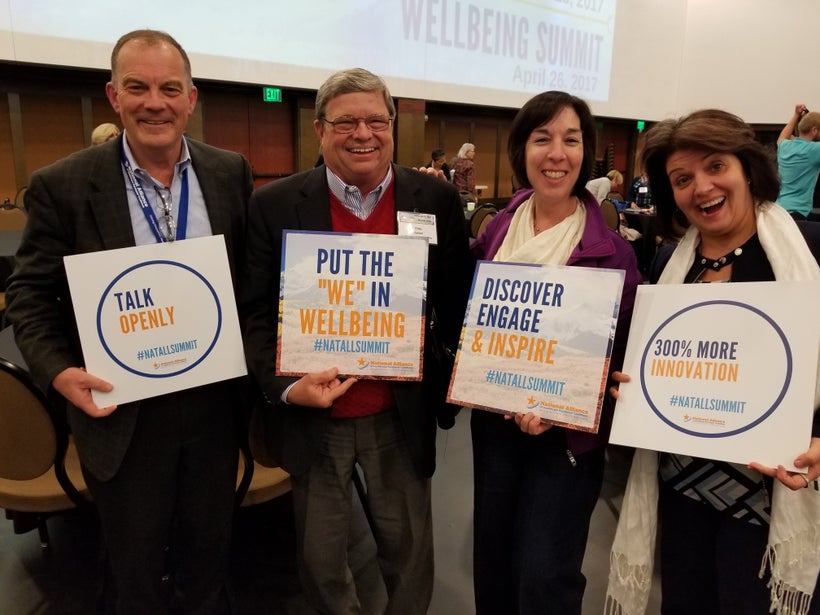 The same troubling statistics were also shared throughout, painting a clear picture of this true public health crisis. To name just a few:
The total cost for patients with depression in the US is $207 billion. (David Humphreys)
Wyoming has the highest rate of suicide in the nation (Cary Brus)
Sixty percent of people living with mental health challenges get no formal treatment. (Jurgen Unutzer)
Patients with serious mental illness die 10-20 years earlier, in large part due to poor medical care. (Jurgen Unutzer)
Seventy-five percent of mental health conditions will onset before age 24. (Mary Giliberti, NAMI)
The final statistic above is particularly front and center in my mind recently, as a result of the public debate over the hit Netflix TV show, 13 Reasons Why. Regardless of the difference in opinion, the show has shined an important light on the issue of teen suicide and provides an opportunity to draw attention to the need for prevention. Prevention, and starting early, is so critical, and it will take the involvement of all of us to incorporate prevention into health care and education in a meaningful way.
Believe it or not, despite the overwhelming statistics above, hope outshined them in Denver. The creativity and passion of individuals and organizations who are taking these issues on is a force to be reckoned with. We saw design firms working to create office and education spaces that promote health. Large corporations and organizations like Google, Zappos, and the University of Montana that are creating a culture of wellbeing. Community organizations starting caring neighbor programs to reduce feelings of isolation and encourage connection. Physicians combining their medical skills with cutting edge technology and driving innovation in healthcare. With everyone participating in this way, using our resources and skills to not only push for change in our own sectors, but also to collaborate across industries, I have no doubt in our ability to transform the culture. I can't imagine a more powerful, more flawless start to Mental Health Awareness Month.
Calling all HuffPost superfans!
Sign up for membership to become a founding member and help shape HuffPost's next chapter
This post was published on the now-closed HuffPost Contributor platform. Contributors control their own work and posted freely to our site. If you need to flag this entry as abusive,
send us an email
.