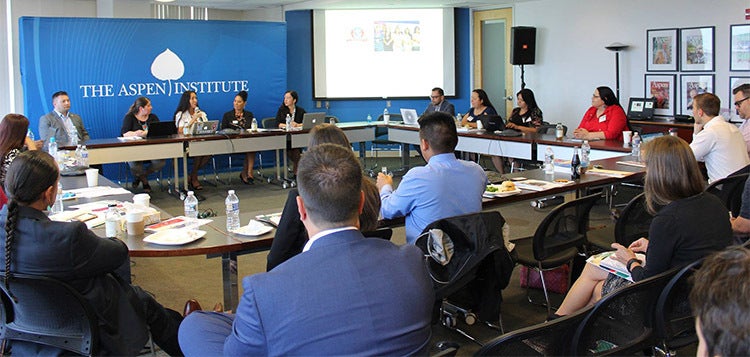 Due to historical trauma, chronically underfunded programs, and broken promises on the part of the U.S. government, youth from Native American communities experience many educational, health, and economic disparities compared with their peers in the general population.
For example, more than 33 percent of Native children live in poverty, according to the Census. Native youth are over-represented in child welfare, and they are arrested at three times the national average, according to the Bureau of Justice Statistics. The Center for Native American Youth at the Aspen Institute tells us that the high school dropout rates for Native youth are double the national average, and in states with the highest Native populations, dropout rates are more than 50 percent. Suicide is the second leading cause of death—2.5 times the national rate—for Native youth, and close to a quarter of Native households lack access to health care.
To raise awareness and challenge the philanthropic community to better resource movements to support healthy living and learning for Native children and youth, the Schott Foundation and Nike's N7 Fund, in partnership with Native Americans in Philanthropy, convened a group of Native education, health care, and human services experts along with several foundations in Washington, DC, in late June. The two-day gathering started with conversation with Native American leaders from Center for Native American Youth, American Indian Science and Engineering Society, National Urban Indian Family Coalition, National Indian Child Welfare Association, National Indian Health Board, UNITY, Boys & Girls Club of American Native Services, National Council of Urban Indian Health and the American Indian College Fund. Native American offices from the Bureau of Indian Education, Indian Health Services, and SAMHSA also presented.  
With break-out panels and full-group discussion, they covered:
Key education issues facing Native youth, particularly systemic and policy issues impacting K-12 youth as well as youth in their early college experiences
Impact of the current political climate, both strengths and challenges, to Native youth education
Innovations and new ideas about how philanthropy can improve Native education
At issue in education is a historical legacy of colonization that sought to homogenize Native communities and assimilate them into the dominant, protestant Christian culture. With resistance from Native tribes, American education became "weaponized" against Native communities, as a means to pacify that resistance.  The Industrial Revolution saw minimal investments in Native communities, though a great deal of displacement occurred because of it. Hence, gaps in educational achievement by Native youth grew and the chasm has only grown deeper over time. Later the mass placement of Native children in boarding schools served mostly to destroy cultural knowledge, which added yet another layer of trauma on an already oppressed people.
Recent years have brought the challenges faced by Native youth into sharper focus for policymakers and philanthropy. For example, the previous federal administration visited Standing Rock and gave the world a glimpse into the tribe's struggle, and in 2014, a White House initiative, Generation Indigenous, was launched to remove barriers to success faced by Native children and youth.
Policy experts at the briefing, though aware the current administration did not necessarily have the knowledge to champion issues facing Native children and youth, were nonetheless optimistic that Native communities could find avenues of prosperity in the current political climate. For example,  infrastructure investments could spark better access to career and technical education, along with employment, for Native youth.  Much remains to be seen about what will actually happen, but they expressed concerns over funding for teacher training and the need to differentiate delivery models for educating Native children and youth in a culturally responsive manner.
Funders, they said, should be intentional about they will support and then fully support it. It's important that philanthropy be able to discern what is authentic reform for Native communities, and as they see it, authentic reform is activated by change agents within the community, for the community and by the community. Like many disadvantaged groups, Native communities grow weary of philanthropies that "insist" themselves and thrust their solutions on "other" communities. Success, said the Native education experts, is when a community can thrive on its own.
Day two was a funders-only meeting, which included Schott Foundation, Nike N7, along with the California Endowment, Communities for Just Schools Fund, Wellspring Advisors, W.K. Kellogg Foundation, Notah Begay III Foundation, Margaret A. Cargill Philanthropies, the Ford Foundation, and the Aetna Foundation.
Their charge was to respond to what they heard from community leaders and policy experts on the first day and to explore how they might collectively advocate, with the goal of increasing philanthropic resources directed at improving healthy living and learning Native communities. Specifically, each funder answered a single question: How can we transform philanthropy to better support Native youth "whole-child" approaches to resiliency and wellbeing?
The Schott Foundation designs funders briefings to be intimate gatherings of grantmakers so that they can learn from one another and industry experts. This allows judgment-free questions and answers and support in plotting a course forward to support the most marginalized youth in our communities.
To deepen your own understanding of Native education issues and philanthropy, check out the following resources:
REAL LIFE. REAL NEWS. REAL VOICES.
Help us tell more of the stories that matter from voices that too often remain unheard.
This post was published on the now-closed HuffPost Contributor platform. Contributors control their own work and posted freely to our site. If you need to flag this entry as abusive,
send us an email
.