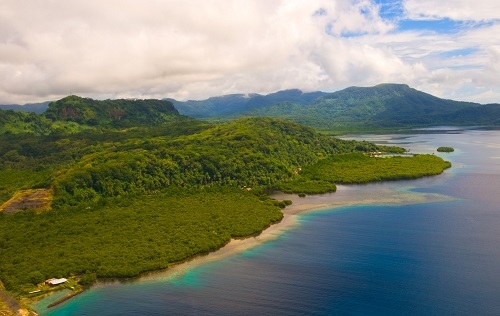 Two hundred and fifty billion dollars: that's the gap between the estimated need to support global conservation efforts and what's currently devoted to these activities annually, according to a recent study.
How can we close this enormous funding gap?
As a former Wall Street banker, I do a lot of thinking about how we finance our conservation work. Private philanthropy and public funding have been the bedrock of the environmental movement, and remain critical to our success. But these sources of funding can only go so far.
Imagine how much more we could accomplish by opening up an entirely new avenue for investments that protect nature.
That's why The Nature Conservancy (TNC), with founding support from JPMorgan Chase, has launched NatureVest. The idea is to create a new platform for investing in conservation projects that deliver both financial returns and clear environmental benefits. If we're successful, we believe we can unlock a whole new source of conservation funding that will allow us to significantly scale up our work and get more conservation done.
TNC is no stranger to innovative conservation finance. In 2012, for example, we developed the Conservation Note. This high-impact loan product provides investors a fixed rate of interest while allowing TNC to act quickly and with maximum flexibility when important conservation opportunities arise. The Notes, which quickly sold out, showed us how deep the market is for impact investing in conservation outcomes.
At the same time, investors expressed interest in opportunities to invest directly in specific assets--fisheries, floodplains, forests and more. That's where NatureVest comes in. Building on our 60+ year history of on-the-ground conservation work, we have identified a platform of projects that we think hold great potential for impact investing.
In the Western Indian Ocean, for example, TNC is mobilizing an $80 million (USD) debt-swap for the government of the Seychelles in exchange for their commitment to enhance marine conservation and climate adaptation commitments. In this type of arrangement, funds are raised to swap a country's existing commercial or bi-lateral debt for a new note payable to a national trust fund that will apply the funds to conservation activities. Through NatureVest, we aim to replicate this model to help other small island nations invest in marine conservation efforts that will limit the risks and costs posed by climate change.
Impact investing could also help us leverage our marine expertise to help fisheries become more sustainable. In Morro Bay, California, for example, TNC pioneered an unlikely collaboration to transform the local groundfish harvest and business model to one of greater economic and environmental sustainability. By purchasing trawl-fishing permits and joining the fishing community, we were able to demonstrate the value of less-damaging fishing practices that result in higher incomes for fishers. Of course this kind of work takes a lot of capital; tapping into new sources of funding will allow us to replicate this success story in struggling fisheries across the world. Investors could ultimately receive a share of the recovered fishery.
In Africa, we recently received a substantial gift from the Peter Hawkins Dobberpuhl Foundation to support projects in Kenya, Tanzania and Zambia. In a unique structure, $7 million of the Dobberpuhl family's extraordinary $26 million commitment will support an impact loan to help us scale up our work with partners to create a market for sustainably-managed cattle among traditional pastoralist communities. Thanks to this investment we will be able to grow the program tenfold. Joel Dobberpuhl mentioned that, until recently, his family's funding for conservation was "behind relative to their interest." By combining impact investing with traditional philanthropy, they were able to stretch their funding further.
And in urban areas, we are exploring a pay-for-performance model to help cities control stormwater pollution. Stormwater problems and the resulting sewer overflows are a major source of river pollution around many cities--and a major financial burden for already-stressed municipal budgets. The good news: green infrastructure can deliver much lower cost solutions than traditional gray infrastructure. The idea here is to raise capital to help cities invest in green roofs, permeable pavement, new and restored wetlands and other natural solutions that absorb water or help it flow at a more manageable rate. To the extent that these interventions work, investors will earn higher returns on their capital.
Talk is cheap, and we have a lot to learn to get this model right. That's why we are excited to draw on JPMorgan's expertise to translate these kinds of conservation interventions into attractive investment opportunities. NatureVest's first product will be a comprehensive report on how conservation can be advanced through markets, written in collaboration with JPMorgan Chase, EKO Asset Management Partners, and supported by the Gordon and Betty Moore Foundation and the David and Lucille Packard Foundation. The report will, for the first time, quantify the size of the market for conservation impact investing, with specific focus on market segments, transaction participants, and deal types. The report will benefit not only TNC projects, but also provide lessons for other conservation organizations and financial institutions.
Over the past sixty years, The Nature Conservancy has always sought new ways to scale up our conservation results. Now, the stakes are too high to limit ourselves to traditional sources of funding. By combining the power of private philanthropy, public funding and impact investing capital, we stand a better chance of closing that $250 billion gap in conservation funding.

Image © Ami Vitale