In 2014, China became the world's largest economy, ahead of the United States (source: The World Fact Book). (The European Union, collectively, would take the #2 spot.)
The World Fact Book estimates that China's 2014 GDP was $17.63 trillion, with the U.S. at $17.5 trillion. According to the World Fact Book, "Measured on a purchasing power parity (PPP) basis that adjusts for price differences, China in 2014 stood as the largest economy in the world, surpassing the US that year... Still, per capita income is below the world average."
According to most recent quarterly data provided by China's National Bureau of Statistics, China's current GDP is $22.7 trillion, compared to the U.S. Gross Domestic Product of $17.7 trillion (source: U.S. Bureau of Economic Analysis at BEA.gov). (I used an online currency calculator to translate yuan into U.S. dollars.) The statistical team at the International Monetary Fund explained (in an email to me) that the data are not necessarily directly comparable, however, because "NBS China's quarterly data are calculated using the Production Approach instead of the expenditure approach and therefore, not comparable to USA data." This, of course, leads to another bag of questions, but suffice it to say that China is the world GDP leader, and by how much is the only real question here.
While the per capita income in China is very low, at $12,900 compared to $54,800 in the U.S., China is now home to 190 billionaires and more than two million millionaires (source: International Monetary Fund). This means that, in terms of high-net-worth individuals, China ranks just below the United States.
Part of investing in a new world is discovering exactly what those individuals love. Those countries and industries that are part of the migration of money from West to East will be blessed under the new dominion of China as the world's economic leader. A big piece of that answer falls into basic needs. The Chinese have established strong trade relations with resource rich countries. However, the Chinese are also big consumers of technology and real estate.
Which countries are the Chinese shopping in for these products?
Silicon Valley
While Google doesn't break out its international revenue by country, 47% of the first quarter's top line sales, $8.2 billion, came from "the rest of the world" other than the U.S. and the U.K. Apple's sales in "Greater China" were almost $17 billion, second only to U.S. sales of $21 billion. China is a production partner with many technology firms, but the emerging Asian consumer is accounting for a lot of Silicon Valley sales.
Australia
China is Australia's biggest customer, amounting to $6.4 billion (Australia dollars) of the country's almost $22 billion in exports, as of March 2015. East Asia accounts for 75% of Australia's exports.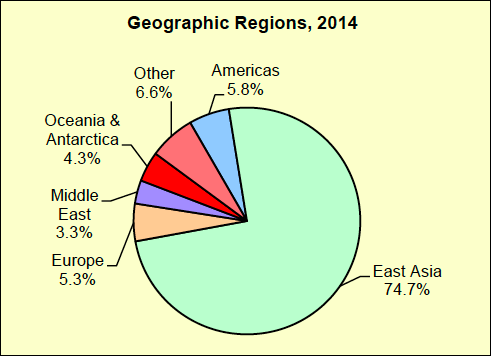 Chile is another resource-rich county that China is courting. According to the State Council website of The People's Republic of China, at an economic forum in Santiago, Chile to mark the 45th anniversary of China-Chile diplomatic relations, "[Premier} Li offered three suggestions for China-Chile cooperation: keep expanding bilateral trade; enhance industrial and investment cooperation; and deepen cultural exchanges and share governance experience. He said as Chinese bronzeware is renowned in history and Chilean copper products are world famous, the two nations' friendship should be just as strong."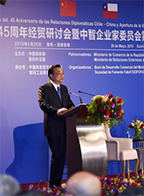 Premier Li Keqiang and Chilean President Michelle Bachelet addressed an economic forum in Santiago, Chile, on May 26 to mark the 45th anniversary of China-Chile diplomatic relations and the decade since the bilateral free trade agreement came into effect.

China is Chile's top export partner, amounting to almost ¼ of the $77 billion in annual exports. The U.S. is behind China, with 13% of Chile's exports.
The Chinese are purchasing real estate and businesses in all of these countries - the U.S., Australia and Chile. I will drill deeper into the real estate data in upcoming article.
Indonesia
Indonesia is another Chinese trade partner. While Indonesia is still steeped in poverty, Indonesia is experiencing growth that is more than double that of the developed world. Indonesia's GDP growth rate is predicted to be 5.2% in 2015, according to the World Bank. China's GDP growth slowed to 7% in the last quarter.
The migration of money from West to East is why I have been emphasizing Chilean, Australian, Chinese and Indonesian ETFs at my Investor Educational Retreats. While these ETFs are positioned to perform better than equities in Europe and the U.S., they have also already enjoyed a fantastic run-up, are a bit pricey and are vulnerable to a U.S. contraction.
Popular in the Community