By Redeat Gebeyehu, WiSci STEAM Camp participant
In August of 2015, I attended the WiSci Girls STEAM Camp in Rwanda where I had the opportunity to mingle with 119 girls from eight African countries and the US. At the camp, not only did I learn coding, leadership and marketing skills, but I also met brilliant young ladies who were already motivated to transform the world.
After such an inspiring time at the camp, I could not believe my eyes when I received an email notifying me that I was selected to be a WiSci Youth Ambassador with a mission to raise awareness about the importance of girls' education and girls' engagement in the STEAM fields.
Two months later...
I thought I was dreaming. I tried to take it all in. I am sitting at the UNESCO Headquarters attending the 9th UNESCO Youth Forum in Paris, France. There are over 500 young leaders from all over the world in the same room with me and we are all exchanging views, generating ideas, voicing common concerns and problems including discussing how we can ensure that the voices of young people remain front and center. During the Forum, we were encouraged to provide our input on new programs, which gave us opportunities to serve our community and speak up on their behalf.
The most beautiful thing I witnessed during the three-day forum was the generation of varied ideas from other excellent orators--attendees and speakers at events. This made me realize that diversity is, indeed, the essence of evolution. By sharing a variety of ideas, talents, skills and knowledge, I learned a lot from being exposed by a variety of different types of people. This kind of diversity helped me and other participants focus on a common goal and work towards a universal solution which encouraged collaboration and fostered innovation, which would benefit everyone.
On the second day of the conference, I was offered a chance to make a 15 Minutes of Fame speech, where I spoke about my girls' education, my personal experience, initiatives I have started, lessons I learnt and ongoing projects that I'm currently working on. I was elated by the opportunity I had because it gave me the opportunity to speak to people about something I feel deeply passionate about.
Attending the conference was a professionally rewarding experience. I witnessed the true art of people networking and building relationships in such an extended scale. After listening about what others were doing, I was personally inspired to not only share my story but to also improve upon my ideas. This international networking will definitely help build a global constituency which supports sustainability, violence prevention, and empowerment of disadvantaged people by lobbying efforts, initiating educational and media projects.
However, to my utter surprise, the most interesting, informative and educational moments were not spent in the sessions themselves- it's in the informal interactions with other attendees that I truly the most important. I remember one conversation (more of an argument) I had about climate change with a couple of other attendees as we were going to our hotels for the night, and it was actually one of the most insightful conversation I had ever had.
What I appreciated most about the Youth Forum was that it allowed us to voice our ideas and concerns and make suggestions directly to the UNESCO General Conference. In fact, I was privileged enough to be invited to a dinner party by the Ambassador of UNESCO, Crystal Nix-Hines, to speak about my concerns and experiences regarding women empowerment, and what I think is the way forward to other ambassadors of different countries. In the midst of my talk, it hit me that I was just a high school student and everyone else in the room was an ambassador, a leader, or someone of high importance. But it was then that I realized that each and every person in the room was paying attention to what I was saying and this, more than anything else, proved to me that U.S. Mission to UNESCO and other leaders of the world are actually ready to hear to what the youth have to say. For me, passion is about using my life to do what I really love and truly care about. I feel a sense of mission in creating a change and feel that I was born in such a time as this, where the youth feels supported by the community.
The 9th UNESCO Youth Forum wasn't just about discussions and meetings! We had plenty of opportunities to attend concerts, go on boat trips and site see. I found Paris to be a place where fashion, culture and music come together in such a harmonious way, and I proved to myself that Paris is indeed the city of love. I also had the chance to visit the Eiffel Tower, where I looked down at the beautiful city feeling the cold wind blowing on my face and messing up my hair. I then closed my eyes and I whispered "Thank you". Thank you to God and thank you to all the people who worked to make the 9th UNESCO Youth Forum happen.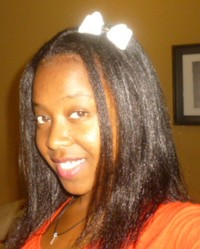 Redeat Gebeyehu was born in Ethiopia, but is currently studying in South Africa at African Leadership Academy as a scholarship student. Since she was a child, Redeat has always been passionate about empowering students, specifically disadvantaged ones, through education. This has led her to become a young leader and activist for women empowerment. When she was 14, she formed her own Girls Association. Redeat is also the East African Representative of African Leadership Academy Model African Union and Representative of African Land of Opportunities. She enjoys writing and is looking forward to publishing her first novel soon. Redeat loves animals, reading, travelling, pencil-drawing and networking.

Calling all HuffPost superfans!
Sign up for membership to become a founding member and help shape HuffPost's next chapter