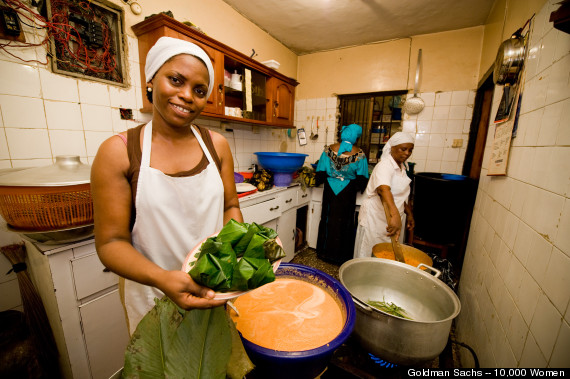 Ayo Megbope is a graduate of Goldman Sachs' 10,000 Women program, and the owner of "No Leftovers Nigeria", a catering company and restaurant in Lagos, Nigeria.
With a broad smile, and a gleam in her eyes, Ayo Megbope sat beside me, and shared story after story about the humble beginnings of her business, cooking bean cakes in her fourth-floor apartment, wrapping them in banana leaves, and selling them throughout her community in Lagos, Nigeria. It was September of 2009, and we were seated together at the first annual Goldman Sachs "10,000 Women" Dinner in New York City. Ayo was one of the first graduates of the 10,000 Women program, which helps women entrepreneurs around the world obtain the training and access to capital they need to turn their business dreams into reality.
Almost exactly four years later, I was back in New York City, forging partnerships, and working to secure new public and private sector commitments to promote the success and empowerment of women and girls.
My first stop was to co-host a United Nations General Assembly event with Secretary of State, John Kerry, and U.S. Ambassador at Large for Global Women's Issues, Cathy Russell, marking the one year anniversary of the day former Secretary Hillary Clinton and I launched the Equal Futures Partnership. Equal Futures was developed in response to President Obama's call at the 2011 UN General Assembly, for his fellow heads of state to join him in breaking down economic and political barriers that prevent women and girls from reaching their full potential.
Equal Futures began in 2012 with 13 partner countries, and the U.S., but on Monday, welcomed representatives from the now 23 other nations who have joined the Partnership, all of whom had tremendous progress to report. In the U.S. alone, we have matched tens of thousands of young women with mentors in science, technology, engineering and math. We have partnered with the private sector to train women entrepreneurs to start and run successful businesses. We have supported efforts to educate, train and inspire women and girls to pursue leadership positions in public life and public office. And this coming Spring, President Obama will convene a Summit on Working Families at the White House to zero in on strategies that will clear away obstacles that too often hinder the financial stability of hard working families, or block their entry into the middle class.
Later that same day, I had the privilege of addressing a Clinton Global Initiative event on the important role of women in our national and global economy. When women have the support and opportunities they need to reach their potential, commerce flourishes, jobs are created, instability declines, and our economy both grows, and recovers from setbacks much faster. As an estimated 1 billion additional women enter the global workforce over the next decade, it will be the nations who invest in women's education, training and full inclusion in the workforce that find themselves in position to compete and lead the world economy.
On Tuesday, in addition to watching President Obama deliver his address to the UN General Assembly, I provided remarks on the US's commitment to preventing sexual violence in parts of the world marred by war or conflict at a forum hosted by the UK Foreign Minister, William Hague, and Special Representative to the Secretary General on Sexual Violence in Conflict, Zainab Bangura. We heard the powerful testimony of a survivor of sexual violence, who shared her story and called for government action to hold perpetrators more accountable. The U.S. then joined 112 other countries in signing a declaration which pledged new efforts to end sexual violence in conflict and protect some of the world's most vulnerable women, men and children from these horrible crimes.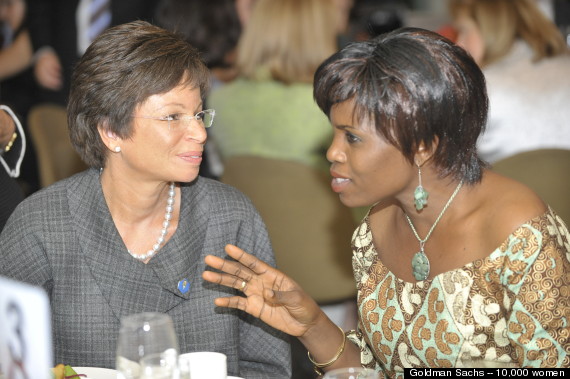 Ayo Megbope, business owner and graduate of Goldman Sachs' 10,000 Women program, shares stories about her early days as an entrepreneur with Senior Advisor to the President, Valerie Jarrett in 2009.
Tuesday night ended with a returned to this year's Goldman Sachs' 10,000 Women Dinner, where I had the opportunity to meet a number of the program's new graduates and participants, and feel inspired once again by their stories of strength, sacrifice, and achievement.
I was also pleased to learn that my old friend, Ayo, from the 2009 dinner, remains the proud owner of "No Leftovers Nigeria" -- now a multi-dimensional catering company and restaurant, selling traditional Nigerian meals through retail outlets, online and in lunch packs to local schools. She has seen revenue grow thirty-fold over four years, and has created 68 new jobs in her community.
It is stories like Ayo's that move us to act, and that should inspire us to redouble our efforts to empower our women and girls, and work to ensure that no barriers stand in their way. It is up to all of us in government, partnering with business leaders, not-for-profits, advocates, and all others with a stake in the strength of the global economy, to take action to enable the success of women and girls. Helping them reach their full potential is the best investment we can make as a nation.
This post is part of a series produced by The Huffington Post and the Clinton Global Initiative in conjunction with the latter's ninth Annual Meeting (September 23-26 in New York City). This week, President Bill Clinton, former Secretary of State Hillary Rodham Clinton, and Chelsea Clinton convene more than 1,000 global leaders under the Annual Meeting's theme for 2013 -- Mobilizing for Impact -- to advance solutions to some of the world's most pressing challenges. For more information on the Annual Meeting, click here. To see all of the posts by CGI mobilizers in the series, click here.
Related
Popular in the Community