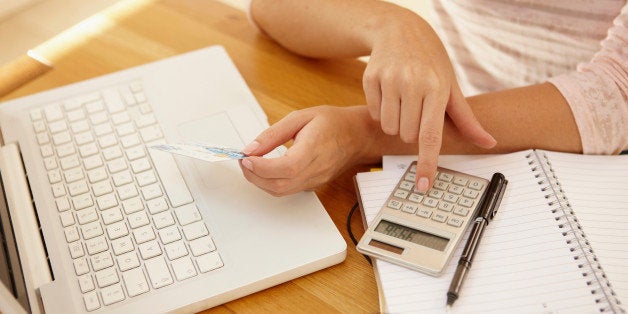 Growing up, my mom and dad had a very traditional approach to family financial matters. My mom took care of the household bills and my dad handled the investment decisions. It was a pretty straightforward division of labor that worked quite well for them... until my dad suddenly passed away of a heart attack at the young age of 57.
My mom was left with the huge burden of caring for a family with six children. Since my dad had handled all the long-term investment decisions throughout their marriage, her knowledge of matters such as investing, funding her children's college educations and saving enough money to secure her own financial future was understandably limited. As sole breadwinner and family CEO, not only did she find herself "suddenly single," but she was also unexpectedly responsible for making all decisions about the family money. For her, it was a crash course in personal finance.
Unfortunately, this story is not uncommon, even today. Women historically have not been involved when it comes to decision-making around investment strategies and long-term finances. Although women have made so much progress in so many areas, according to a recent Fidelity survey, 53 percent of men say they still take the lead in making the decisions around long-term financial goals compared to only 41 percent of women. Nearly one-in-four women say they don't take part in financial decision making at all. This is despite the fact that with the national divorce rate and women's life expectancy outpacing men's, the National Center for Women and Retirement Research reports that approximately nine-in-ten women will be solely responsible for their finances at some point in their lives!
Quite simply, the stakes are too high for women not to get more engaged in their finances. Today, women own 8.3 million businesses and generate nearly $1.3 trillion in revenue, according to the 2012 State of Women-Owned Businesses Report. Investment News estimates that women are expected to control $22 trillion in personal wealth by 2020. Yet, with all the progress women have made, many still are falling short when it comes to taking the reins to manage their finances.
The good news? Women already have what it takes to become successful investors and many are already rising to the challenge. Fidelity research shows that when it comes to retirement saving and investing, women tend to stay the course during turbulent times and put more of their paychecks toward their financial future than men. Women also identify themselves as self-aware (39 percent), hardworking (24 percent) and thoughtful (21 percent) , attributes which can translate into determining financial goals, conducting the necessary research to evaluate investment options and taking time to think things through before making big financial decisions. Forty-five percent of women report they feel confident in handling their financial portfolios on their own; but, that leaves a majority of women who rely on others, are apathetic, or simply need help getting on track.
Today, consider taking the time to take control and begin the necessary steps to create the life you want to live. No matter where you are in your personal financial journey, there are simple steps you can take today to make the most of your finances and your future -- but you have to take the first step! We all lead busy lives, but I urge you to find the time and block off an hour on your calendar to get started -- whether it's in the morning over a cup of coffee, during a lunch break or in the evening after the kids go to sleep. To help, we've created this quick flowchart quiz. You work extremely hard for your money, so take the time to ensure your money is working just as hard for you.
There's so much you can do in just an hour: amplify your savings, chart your retirement, soul-search to identify your financial goals, design your investment strategy, take advantage of financial educational tools, get on the same page as your loved ones or enlist the help of a financial professional.
In a national poll last week we asked women how they would use one extra hour to dedicate to their finances. 42 percent report they would work on their budget, while 24 percent say they would learn more about how to become a better investor .
The important thing is getting started, which is why I encourage women across the country to take an hour today to invest in their financial futures. Share how you will spend your hour on Twitter or Facebook with hashtag #TakeAnHour.
You deserve this hour to make a lifetime of difference.
Kathy Murphy is president of Personal Investing, a Fidelity Investments company. She oversees a business with more than $1.7 trillion in client assets under administration and more than 15 million customer accounts*.
Fidelity Brokerage Services LLC, Member NYSE, SIPC, 900 Salem Street, Smithfield, RI 02917
704975.0
©2014 FMR LLC. All rights reserved.
*Fidelity Investments Finance
PHOTO GALLERY
12 Things Every Woman Should Know About Money
REAL LIFE. REAL NEWS. REAL VOICES.
Help us tell more of the stories that matter from voices that too often remain unheard.