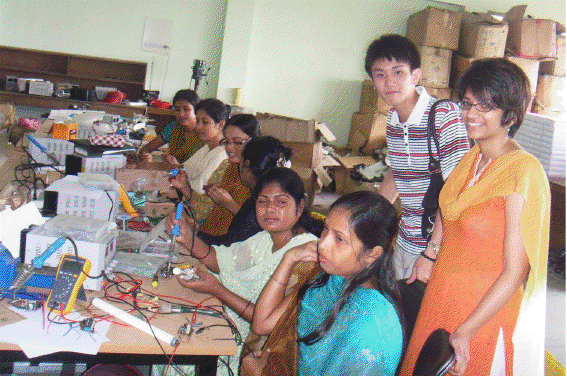 Grameen Shakti in Bangladesh trains young professionals to work on solar energy.
After graduating with my master's degree in hand during one of the worst recessions in recent history, like many of my peers, I flocked south to find opportunities. Maybe the U.S. and Europe were not hiring, but developing countries certainly were in need of young smart talent to tackle the great challenges of the 21st century. One of my classmates who did the same eloquently stated, "I'd rather be broke and poor somewhere in Africa than broke and poor in Canada."
However, the recession may have been a blessing in disguise for me, because some of the most formative work experiences I have ever had were observing rural women installing solar home systems in Bangladesh, taking those observations and applying them to a rural village in India where I launched an eco-goods store that sells solar lights, improved cookstoves, and water filters -- a supply chain that has been running for three years now. I then applied my newly developed business skills towards managing and running a carbon financed improved cookstoves program in Uganda. Still early in my career, I certainly learned more in those two years then I could have in any office building in New York, London, or Washington, DC.
A range of economic and social influences, including the 9/11 attacks, the 2004 tsunami, record global youth unemployment, the ability to quickly and easily connect and share information with a billion other Facebook users, and of course the threat of irreversible climate change, has shaped this generation's attitudes and expectations for the future. Accordingly, this generation is the most cause-aware group in history; nearly 75 percent of over 6,000 under-35 year-old Americans polled have donated to nonprofits or crowdfunding campaigns. Global problems have never been as illuminated and personal as they appear now.
There is a link here. In all the communities I visited in the global south, the one thing they all share in common is their desire to have sustainable energy solutions. 1.3 billion people in the developing world lack access to electricity and 2.6 billion are without clean cooking facilities. Energy powers education, health, communication, safety, business, sanitation, local economies, and even politics; access to energy is a prerequisite for development, not a result. UN Secretary-General Ban Ki-moon launched the Sustainable Energy for All initiative to bring power to the entire world by 2030; that means that those born today should have access to energy by the time they reach adulthood. Hence it is imperative to include youth in energy access efforts in order for this goal to be reached. There should be massive and scalable opportunities for youth to be educated and engaged in bringing power to their communities. However, currently far too few opportunities for young professionals exist in this sector, and local youth are unable to volunteer -- they need jobs.
This is precisely why I have started a new social enterprise called ENVenture. ENVenture aims to create and expand a network of stores in developing countries in order to increase access to low-cost, low-carbon technologies that advance the health and sanitation of current living standards while improving the environment. ENVenture will operate by partnering with community-based organizations (CBOs), which are nonprofit groups managed on a local community level that desire to start such ventures, but lack the business know-how to create and scale such operations. ENVenture will implement by identifying entrepreneurial young professionals and connecting them to CBO partners to act as consultants as part of the ENVenture Fellowship Program. During the period, fellows will launch and scale the stores, all the while enabling the local CBO to take ownership of the franchise, and most importantly, face these early-set entrepreneurial challenges that will create the business leaders of tomorrow.
ENVenture is in the very early stages of development; currently we have launched a crowdfunding campaign to raise funding for our pilot store in Uganda. Our first ENVenture fellow is a German volunteer who recently graduated with a degree in environmental business. It's an invaluable experience for young professionals to help set up a business and see it grow within the space of a year. On one call she excitedly announced, "I've never done a cash flow statement before! Now I know how to do one!" We also want to provide these opportunities to local young professionals, as building capacity within country is extremely important. As lack of energy impacts youths' ability to develop in society toward all the UN Millennium Development Goals, it is important to address, involve, and invest in this large segment of society to sustainably meet the goal of universal energy access.
Calling all HuffPost superfans!
Sign up for membership to become a founding member and help shape HuffPost's next chapter