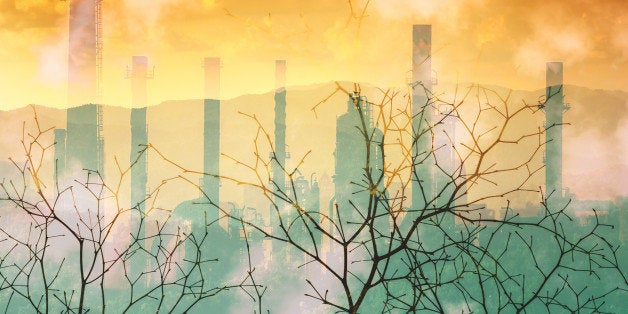 On Wednesday energy ministers from over 20 of the world's largest economies gathered in San Francisco in one of the first attempts to make sure the climate goals set under the Paris Agreement are met. New commitments were announced in energy efficiency, corporate purchasing of renewable energy, and other areas. One key item up for discussion was financing - specifically, how to raise the estimated $1 trillion a year needed to transition to a clean energy economy.

To raise that kind of capital, investment is required from all sectors of society including governments, philanthropy, and institutional investors. The largest investors, including insurance companies and pension funds, could help considerably by analyzing the risk that fossil fuel holdings have on their portfolios -- and then transition away from those investments toward the clean energy and climate solutions investments that are quickly displacing fossil fuels here in the US and around the world.

Smaller investors have a role to play, too. Take for example the investment portfolio that we manage at the Sierra Club Foundation. We realize that's it not enough to simply provide grant support for the important advocacy work of the Sierra Club and its grassroots partners, though that piece is essential. Just as important, we need to ensure that our investments complement our grant-making strategy by investing directly in the clean energy transition. We urge other investors - both large and small - to do the same.

As an investor and an early signatory of Divest-Invest - a network of foundations that have committed to divesting from fossil fuels and re-investing in climate solutions - as an initial step Sierra Club Foundation made sure that none of its funds were invested directly or indirectly in companies listed on the Carbon Tracker 200. Just as important, we are looking for ways to invest responsibly in clean energy. To date, about 10% of our endowment and operating funds are invested in climate and clean energy solutions. In June 2015, we made an additional investment commitment at the White House Clean Energy Investment Summit.
Not investing in dirty fuels certainly aligns with Sierra Club Foundation's values, but it also had the benefit of insulating us from the crushing losses that have hurt coal investors. In 2011, Peabody stock was worth over $1,000 a share; now the company is in bankruptcy. And it's not just Peabody. Market Vectors Coal ETF -- a basket of coal company stocks -- has lost 85 percent of its value over the same time period. Just as important, our strong investment results have allowed us to return our earnings back to the grassroots campaigns that are fighting dirty fuels at every turn and creating a just and inclusive clean energy economy.

The forces at work against coal are beginning to take a toll on oil and gas. Communities everywhere are standing up to proposed dirty fuel projects that would jeopardize the health and safety of their families. Since the Keystone XL Pipeline was rejected by President Obama in November 2015 on the grounds that it would be harmful to the climate, twenty other major fossil fuel projects in the US have also been halted. Just last week, we saw French oil giant, Total, change course by integrating climate disruption into its business strategy.
Included in Total's plan is reducing its exposure to tar sands oil development, refusing oil exploration and development in the Arctic, and applying an internal cost of carbon when evaluating investments.

It's clear that we are in the midst of one of the greatest transitions in history: the transition from a global economy driven by dirty fuels to one that is powered by clean energy. But this transition needs critical financing to scale-up at the pace needed to avert climate catastrophe. We call upon the energy ministers meeting in San Francisco and future events to develop novel ways to encourage more money to enter this space. And we urge investors, both large and small, to be a part of the solution that will drive the global economy in the 21st century and create healthier and safer communities.
Calling all HuffPost superfans!
Sign up for membership to become a founding member and help shape HuffPost's next chapter