"A week is a long time in politics," to use words from my old country's late and somewhat unloved Prime Minister Harold Wilson. In the media too, inevitably.
A remarkably packed media week certainly flowed from the massacre at France's Charlie Hebdo magazine and the hostage killings at the Porte de Vincennes HyperCacher kosher food store.
Amid all the roiling waves and counter-currents of reaction it can take some effort to recall that Charlie's potentially inscrutable surname is just a shortening of the overly-syllabic French word for 'weekly': hebdomadaire.
The week's surges and eddies in coverage have of course included some almost mesmerizing media events like the dragnet dramatically closing in on that Dammartin-en-Goële printworks and killing the two Charlie killers, swiftly followed by the third killer, at the food store, being shot dead. Airwaves, front-pages and digital news sites were further deluged with images of the unprecedentedly massive march from Place de la République to Place de la Nation, featuring scores of world leaders -- minus of course any senior American.
It was pointedly apt that the main body of marchers filled Boulevard Voltaire, evoking that patron saint (secular, of course) of free speech, whose famous adage about defending our rights to voice even deeply disagreeable ideas I have had occasion to celebrate, and probe, during my own previous Parisian assignments.
Still not entirely understandably, it was a full seven days before Al Qaeda in the Arabian Peninsula issued its 'claim of responsibility' (always a queasy-making formula) for the Charlie murders. And meanwhile we have just the self-made video evidence to suggest that the hostage-killer -- and policewoman-murderer, too, evidently -- owed his allegiance separately to the Islamic State in Syria (ISIS), if perhaps only inspirationally.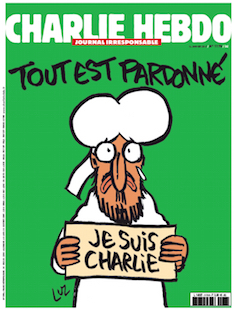 But perhaps the most emphatic punctuation point for the drama extending throughout an entire week was the appearance of the next due edition of Charlie Hebdo itself -- published without the greatly mourned presence of eight team members, but with cash and in-kind infusions from Google and Le Monde. Its powerful cover cartoon, full of tragedy, irony, and provocation, was bound to inspire the broad spread of reactions that it has -- applause for its bravery... outrage at its riskiness... fear for its possible effects.
The morass of moralizing has strikingly included another outcry. Outrage at the media's very concentration on Paris as the epicenter this week for terrorist mayhem. Some upholders of the media's good conscience, like for instance The Guardian in the UK and the MSNBC cable-news channel here in the U.S. have been complaining.
Complaining about what? It's a fair question, and they have a reasonable answer.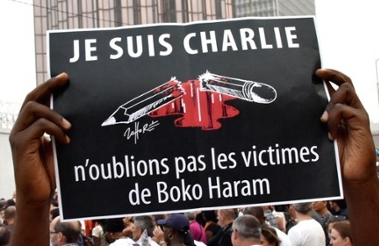 They point to the fact that this horrifying period also saw a huge attack by another set of violent, murderous Islamists, the Boko Haram movement in Nigeria. The northeastern town of Baga was overrun, as the self-styled jihadists reportedly carried out door-to-door killings and even employed children to deliver explosive devices. The overall death toll is believed by Amnesty International to have reached 2,000 people -- the "deadliest massacre" in the history of Boko Haram's rampages, which have infamously included abducting schoolgirls.
Comparing catastrophes is always invidious. But the Paris death toll was 17 people, the critics have been at pains to point out.
Much of the criticism is disingenuous. Some practical realities about journalism in Nigeria -- about life itself in Nigeria, indeed, and inescapably its politics -- could give us pause in making easy judgments. It's pretty remarkable that the story of Baga got out to the western press at all.
The BBC's correspondent In Nigeria's capital, Will Ross -- no slouch at on-the-ground reporting -- has provided some helpful context-setting, reminding us that conditions don't make his job easy.
The task of checking out the earliest scant reports (beginning January 3rd) like "Attack on Baga. Loud gunfire heard" was hindered by poor communications. "There has been no mobile phone connection in Baga for many months," says Ross, "after the jihadists attacked mobile phone masts." Official sources, too, are something of a sick joke. Ross played back on-air (not usual broadcasting practice) recordings of his calls to a senior military Press Officer that repeatedly went to a service announcement stating only the number's unavailability.
The BBC's Hausa language service helped Ross connect with a Baga resident who walked for two days through the bush to the sizable, and relatively safe city of Maiduguri, and could give him a detailed account of some five hours of carnage. More eyewitnesses fleeing the violence later spoke of hundreds of bodies being left on Baga's streets.
Reporters' efforts to get information out of Federal forces amounted in the end to a brief media ambush of the Chief of Defense Staff, Air Chief Marshal, Alex Badeh, in a parking lot. All they got, though, was a curt admission that there had indeed been an attack.
The estimated body-count of 2,000 cannot be checked. Nobody is there to conduct an authoritative tally, Ross candidly says, "because it is far too dangerous."
Nigeria's political leadership has also contributed to the fog of uncertainty, as a February general election approaches. No one really wants to acknowledge such a bloody calamity -- hence the credulity-straining government bulletin issued on Monday January 12th: "The number of people who lost their lives during the Baga attack has so far not exceeded about 150."
But President Goodluck Jonathan was moved to make one firm media statement: "The president believes that the cowardly and ignoble attack by violent extremists is a monstrous assault on the right to freedom of expression." He was, of course, referring to the Paris killings.
Calling all HuffPost superfans!
Sign up for membership to become a founding member and help shape HuffPost's next chapter