#InvisiblePlaces is a series of stories about what I've felt in some very popular destinations. My photographer - Vlad Semen - and me travel around the world and explore what is behind the image. The invisible. The emotions. This fabulous Universe gives us the perfect exaltation states every day.
Sometimes the heart sees what is invisible to the eyes
We travel around the world and let the Universe inspire us. Behind every image there is a story, an emotion. We explore and discover what is above beauty and attractions, what makes us to move forward. Through our stories we hope to inspire people to follow their dreams.
Our project - Invisible Us - is about love, inspiration, education and evolution. We will give back what we've learned through books, courses and conferences. We'll make interviews with amazing people, who live their lives with passion. We will create a community where people can freely express their emotions and we'll fulfill the dreams of 100 children.
Education is the most powerful weapon which you can use to change the world. The whole purpose of education is to turn mirrors into windows. We will foster the social emotional learning around the world and we'll inspire young people to believe in themselves.
The emotional story behind the image is the most important one! Let's take a look...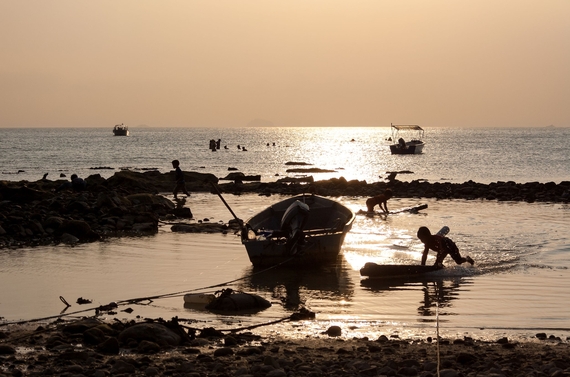 I am here, in the face of time. The waters of amber are so quiet that I can hear my desperate thoughts. I wanna get out. I want to escape from myself. It's so damn beautiful, it's magical, I see these kids, playing around, being happy. So simple and yet so meaningful.
But inside me it's a storm. I can't watch this because I'm hungry and tired and lonely, at the end of the world. I suddenly know that I'm making a huge mistake. I can feel the urge to enjoy all this, to believe. But I can't, I just curl inside me and fight against evidence. What if I fall?
But what if you fly, baby? What if you fly?
El Medano is a town situated at world's end, dangling on a corner of an island. The narrow streets are partially lit by the sun, casting uncanny and majestic shadows. There are hundreds of colourful sails at sea and what floats in the air is the dense, borderline delirious joy of the windsurfers.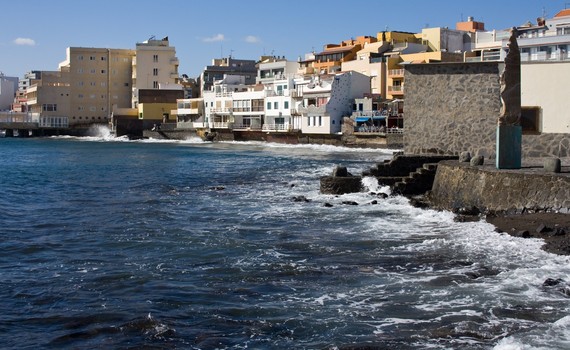 I am sitting on a wooden bench, sheltered under a rock and I can feel the sunlight burning my arms. The Atlantic's vapours wrap me up in a pristine halo just as it should've been like in the beginning of time when everything was pure, simple, bright and wild.
There is no movement, no words that penetrate the wind. The sound of the waves is deafening and it paints one's soul in immortality, investing it with the sweet burden of simple, perfect life near the core of the nature. I feel like I am one with the black, volcanic rock burnt by the wanderlust.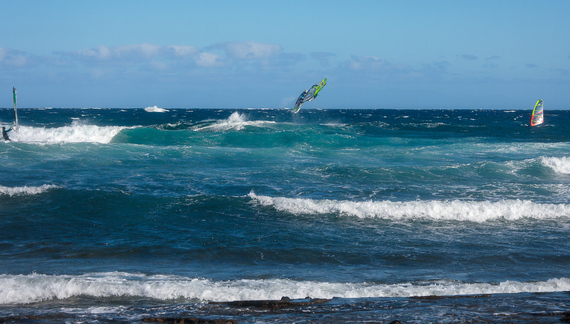 The ocean with its metre high waves peeps in all its glory through a rocky gate. You get the impression that it is being conquered by surfers and their red and black canvas who appear to transcend time and to walk on water somehow defying reality and fulfilling the words of the holly books. "Through faith you shall walk on water as on land."
I would like to give up everything and to live out there at sea, wrestling with the wind in a house with windows towards forgetfulness...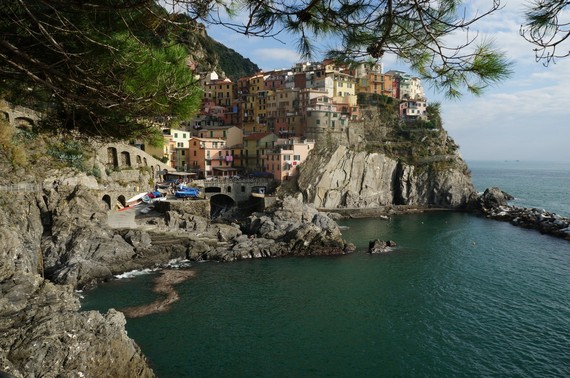 I will never forget this moment. It was a sunny day and we were in Italy, happy and careless. I looked at nature with respect, but not with gratitude. There were beautiful colors and you could take amazing pictures. But I didn't felt a thing. Nothing moved me a bit. I didn't let anything to touch me, I was closed, I had a glass wall over my head.
And in that night, in a train, I've cried and cried and cried. I vowed not to travel again on the run. To sit still. To do something else. It was the beginning of a 3-year journey of discovering myself.
It was a 'not so easy' task. I am still here, trying to gather my soul's pieces from the ground. But I am more serene, I have more light. I know that I will get there, in that point, where My Self resides.
Love isn't something you find. Love is inside you forever.