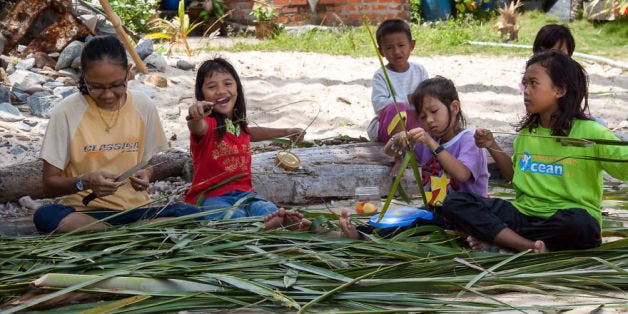 I am sitting on a wooden bench, sheltered under a stone and I can feel the sunlight burning my arms. The ocean's vapours wrap me up in a pristine halo just as it should've been like in the beginning of time when everything was pure, simple, bright and wild. There is no movement, no words that penetrate the wind. The sound of the waves is deafening and it paints one's soul in immortality, investing it with the sweet burden of simple, perfect life near the core of the nature. I feel like I am one with the stone burnt by the wanderlust.
I get lost in the blue of the water looking straight into the sun, choosing not to allow myself the state of dreaming instead opting to believe in the present. A breeze that brings peace to my mind takes me towards amazing worlds where the wind whispers a love story.
For me, the perfect love story of this world is the smile of a child. His pure sense of being, his arms around your neck, his sweet skin and calm presence transform the world into a better place. We have such a responsibility to guide our young so that they don't end up falling apart, becoming insignificant. Because they are our future, our hope for a world full of love and magic.
I want to laugh like a child. I want to stop breathing in front of the world miracles. I want to be happy under the rain and dance on the streets of the world, I want to say crazy truths with candid eyes and everyone smiles to me.
I want a world like a playground. People insist the dreams are possible. I am 37 years old. I want to live my life like a 3-year-old child who is mesmerized when he sees a train for the first time and like a 7-year-old child who believes that a book is the universe and every letter is an angel from heaven.
Can I have a world like a summer haze, to play hide and seek under old arches of stone, to sleep under the stars, to run through golden corn fields, to breathe a sweet breeze, to be cooled by the water of the ocean and to be warmed by the fire of the sun and feel the weight of the earth beneath me?
We travel to the edge of knowledge, but there are children in this world that can not have access to education. I want to take a brave step. I see the future and I want to tear down the walls to reach it. I want to overcome my fear and to make a leap into the unknown. I want more.
Children from all over the world have the same dreams: to be listened, loved, understood, to play, read, write, to receive a sign that they exist. But I want more for them. I want to teach them to dream and to make their dreams possible.
Therefore, I am very honored to present you Invisible Us. My project, my life, our future. I will make an amazing journey around the world to fulfill the dreams of more than 100 children.
I will make people aware of the fact that anywhere in the world, even in some unexpected places, there is beauty. Everything that surrounds us is a very precious gift. I want to meet different people, to feel their emotions, to understand their smiles, to tell their stories.
Me and my partner and photographer, Vlad Semen, will live in people's homes, randomly chosen. And there we will find those beautiful dreams. From there comes our change.
My message is simple: "Together we can make a small step towards the change that we want in the world!" I will tell you the story of the world filtered through my soul. A world where the skin color does not matter, but thousands of shades of nature do. A world in which religion means to smile in the morning sky. A world where love and kindness heal everything.
My purpose is to make a small step towards a better world in which our children and young people to see things differently. I will ask the children one thing: "If you could have anything in the world, what would you want most?" And where I will be able to intervene, it will be my duty and honor to do it. Where I can't, I will send the message out to those who can do it.
If I can help one single child to have a better life, my mission is accomplished. And if there are more people with me, and each manages to change a life, then we can hope. Do you want to be part of this powerful change?
Calling all HuffPost superfans!
Sign up for membership to become a founding member and help shape HuffPost's next chapter