Renting a home is an exercise in trust. Tenants commit to a year's worth of payments with the expectation that the house is habitable: the toilets work, the roof keeps out the rain and marauding gangs of mice haven't laid claim to the attic.
But in two California communities the nation's largest renter of single-family homes isn't living up to its end of the bargain, a new study released Monday concludes. Invitation Homes, the biggest of a new breed of landlords with Wall Street ties, is renting out homes in Los Angeles and Riverside that have serious flaws, according to the study, conducted by two California nonprofits that advocate for tenant rights -- Strategic Actions for a Just Economy and The Right to the City Alliance.
The study finds that tenants often paid more than they could afford to rent homes they said had been neglected by the company. Nearly half of all tenants reported problems with plumbing; 39 percent said roaches or insects were an issue. Leaky roofs, broken air conditioners and mold were other commonly reported problems.
The findings were based on a survey of 51 Invitation Homes tenants in predominantly black and Latino neighborhoods. Invitation Homes is owned by Blackstone, the largest private-equity firm in the world.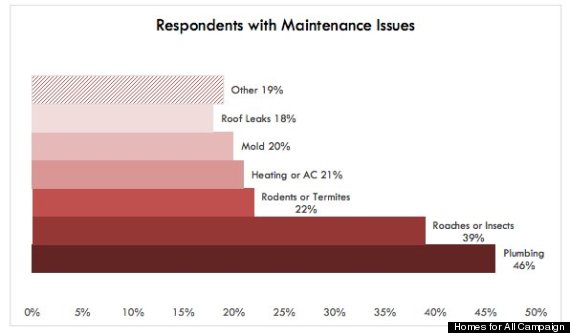 Denise Dunckel, an Invitation Homes spokeswoman, said the report "grossly distorts the facts and ignores [our] contributions to the American housing recovery."
Invitation Homes typically invests about $25,000 into each house it purchases in an effort to make sure they are safe and in good repair, Dunckel said. Tenants are offered "unparalleled service," she said, with maintenance workers on call to quickly address any issues that arise.
The new findings by the housing activist groups comes on the heels of several years of breakneck expansion by Invitation Homes and other national companies into a new business: converting single-family home rentals into investments that can be bought and sold on Wall Street. Since 2012, these institutional investors -- which also include American Homes 4 Rent and Colony American -- have collectively spent an estimated $20 billion to acquire an estimated 130,000 houses nationwide, often showing up at dozens of auctions a day in the same city, bearing suitcases full of cash.
This investment has helped lift home prices in distressed neighborhoods in Chicago and Atlanta, a boon for homeowners who are underwater, meaning they owe more on their mortgage than their house is worth. New entrants to the market, however, complain the investors are crowding them out, forcing them to either overpay or lose out to out-of-town money managers who then prove to be lousy landlords.
An examination of this burgeoning industry by The Huffington Post last year found that investors are often rushing homes onto the rental market after making only cosmetic fixes. Tenants said they discovered major mechanical and plumbing problems, such as broken water heaters and air conditioners, along with infestations of vermin such as fleas, silverfish and rodents. Employees of the companies said the property management side of the operations weren't equipped to keep up with the flood of homes, often spread out over a large geographical area.
In March, housing activists warned that private-equity and hedge funds were unwelcome intruders into the single-family home market, that they were disrupting communities and outbidding people who wanted to buy homes for the purpose of actually living in them.

Soon after, a Sun Valley, Calif., couple that had moved into a house owned by Invitation Homes sued the company, claiming it failed to make requested repairs and that they grew ill as a result of the cockroaches and mold that infested the property.
The report released Monday says that 44 percent of Invitation Homes tenants who responded to a survey indicated that they weren't pleased with how their landlord "responds to issues and problems when they arise." Tenants also reported putting down security deposits in excess of three times the monthly rent -- a charge that if true, would indicate a violation of California law. (There is no way to independently verify this claim, and the names of tenants were withheld from the report).
Dunckel said the company complies with all California and federal landlord-tenant housing laws. "Invitation Homes does not charge more than the statutory limit for security deposits," she said.
There is some evidence that the accumulation of negative reports about the company's management of its properties could be taking a toll. In May, vacancies in one cluster of more than 6,000 homes packaged into a $1 billion rental bond were up by 33 percent, according to Housing Wire.
CORRECTION: An earlier version of this story overstated the number of tenants who responded to the survey conducted by the housing groups.
REAL LIFE. REAL NEWS. REAL VOICES.
Help us tell more of the stories that matter from voices that too often remain unheard.