In a world where 'same old' and 'the usual' changes every single day, it is hard to create something totally unique and worth remembering. Especially when it comes to wedding invitations. Isn't it time we offer brides and grooms an option to view their wedding invitations with the same care and scrutiny as their trousseau or their venue. Because sometimes that is all they need to make their big day feel luxurious and special.
So the question then becomes, how can one even defy the classic rectangular letterpressed linen paper announcing the union of a couple in love with anything else? And, to help these couples, I had the pleasure of speaking with wedding invitations expert, Christine Traulich of RedBliss, who has defied the 'classic' time and again.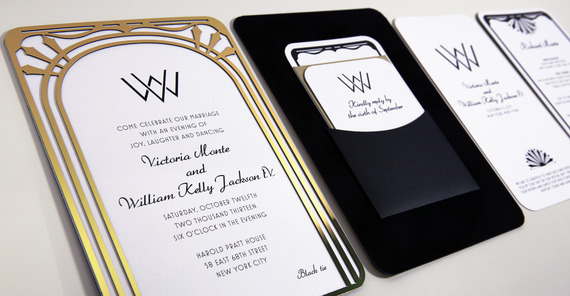 Q. Hello Christine, I have to say that as soon as I came across your awe-inspiring invitations I was instantly smitten. I want to take a few minutes to learn a bit about your background. And the story behind your firm's name, RedBliss.
A. It all began 15 years ago with the single ambition of living a more creative life. High-tech marketing left me void of purpose. I needed to make things. Beautiful things, funky things, playful things, crazy things... And then one day, I made my wedding invitations. I didn't use ivory paper. I didn't mail them in envelopes. I didn't apply love stamps. I broke the mold. I designed something that was personal and distinct and unconventional. It turned an ordinary experience into an expressive, authentic moment that elicited sincere excitement from our guests.
In that moment, RedBliss Design was born. It was created not only to fuel a passion, but to bring personalized creativity into others lives too. My sister, Dori, and I became a team with a shared vision to build a creative lifestyle that fed our souls. We named the company RedBliss after my favorite color and the emotional "bliss" of celebrating special occasions.Being in the business of spreading joy is truly rewarding. Each creative journey hinges on big ideas and tiny details. From the mailbox (and now to the tabletop), we capture a client's distinctive style to make an indelible first impression.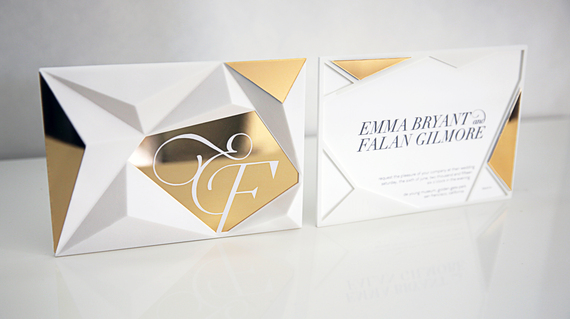 Q. What inspires you? Please talk to us about importance of technology in invitations design.
A. Interior design and technology are the biggest influences on our work. Certainly the movement to gold, brass and other metals used in interior design inspired our desire to work with these materials in our own work. As a result, our Chroma design components were born and have initiated a new movement in stationery design for more modern, luxe materials that extend beyond paper and traditional printing methods. We have also started using 3D-printing technology to deliver original designs that double as modern art forms. We are mad for Kelly Wearstler's clever use of raw materials and metals, Alexander McQueen's avant-garde and strong style, and Vernor Panton's incredibly bold, visual and stimulating environments. Each of them followed their own unconventional path. This inspires and motivates our own work.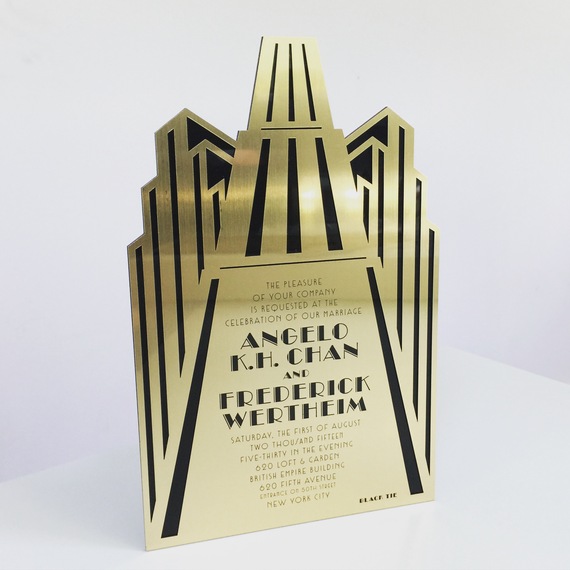 Q. I see that you talk about the concept of "Luxury is personal" - could you please give us a little more insight on it. And, since you have always been ahead of the curve, share with us upcoming trends in wedding invitations.
A. We believe luxury is having a choice in how you express yourself. It is not about trends or labels, but about personal style and experiences. Our clients are seeking a more modern approach to event styling and entertaining. And gatherings are becoming more intimate with increased personal touches and luxury details. This has translated into designs becoming more sleek, sophisticated and unconventional. We employ this approach in the creation of our custom invitations and stationery. As a result, our work transforms into mementos of experiences versus forgotten throwaways.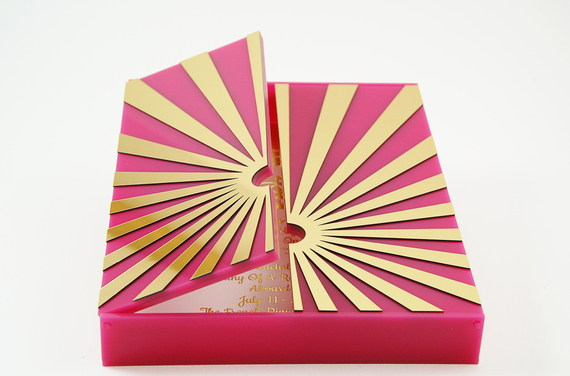 Q. Christine, I know recently you have also ventured into home design - how did that transition happen - from invitations to home products?
A. For more than three years, we have been working with a unique material we recently coined Chroma for its resemblance to mirrored chrome. It is an incredibly diverse design element as it is well suited for many fabrication techniques such as laser cutting and engraving. Chroma actually turns traditional stationery into art forms that recipients are enthusiastic to display and treasure. It is this desire for these modern, distinctive touches that have driven the popularity of Chroma with our clients and inspired us to create a luxe home entertaining product line.The RedBliss home entertaining collection was designed using Chroma to bring more sophisticated opulence to dinner parties and private events. We believe an intimate dinner party deserves as much attention as a grand celebration, without being arduous. Our line of RedBliss at Home stationery and accessories is designed to bring gracious and effortless splendor to private correspondence and home entertaining.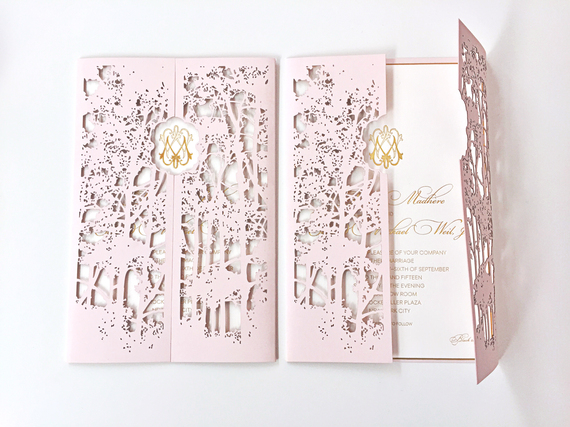 Q. Christine, it was a pleasure having you discuss so much more than just luxury invitations. Could you please share what is next?
A. We are seeing a progression into lifestyle design where luxury is personal. Our custom designs for large-scale events have inspired a line of luxury accessories and décor for intimate dinners, private parties, and VIP events. More and more people are entertaining at home in more personal ways and we want those experiences to be just as special as the bigger celebrations. We are looking forward to expanding our offerings into luxury entertaining worldwide.
Therefore, it is clear, that there is plenty of opportunity for the couples to add that dose of uniqueness and personal touch through investing in the perfect invitation that represents their wedding day to the T! I am so grateful that Christine was kind enough to share some amazing insights into this whole world of luxury invitations. Find her redbliss.com and @redblissdesign on Instagram/Twitter/Facebook/Pinterest for some serious inspiration! :)
Next time you want to invite, make sure to invite in style!
(All photos of the invitations provided by Christine at Redbliss)