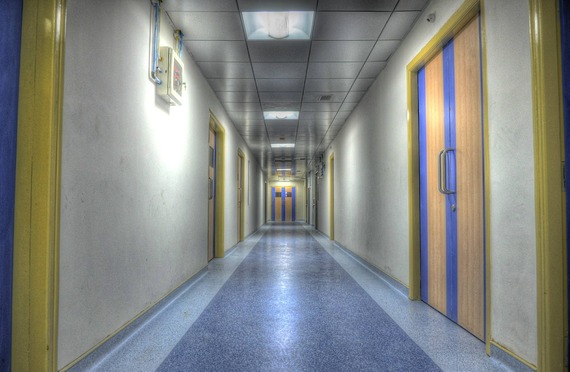 Image: Hospital. Stock Photo. Pixabay.com
Tens of thousands of people languished in psychiatric hospitals in the Soviet Union for years, not because they were insane but because they held views that contradicted the system.
Happily, the use of forced psychiatric confinement to punish those who questioned the state plunged in the first decade after the collapse of the USSR in 1991.
But the practice resurfaced in the late 1990s.
And anecdotal evidence indicates it is growing, although it has yet to come close to the scale seen in Soviet times. Now the number of those who are sane but confined against their will appears to be in the hundreds or low thousands, not the tens of thousands, human-rights experts say.
A glance at cases since 2000 indicates there's a new twist in involuntary psychiatric confinements that wasn't around during Soviet times: Some victims are confined not because they criticize the establishment but because they're involved in property disputes. Rivals are arranging for them to be committed in order to seize the disputed property.
No former Soviet country releases statistics on involuntary confinement of people believed to be sane, of course.
That means evidence about it comes from news stories, human-rights organizations' reports and even government ombudsmen reports on involuntary confinements of specific individuals -- some of them high-profile, like members of the Russian rock band Pussy Riot.
Most of the cases the public has become aware of in recent years have been in Russia, partly because it is the largest former Soviet republic and partly because it has been cracking down on challenges to the system.
A typical victim is Roman Lukin, a businessman who held up a sign in a public square in his hometown of Cheboksary in 2005 railing against judges who ruled against him in a lawsuit.
Lukin had sued to force a person who owed him a big business debt to repay it. His inability to recover the debt bankrupted him, he contended in the suit.
When the three-judge panel rejected his request to force the debtor to repay him, Lukin held up a sign in the square branding the judges "creeps."
The judges retaliated by having authorities force Lukin to undergo a psychiatric evaluation.
Most Russian psychiatrists issue findings the think the authorities want, so those examining Lukin ordered him confined to a mental institution for "unexplainable behavior."
He was luckier than most of those involuntarily who are confined, because he was released after only two weeks.
Even short stints in a mental institution in the former Soviet Union can cause lasting damage, however: The majority of patients are subjected to mind-altering drugs.
Although most cases of involuntary psychiatric confinement in Russia involve dissidents or whistleblowers, they can involve other kinds of iconoclasts as well.
Viktor Krasnov of Stavropol was thrown into a psychiatric hospital for a month for posting atheist views on social media in 2014.
Two men who read Krasnov's assertions, including that "there is no God" and that the Bible's content consists of "fairy tales," asked authorities to file criminal charges against Krasnov under a 2013 law against "insulting others' religious convictions."
Authorities asked psychiatrists at a mental hospital to evaluate Krasnov before the start of his trial in March of this year. He spent a month at the facility, with doctors eventually finding him sane.
Atheistic views would probably not have prompted charges against Krasnov, or his psychiatric confinement, before the rise of Vladimir Putin in 2000. The Russian president has made the Russian Orthodox Church, which he's a member of, a key partner in his regime.
In fact, Putin ordered Russia's parliament to pass the 2013 law against "insulting others' religious convictions" that was used to bring charges against Krasnov.
The law was a response to Pussy Riot's protest in a Moscow cathedral in 2012. The group performed a song decrying the church's support for Putin in the 2012 elections.
Some band members were subjected to psychiatric evaluations before all involved in the demonstration were convicted of hooliganism.
Among those besides dissidents and atheists who have been involuntarily confined in psychiatric hospitals in the former Soviet Union in recent years have been journalists.
Sazak Durdymuradov, an unpaid contributor to Radio Free Europe/Radio Liberty's Turkmenistan service, for example, was thrown into a psychiatric facility in eastern Turkmenistan in June of 2008.
The confinement came a week after police beat and tortured him in his hometown of Baharden, he said, to try to get him to leave the American news service.
His arrest and psychiatric confinement surprised many in Turkmenistan because he was known for moderate political views and community service.
The growing number of those in the former Soviet Union who have been involuntarily confined in recent years over property disputes includes Julietta Amarikian of Armenia's capital of Yerevan.
A row between her and her brother over what to do with an apartment the two had inherited from their parents led to her confinement.
She wanted to sell the apartment and split the proceeds with her brother. He wanted to make it his home.
The dispute escalated to the point that the brother threatened to have her confined -- and, a week later, actually did so.
Armenian law fails to protect those who are sane from wrongful involuntarily confinement, critics say. In the vast majority of cases, if someone asks authorities to commit a relative, the authorities do it, with few or no questions asked. Once confined, the victim has a difficult time getting out.
"They locked me up and left me," Amarikian said. "No one even examined me. I was terrified. I thought it was the end of me. I have never had problems with my mental health. I only had problems with my brother."
She was lucky. A human-rights activist who happened to visit the facility learned about her, and arranged her release.
A lot of victims of involuntary psychiatric confinement in the former Soviet Union aren't as fortunate, though.
Once in, they're in for some time.
And the worst news is that the number of forced confinements keeps growing.
Armine Sahakyan is a human rights activist based in Armenia. A columnist with the Kyiv Post and a blogger with The Huffington Post, she writes on human rights and democracy in Russia and the former Soviet Union. Follow her on Twitter at: www.twitter.com/ArmineSahakyann