I've caught the holiday spirit, and I'm guessing by now you have as well. That's a good thing because the holiday spirit often means a spirit of giving. Giving gifts is a nice thing whether large or small, costly or inexpensive, of the heart or of the mind. One of the gifts I've come to appreciate is the end-of-year philanthropy gift. Perhaps your favorite local charity organization is celebrating a significant anniversary or making a special end-of-year call to action. Giving to charitable causes is both good for the soul and good for the following year's tax forms.
But here's something you may not have considered, Kickstarter. There are a plethora of worthy initiatives and creative projects to check out on Kickstarter, but one particular campaign has me motivated to give. It's an upstart denim line based in Austin called Innovative/Obsession or I/O Denim founded by siblings, Anand and Gitanjali Veknatrao. I/O Denim is striving to make a premium line of American-made jeans that feature a dedicated, smartphone-carrying side pocket.
Denim has been reinvigorated as an industry in recent years, particularly with menswear focused brands like Naked & Famous, Baldwin Denim and Raleigh Denim, but I/O strives to be well suited for the tech junkie...or at least the guy who's hand is glued to his iPhone. Brother and sister, Anand and Gitanjali, each attended Baylor University and graduated with degrees in entrepreneurship, but it was Gitanjali who started in fashion at Fashion Institute of Design & Merchandising in Los Angeles.
After nearly getting into a car accident while reaching for his cell phone - a troubling, but very common reality for the Millennial generation - Anand came up with the simple idea of having a smart-phone friendly pocket on his jeans. Ananda believes the skinny jean craze has been heavy on style, but light on comfort particularly for guys with their front pockets bulging with those Android phones. Upon sharing the experience and idea with his sister, they pieced together the process of denim manufacturing to create the I/O concept from their parent's home.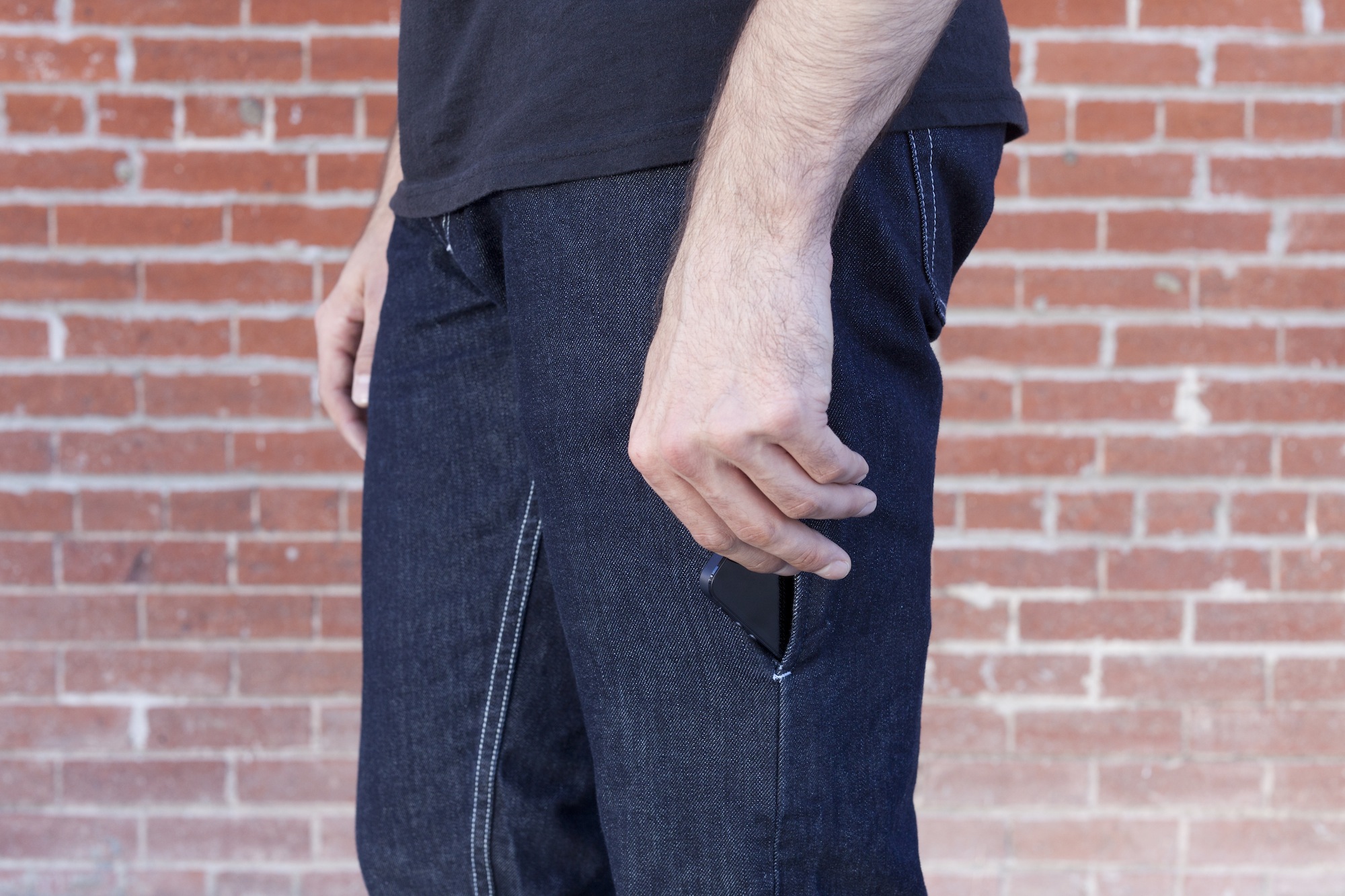 [Credit: Dan Reese]
With a successful Kickstarter launch in which they seek $10,000, they hope to purchase denim directly from North Carolina and manufacture in Downtown L.A. For right now, they are committed to keeping their production in the US, which many denim lines have ditched in pursuit of better margins.
I don't know if I/O Denim is the next great American denim line or if it's another Kickstarter campaign to disappear as fast as the money was raised. What I do know is that the gift of creativity and job creation is something America can use a lot of these days, and I/O may be a part of that. 'Tis the season to support good ideas and upstart entrepreneurs, especially in the fashion industry.
Related